On 182nd Street just north of 73rd Avenue you will see what appears to be a weedy, empty lot, with ivy and ancient trees. This, though, is the cemetery of one of the farming families in the area, the Brinckerhoffs; there are 76 plots here dating from between 1736 and 1872. The tombstones have been long ago stolen or are buried underground.
In the summer of 2012, the Brinckerhoff Cemetery was designated a landmark, ending a multi-decade tug of war between preservationists and developers hoping to build atop the cemetery.
The Landmark Preservation Commission: In 1982, the late Queens historian Vincent Seyfried wrote of early burial grounds:
Long before there were any cemeteries or tombstone makers, Long Island settlers  were faced with death and the need for burial. The earliest solution was to fence off a corner of the family farm and make it into a private burying ground. There were many such plots in Queens once, but the break-up of old farms into housing developments and the cutting of streets through estates either destroyed the grounds or left them isolated and exposed to vandalism and neglect. Today only a handful remain… The earliest burials in Queens date from the early 1700s. Since there were no stonecutters at such an early date, the families had to use crude fieldstones in their natural shape. The initials of the deceased, his or her age, and sometimes a year were chiseled into the stone and that was all. By 1720 native stonecutters had become numerous… 
The Brinckerhoff family arrived in New Netherland in the 1630s and had acquired land in what would be Fresh Meadows by 1730, and the family cemetery was instituted near the farm shortly after.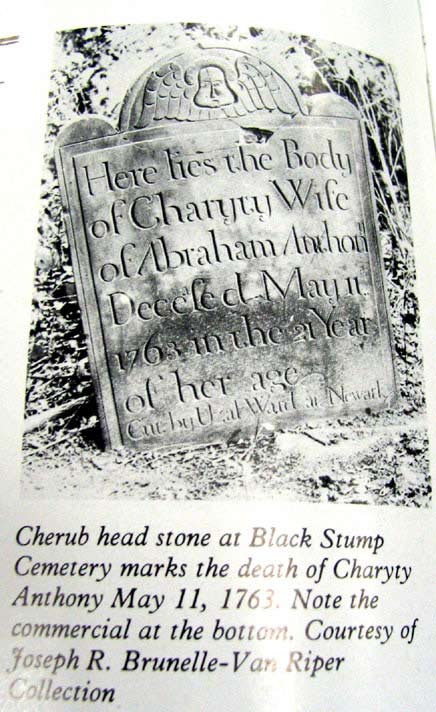 The earliest known grave marker in this burial ground, inscribed "R.A." with the date 1730, is believed to be the grave of Rem Adriance, owner of a farm some distance to the east and married to Sarah Brinckerhoff; several of their descendants are also buried here. Dirck Brinckerhoff's first wife, Aeltje Couwehoven Brinckerhoff, is buried here – she is the only known person with an inscribed gravestone from a family who actually owned one of the two farms containing the burial ground. Charyty Anthony, also buried here, was presumably a relative of Elizabeth Anthony, Dirck Brinckerhoff's second wife. LPC
The history of the Brinckerhoff far, and associated properties is a complicated one, related in the LPC report linked above. The cemetery was in active use until he late 1800s. Though surrounding properties changed hands often in the early 20th Century the cemetery and neighboring Brinckerhoff homestead were always excepted.
The cemetery was subject to frequent vandalism and the homestead was demolished in 1934. The cemetery property was transferred to the city to the DeDomenico family in the 1960s, which sold it to Linda's CAI Trading in 2010. No gravestones are currently visible in the cemetery but some may remain underground.
1/10/13