Hagstrom Maps used to produce an incredibly detailed map of lower Manhattan, which showed all major buildings and adresses, subway lines and their entrances and exits, and even subtle curvatures and widenings and narrowings of streets.
Manhattan, of course, was a different world in the early 20th Century when this map was produced, and changes occurred so rapidly that after a redesign in the 1970s, Hagstrom pretty much gave up on trying to keep up with the constant changes happening to downtown.
On the east side of the map, you see a number of small alleyways and streets running from Water east to South. There were Coenties Slip, Cuyler's Alley, Old Slip, Gouverneur Lane, Jones Lane, DePeyster Street and Fletcher Street. Most of these streets were cut back severely or gone completely as they were demapped to make way for new skyscrapers with huge footprints, as NYC changed from a city with small alleys huddled between low-rise brick buildings running down to a bustling waterfront, where bowsprits angled out over South Street. Today, lower manhattan is a place where big money is transferred between banking and lending institutions in huge glass towers, and the need for tiny cobblestoned lanes has disappeared.
Coenties and Old Slips, as well as other small lanes that were once inlets for shipping, are still around (chronicled on FNY's Slips page) as well as Gouverneur Lane, a two-block narrow street just north of Old Slip.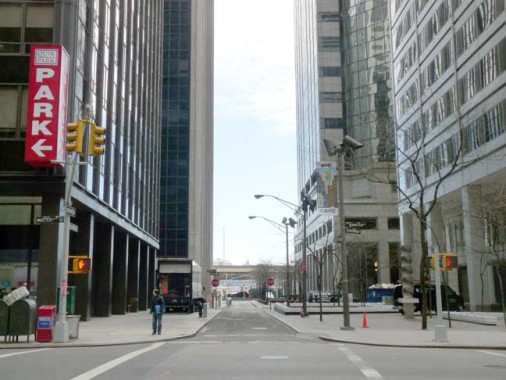 Gouverneur Lane from Water Street is a small trickling canyon between megaliths. 77 Water Street, on the right, is enlivened by a rusting 1916 biplane on the roof (see above link).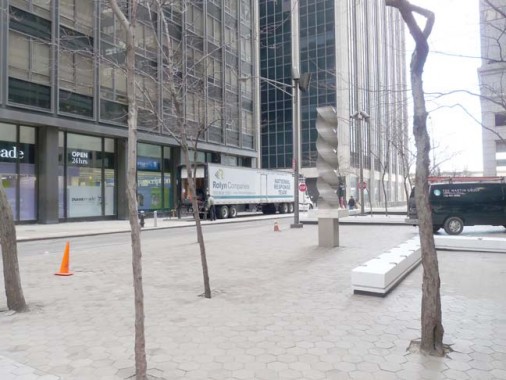 The pedestrian plaza on Gouverneur Lane in front of 77 Water features the late Rudolph de Harak's 1969 work Helix.  de Harak's most notable work in the neighborhood is the 3-story digital clock at Water and John Streets that I never could quite figure out. Sadly the clock was out of commission when I last saw it.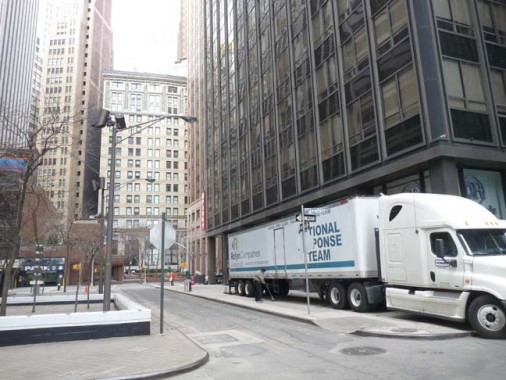 Narrow Gouverneur Lane at Front Street, with a set of 40-year  old lampposts that were installed when 77 Water was built
Another outdoor plaza on Gouverneur between Front and South Streets, in front of #1 Financial Square at 32 Old Slip. It was constructed in 1987 and displaced the US Assay Office.
Anti-terrorist bollards surround 111 Wall Street, which houses offices of Citigroup. This building displaced Jones Alley, another of the East Side's old lanes. On weekends, pigeons are your only company.
This photo gives you an idea how narrow the street is.
The street is well-marked by black and white Downtown Alliance signs. I had thought Gouverneur Street honored an early NYS governor, written in French to make it classy, but the lane, along with Gouverneur Street and Slips East and West are named for Abraham Gouverneur, an 18th-Century religious refugee from France who became a prosperous merchant and political activist.
3/14/13