What did I take away from the 1964-1965 World's Fair in Flushing Meadows, Queens? Well, I was eight years old. I don't remember much from back then. What I do remember are impressions. The Beatles on transistor radios everywhere. The waffles and ice cream. I had an orange hat with a feather on it. Fountains with dancing water everywhere. An animatronic Abe Lincoln. Hushed silence at the Pieta exhibit. My uncle and aunt, who were visiting from California, fetched me away from school one day and we rode to Flushing in their car (I had rarely been in a car at that point and I still rarely am).
Then there were the lampposts. They consisted of multicolored squares, arranged in multiple configurations and placed on cylindrical posts. I believe there were more than five and less than ten such configurations…
A relatively mundane square, with 8 bulbs in a 3-2-3 pattern.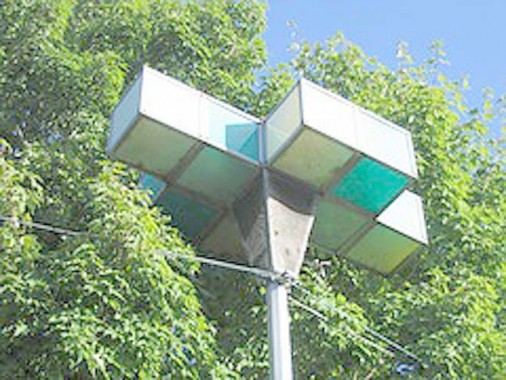 An uneven configuration, arranged in a 2-4-2 pattern.
H-shaped, in a 5-2-5 pattern.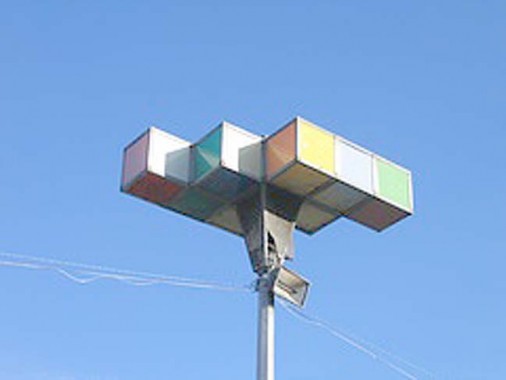 Like a Z, in 3-2-3.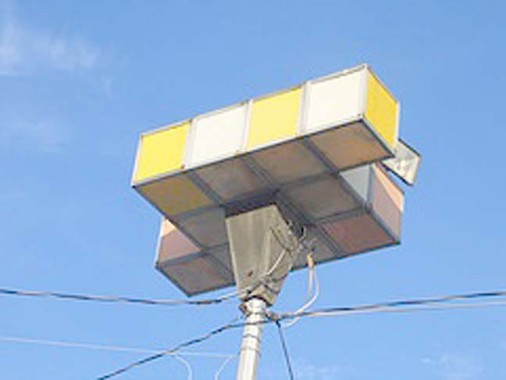 The reverse of the above 2-4-2, this is a 4-2-4.
Possibly my favorite arrangement, 1-3-4-3-1.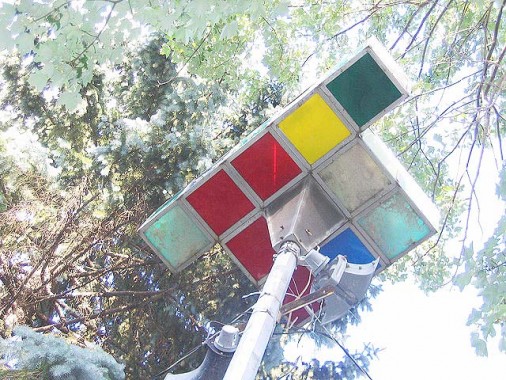 The last one in  my collection, 5-2-3, though there were probably more patterns.
When I first encountered the Rubik's Cube in 1982, which I always found impossible to solve (ditto Sudoku, or any similar number puzzles) I immediately thought of these World's fair lamps. It turns out that the cube toy was invented in 1970, by a Hungarian scientist, and he's still alive — so If I ever found myself in an elevator with him I'd know what to ask.
Here's a few "Worldies," or so I'll call them, in front of the General Motors exhibit.
The General Motors Pavilion, one of the larger pavilions at the Fair, had an enormous slanted canopy 110 feet high perched over its entrance. Its long rectangular building housed its "Futurama" exhibit, a detailed yet knowledgeable look at the technological developments awaiting mankind in the near future. In many ways it was similar to its 1939 exhibit at that World's Fair, but 25 years later, futurists and scientists hopefully could make a better educated prediction. NY '64 Fair
Some Worldies lining a lengthy corridor. What's that exhibit in the distance?
A square configuration Worldie in front of the Chrysler Motors "Engineering Island" exhibit.
The prime attraction on Engineering Island was a vast engine, a structure with a huge revolving fan in front and an sir filter on top, 55 feet up. Visitors, who walked through its inwards, saw a writhing dragon on which snapping jaws, drove pistons weighing nearly one ton a piece. An automotive turbine engine, developed by Chrysler was also on display.  NYC '64 Fair
After the Fair ended, the posts were pulled up and carted away. Some turned up in other places for a few years…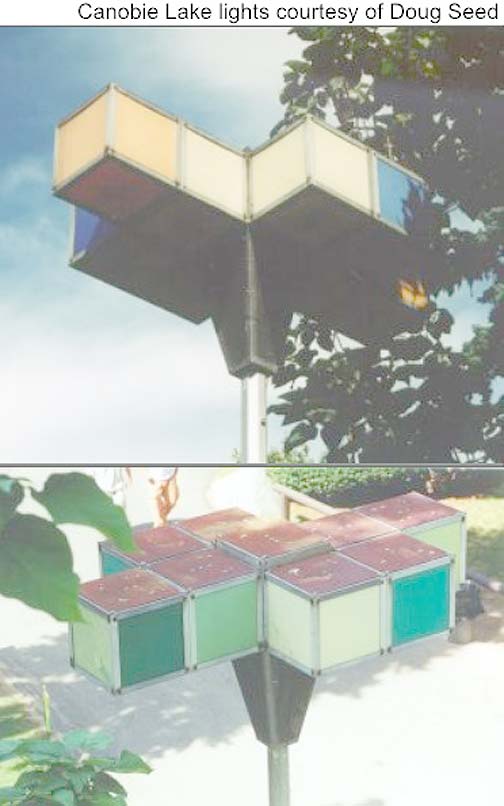 Canobie Lake Park in Salem, NH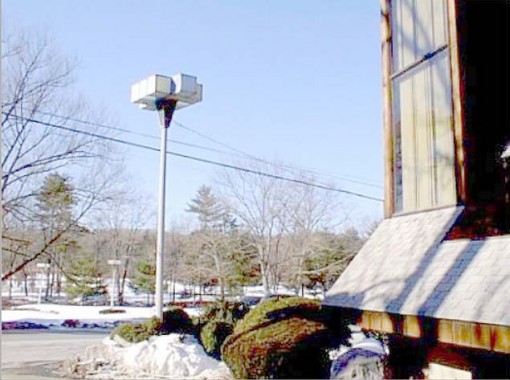 I'm not sure where this is, but the Fair was open between April and October in 1964-65, so snow would likely not be part of the scene.
I also recall a pair at the entrance to Astroland in Coney Island in the 1960s, but of course they are, as well, deceased.
Unfortunately, the Worldies' design didn't become standard anyplace I've visited since.
From Comments:
The Orange County Fairground in Middletown, NY has a lot of Worldies — and apparently the set I have, from Jean Siegel, was part of this cache.
And, seek and thou shalt find. Here is a diagram showing all Worldies configurations.
3/31/13