In the remotest section of Staten Island, on a high hill with nothing but tangled weeds, snarled vines, migrating birds and hissing insects there lies the remains of one man's dreams to bring verdant fields and cash crops to some of the highest hills in the Northeast south of Maine.
We'll begin in Egbertville. Known in previous eras as Morgan's Corner, Tipperary Corner, New Dublin and Young Ireland, Egbertville was originally settled by Irish immigrants but later took on a more decided Italian cast (as street names like Luigi and DeMarco Places will attest).
Though this area is much more suburban than it was when I first visited it in the 1970s, Egbertville still retains a decided rural feel in some areas, which we'll explore.
Begin the journey at Richmond Road and Hitchcock Avenue, marked by 1964-vintage yellow and black street signs. Turning up Hitchcock for a block and then to the right along Mace Street for another, we find the entrance to the White Trail just ahead.
[By 2012 new signs had been installed]
It should be noted that Egbertville and its neighbors to the west, Lighthouse Hill and Richmondtown, are effectively cut off from their neighbors to the east, New Dorp and Oakwood Heights, by a band of green along Reidel Avenue (seen above).
However, it beats what the alternative would have been. In 1964 it was Robert Moses' intention to run Richmond Parkway through here, which would have destroyed High Rock Park and some of what we'll see on this page. In a 25-year battle, residents won and Richmond Parkway, which was supposed to link up with the Staten Island Expressway, now ends at Richmond Avenue and Arthurkill Road.
Construction on the parkway had already begun, however, and this "greenbelt" through Egbertville is one remnant; off ramps at the SIE near the College of Staten Island are other remnants. Paradoxically, those ramps are now used for nature trails, and the Richmond Parkway excavations were used to construct "Moses Mountain" behind the old Seaview Hospital, a hikers' favorite from which a 360-degree panorama of Staten Island and NY harbor is in view.
The White Trail is clearly marked for hikers and trailbirds. However, the Urban Trail Club's color coding demands some explanation…
What the blazes? When forging recreational trails through natural or deserted areas, the Urban Trail Club was presented with a conundrum of sorts. How to mark the trails without installing obtrusive signage?
They came up with the solution of marking trees and boulders along the trail with colored painted markers, known as 'blazes.'
Along the trails, you can occasionally see double blazes like the ones at left. They mark 'bends in the road.' The top blaze is oriented toward the bend the road takes. So, the marks at left mean, 'Follow the Red Trail to your left; follow the Yellow and White Trails to your right.'
A rare triangular triple blaze marks the beginning of a trail. You won't see them often, since these trails run off and on through much of Staten Island.
OK, so you know how to identify the trails, but you also need a map to tell where these trails go. An invaluable resource in that regard is Bruce Kershner's book Secret Places of Staten Island, which spells it all out in easy to read trail maps. Here's where the Red, White and Yellow trails meet.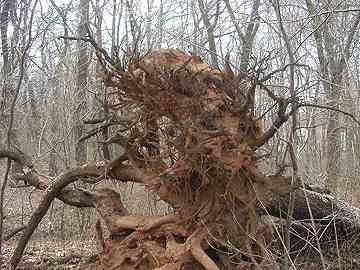 On this day we are taking the White Trail north through Egbertville. Something looms up out of the mist immediately.
Is it one of those tentacled, squirming horrors straight out of H.P.Lovecraft? Nothing like that, it's simply an upended tree trunk, seen from the underside.
Further along, the White Trail winds through Egbertville Ravine. The ravine was formed 15,000 years ago from melting water from a huge glacier.
A handy wooden bridge takes the White Trail over the trickle that is Richmond Creek. This creek begins in the highlands south of Seaview Hospital, wends through Egbertville and Richmondtown, and becomes a mighty estuary emptying into Fresh Kills Creek and the Arthur Kill west of the Staten Island Mall. Richmond Creek was dammed around 1900 and a sawmill occupied part of this area; yet it is still heavily wooded with mostly tulip trees.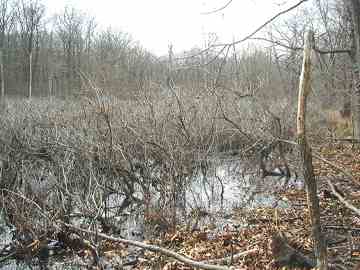 Crossing Meisner Avenue near its intersection with Rockland Avenue and Manor Road (watch the traffic) you soon hear the traffic noise fall away. At this point the Yellow, Red and White Trails all converge: stay with the White Trail.
At length, Buttonbush Swamp, shown above, will appear to your left. We are entering an isolated area of Staten Island known as Bucks Hollow. Parts of Bucks Hollow were used by Revolutionary spies as escape routes from Richmondtown to reach a ferry at Kill Van Kull which took them to Continental Army units in New Jersey. Buttonbush Swamp is known as a haven for both migratory birds and swamp frogs in season.
They say the hills have eyes. Hiking alone this far out, you might think the trees have them, too. According to legend, the ghost of a petticoat-clad young woman can sometimes be seen riding a white horse in Bucks Hollow. Though I wouldn't have minded the company, she didn't turn up the day I was there.
The persimmon is tree yielding a yellow-orange pulpy fruit in autumn. Staten Island has a collection of the northernmost stands of this rather rare tree, which can be recognized by its somewhat knobby trunk.
After passing Buttonbush Swamp, keep to the White Trail. Notice the trail gradually getting narrower. That is your cue to keep an eye out on the right for another narrow trail that leads off to your right. That is the unmarked Orange Trail. Take it.
You will be climbing for about one-half mile up a very steep incline. This route is inadvisable after a heavy rain since mud might well make it impassible. The sides of the trail are lined with bayberry.
Follow the trail to the left after it reaches the top of the steep hill. It winds around a little, but soon you will arrive at a clearing of sorts.
You are now in one of the most isolated regions of New York City. There are no buildings within about two miles of here. Except one.
Heyerdahl House
In the early 1800s, a certain M. Heyerdahl built a stone house in Bucks Hollow, a long, long distance from the nearest large settlement in Richmondtown. It was his hope to establish wine vineyards and orchards, but Staten Island's rocky soil foiled his plans, and at length, he moved out, abandoning his house. Nature has been taking it over ever since.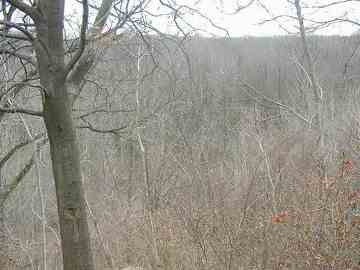 This is the view of Bucks Hollow from what was once Heyerdahl's front stoop.
The isolated Heyerdahl house from another angle.
Sic transit gloria. Its stones remind one of the jaw of a grinning skull.
It is thought that this is the remnant of a well on the Heyerdahl property. NYC Sanitation doesn't get up here very often, and garbage from several eras left by other hikers has lain here for decades.
We will leave the Heyerdahl house to its Colonial ghosts and retrace our path, past Buttonbush Swamp, past Richmond Creek, and back to Egbertville. Before leaving the area, though, notice the mighty tulip trees, which grow perfectly straight and were used by Native Americans to make kayaks. Some of these trees have been here for over 200 years.
We do have a couple more appointments to make, though, before leaving this old region of Staten Island. There are a couple of ponds to visit and more trails to walk.
Going back to Richmond Road (which was, incidentally, laid out in 1708) follow it east, away from Richmondtown, until you hit a street called Geldner Avenue. Take Geldner Avenue (it twists and turns) to Walden Avenue; take Walden to the left, then Beacon to the right, and finally Boyle Street to the left. You will be rewarded…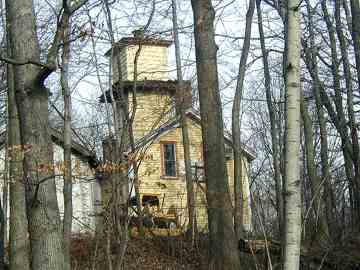 …with a lighthouse. Yes, there are inland lighthouses in this area of Staten Island, because it is so high on a hill, boats can see them from way out in the harbor. This one is the New Dorp Beacon (nearby Beacon Avenue is named for it), built in 1854. It was decommissioned in 1947 and has been used since as a private residence. It joins the much more famous Staten Island Lighthouse to the west on Lighthouse Hill.
An unblazed path leads to your left past Altamont Pond, and you pass Turtle Pond (which, yes, does contain the title reptiles) on your left as you walk. You are soon rejoined by the White Trail, and do take it for a short distance, but then take the first unblazed trail you see to the left. Along the trail you will come upon the largest pond in the area…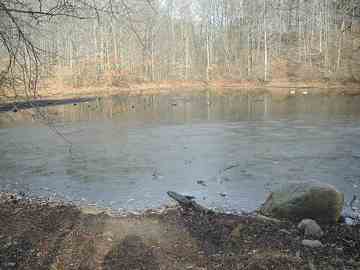 Known to local ducks as Walker Pond, and during the winter the ducks can indeed walk on it.
Just a couple local artifacts left and we'll soon be on the ferry again.
Along Walker Pond find the Red Trail, decorated here with white paw prints, and follow it past a mostly-unused parking lot to Summit Avenue, which in turn gets you back to Richmond Road.
We're in Richmond.
Another name for Staten Island, you say? True enough, but this neighborhood is also known as Richmond. This is like having a neighborhood called Brooklyn in Brooklyn.
Actually, Manhattan is coterminous with New York County. So, in New York State, you have a New York County, which is within New York City.
With all the perfectly good place names there are lying around, you'd think they could come up with something original.
Summit Avenue, Oakley Place
The neighborhood of Richmond has, scattered around, a couple of stone houses, like the one on Heyerdahl Hill. I wonder what their story is.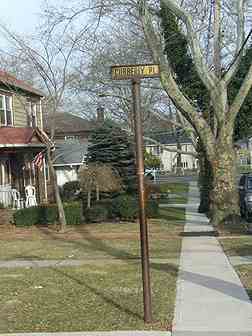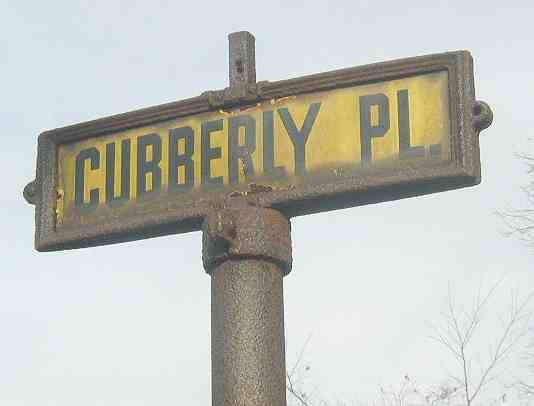 I always love it when I can uncover ancient street signage. One such sign is right here on Oakley and Cubberly Places.
We end today's trip with a true Staten Island ancient artifact…a mounted yellow and black street sign that dates from Staten Island's first examples of standardized street signage. Examples of these are indeed precious and few today. I am not sure when these were installed but we can safely say it's somewhere between 1925 and 1950 judging from the lettering.
Sources:
Secret Places of Staten Island, Bruce Kershner, Kendall Hunt 1998
Staten Island 1524-1898, Henry Steinmeyer, Staten Island Historical Society 1987
2/17/2005