Even though I grew up mere blocks away from Dyker Beach Golf Course in Dyker Heights, I have never swung a golf club in my life. Who can afford golf clubs? And anyway, golf seems like a tremendously frustrating game if you're not good at it — you have to chase a little white ball in a vast field. How do you find the ball after you hit it?
There was a soldier named Earl Woods stationed at Fort Hamilton in the 1960s; he learned the game here and passed his knowledge to his son, Tiger, who learned to play a little.
I did take an interest in Dyker Beach Golf Course — I bicycled past it frequently both on 86th Street and on 7th Avenue on the way to Veterans Hospital and the then-unnamed road, lately called Poly Place on street signs, that went to Bath Beach. There was, however, another unnamed road that went unnamed until just recently. Both these unnamed streets were affronts to my well-ordered brain then.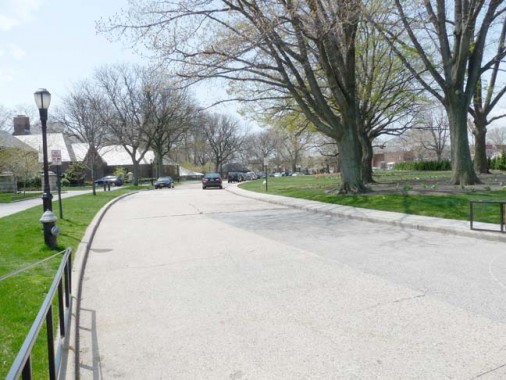 It's a crescent-shaped road that runs through the greensward between 7th Avenue and 86th Street, paved with concrete blocks (other area roads are blacktopped).
The road provides auto access to DBGC's handsome brick pro shop and clubhouse buildings.
The green area between the drive and 7th Avenue/86th Street is a public green space and has been used as a dog run.
Many ForgottenFans have already guessed that my interest in bicycling this drive as a kid — and well into adulthood — was that it harbored 4 or 5 Type G Corvington lights, that gradually deteriorated through the years. They had been equipped with Gumball luminaires but gradually the reflector bowls fell off and the lightbulbs weren't replaced. Amazingly, though, they survived till about 1999 or 2000, the Dawn of FNY, when they were finally torn down, but not till after I got a couple of shots.
When walking by in the spring of 2013 I saw that an identifying Parks Department sign had been hung on a fence. DeRussy Drive? Hm…was that familiar…?
Dyker Beach Golf Course did not assume its current acreage until 1935, and early in the 20th Century a passel of short streets emanated south from 86th Street between 7th and 14th Avenues. There were Gubner, DeRussy (misspelled here), Morrison, Delaplaine, 10th, 11th, 12th and 13th Avenues, as well as the sequence beginning with Bay 1st, Bay 2nd, etc. All of these were later swallowed up by the golf course, but some had been paved in 1917, when this map was made. (That's why the numbered Bay streets in Bath Beach begin with Bay 7th; the others had been eaten by DBGC.
The DeRussy referred to here was General Rene Edward DeRussy (1789-1865), an "engineer, military educator, and career United States Army officer who was responsible for erecting many Eastern United States coastal fortifications. He served as superintendent of the United States Military Academy and was promoted to brigadier general during the American Civil War." wikipedia. DeRussy helped design and build Fort Hamilton in 1825, which is likely why he was remembered by a street name here, and forts throughout the nation.
DeRussy lived on a hill in what became Dyker Heights, and also supervised the construction of the New Utrecht reformed Church, on 18th Avenue and 83rd Street, in 1826. He moved to California in later life and designed several forts in the San Francisco area. He is buried at West Point.
Dyker Beach Park and Golf Course evolved in stages from its beginnings in 1895 and 1935. The small streets shown on the map were likely condemned by 1927 and the park extended over them to 86th Street.
DeRussy Drive fronts on 86th Street, facing some handsome Tudor-ish dwellings.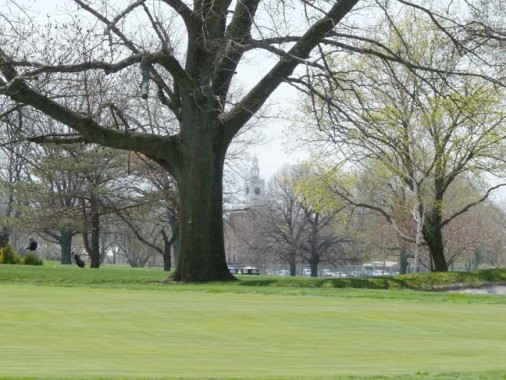 Glancing across the golf course from 86th Street provides a view of the 4-sided clock tower of Poly Prep Country Day School, if you know where to look.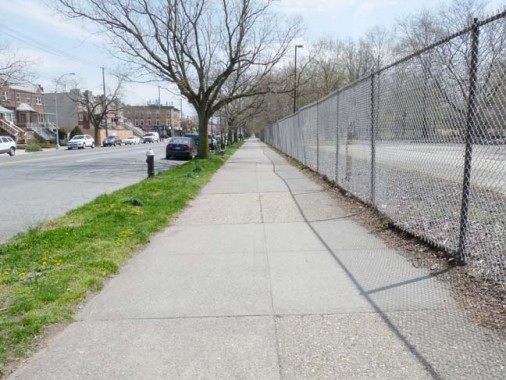 86th Street was/is a great place to bike between 7th and 14th Avenue. Why? Simple. The avenues end on the east side of the street, so this is an uninterrupted sidewalk for a good 5 avenues!
5/15/13