Gary Fonville, FNY's man in the MTA and former city bus driver, has been working overtime of late uncovering Forgotten oddities all over the city. Here are yet more…
The MTA updated the logo of the Kingsbridge Depot at West 218th Street in Inwood, Manhattan to the current one shortly after this photo was taken.
Coney Island Avenue and Avenue U is this sign's location.  The sign reflects changes in this auto retailer's operation.  Saab is virtually non-existent in the U.S. after GM jettisoned the brand by selling it to Spyker Cars in 2010.  Pontiac, once a brand of General Motors, bit the dust in 2010.  GM suits determined that there was no need for the brand to exist.  Their Buick brand almost suffered the same fate.  Plaza Automall now only sells Hyundai, Honda, and Honda's luxury line, Acura.  In addition, Plaza dropped Dodge and Mazda.
Could this store have been the inspiration for Victoria's Secret?  The picture represents another time when I just happened to look in a certain direction, and there it was!  Rivington Street in the LES (Lower East Side), Manhattan.
[It IS interesting to compare modern glitzy Victoria's Secret store signs with this rather more down-to-earth signifier. –ed.]
I must have driven down Bushwick Avenue hundreds of times.  It wasn't until I stopped to get gas at a service station across  the street from this location at  Stanwix Street & Bushwick Avenue, Brooklyn  that I saw this gold leaf lettering.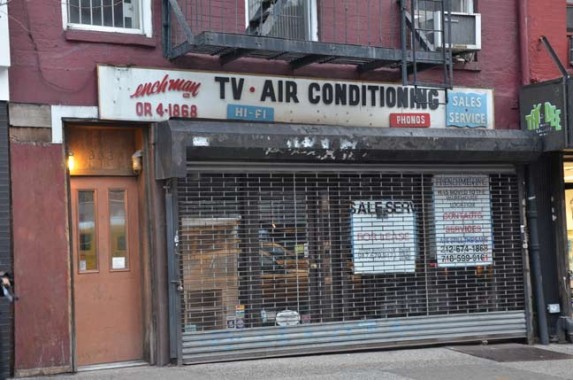 Are there any FNY fans who know what "OR" means in  this alphanumeric phone number that's part of this old school sign on First Avenue, near 22nd Street in Manhattan…
[OR was ORchard or ORegon. –ed.]
Saturn, as a brand of GM, was started in 1985 as an attempt to compete with cars from Japan. It only lasted until 2010.  GM even set up a separate dealer system from the parent company.  The brand suffered because their cars were plagued with subpar designs and quality, along with a limited lineup.  And its failure came before the Koreans, with their Hyundai brand, came on strong into the marketplace.  It can be seen from the Gowanus Expressway (above) or 3rd Avenue (below) around 20th Street in Brooklyn.
Coin operated telephones have suffered greatly since the proliferation of cell phones.  As you are reading this, think of when was the last time you've used a payphone.  It's probably been a long time.  Their numbers are dropping rapidly, as it's becoming almost impossible to find one on NYC's streets.  Bell Atlantic was the company's name before it was christened Verizon.
Edelstein on Tompkins Avenue near Fulton Street in Bedford-Stuyvesant still sports this brightly colored baked enamel sign.
I have no doubt that this sign at McKeever Place & Sullivan Place, in the shadow of Ebbets Field, has been there since the Dodgers played there.
7/29/13