I have spent a lot of time in Hunter's Point over the years — a ForgottenTour there in 2011 was a big success. Yet a big part of Forgotten NY is investigating neighborhoods over and over and ferreting out aspects of it that I haven't yet hit upon. It's one of the neighborhoods, like Williamsburg or western Brooklyn Heights, where changes have been accelerated to a break neck pace, and I feel the need to revisit often to grab some things before they disappear completely.
The city targeted Hunters Point (as well as Williamsburg) for neighborhood 'renewal' several years ago, and that entailed zoning changes to make glassy, high-rise apartment buildings facing the water possible. The decision has had benefits, as Gantry State Park, named for the large lifts that transported goods from barges into railcars, has become a jewel. Some say, though, that the influx of towers has overly taxed the sewer system and that there's still no real grocery shopping to be had on Vernon Boulevard — it's trying to plunk a big city someplace where there's nothing to support it.
So, while on previous trips to Hunters Point  have found me down by the water, this time I stayed inland and tried to target items that will no doubt be gone in 5 or 10 years… on a fine day in June 2013, emerging from the Vernon-Jackson #7 train, I walked east on 50th Avenue and found…
WAYFARING MAP: LIC SOUTH/HUNTERS POINT
This is a new addition on 50th Avenue just east of the subway. Underpenny Antiques is a junk shop (I mean no disrespect — I'm a fan of these things, after all) but it also bills itself as a museum of kitsch, a tribute to ephemera, in the vein of the City Reliquary in Brooklyn.
Overflowing with rare art, sculptures, jewelry, and most notably, a large collection of 19th century cast-iron pieces, Underpenny will transport you back in time and induce instantaneous nostalgia. Keep in mind, though, that everything on the right-hand side of the store is merely for show–a museum of sorts, curated by owner and collector Sung Park–whereas everything on the left is open for the picking. Afar.com
I have been in The Creek and The Cave, Jackson Avenue and 49th Avenue opposite the Pulaski Bridge to Brooklyn, a few times now. By day it is a Tex-Mex restaurant and by night a performance space for comics, in the mold of the Improv. It had exhibited pieces by local artists at one point, but now photos of the comics are hung in the walls. I'm not a food critic but they sell me tacos they way I like them, the atmosphere is relaxed and I'm greeted with a smile when I come in.
Around town, I try and get photos of buildings that are older, a lot older, than surrounding buildings. Usually, but not always, they're quite small. This pair on 48th Avenue west of Jackson have been here for at least a century and probably long before that.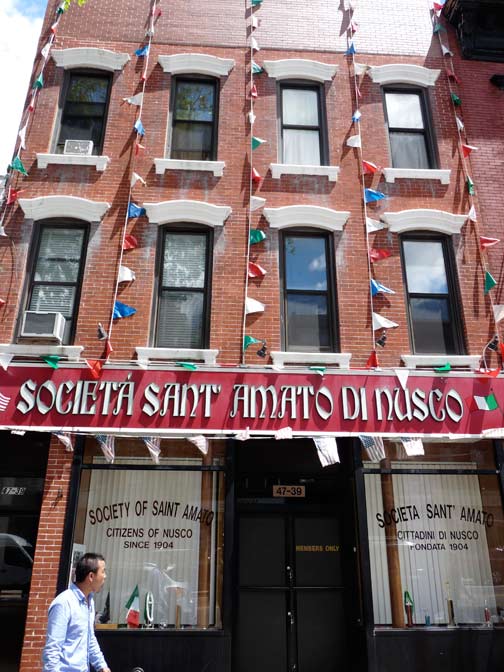 Returning to Vernon Boulevard, this is an old-fashioned Italian social club at 47-30. The Society of Saint Amato is dedicated to the welfare of Nusco, Avellino Provice, Italy (near Naples), of which Saint Amato was an 11th Century bishop.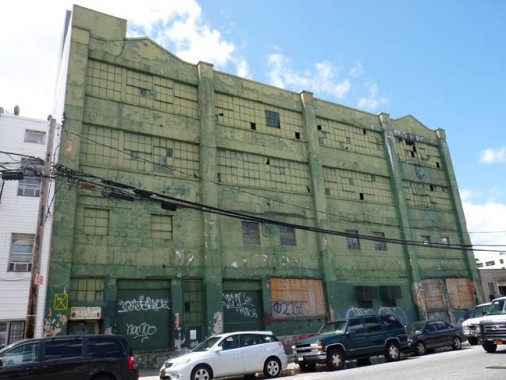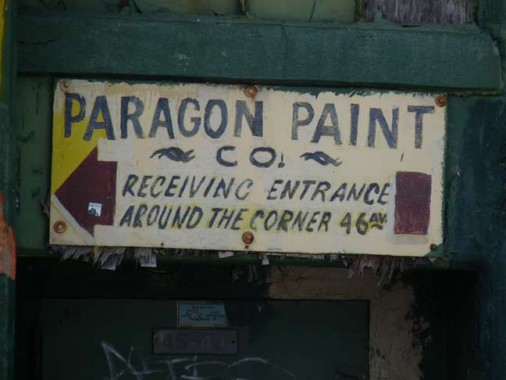 When you pass by a hulking, ruined factory building like this at #45-40, you get a glimpse of what Hunter's Point was really like in the old days — a manufacturing and industrial annex of the big town across the river — before its recast in a residential/relaxation model.
Paragon Paint was formerly a huge presence in southern Long Island city, employing hundreds if not thousands. Its painted ads can still be seen in many places here, and its brick headquarters at 49th Avenue and 21st Street is still standing. Its Vernon Boulevard factory has recently been used as an art installation/production facility.
Another ancient warehouse on 45th Road at Vernon bears a faded ad for Able Steel Equipment. The top line said "If it's steel we are Able." The company remains 50-02 23rd Street in LIC. EM stood for EMpire, in the Empire State.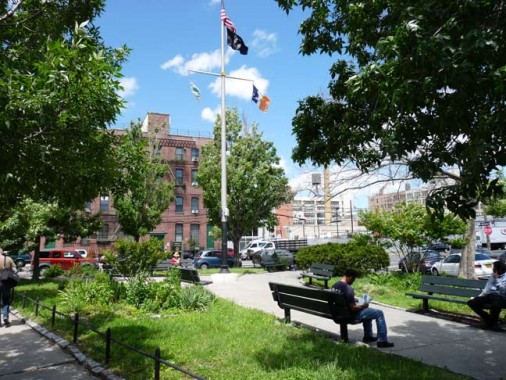 The Gordan Triangle, on Vernon Blvd., 10th Street and 44th Drive, reminds me of the Gordian Knot: the  story goes that in ancient times the Phrygians were without a king, and the local oracle decreed that the next man entering Phrygia (in modern-day Turkey) on an oxcart would be named king. A peasant named Gordius was the lucky oxcart driver, and he was installed in the seat of power. Hubristically, he tied his oxcart to a pole in the center of the capital with an intricate knot, daring that anyone who wanted his kingdom could untie the knot. When Alexander the Great, the conquering Greek having his own designs on Phrygia arrived, he used what is known as the Alexandrian solution: he cut the knot.
(I think a modern cognate is the scene in Indiana Jones in which the explorer is confronted with a Saracen menacingly whipping around his swords. Indy shoots him.)
The Gordan Triangle, though, is named for Private Edward Gordon, a Hunters Pointer killed in action in 1918 in World War I.
All 4 corners of 44th Drive and Vernon Boulevard feature photograph-able buildings. 44th Drive is a major east-west route and is wider than its brother Avenues — it was once called Nott Avenue, honoring Eliphalet Nott, president of Union College in Schenectady, NY, who bought land in Hunters Point, subdividing and developing it in 1835.
This building on the NW corner was once the City of New York Department of Purchase general storehouse. I'm not sure when it was constructed, but it bears some resemblance to the Austin Nichols building in Williamsburg, which has been converted to residential.
Stillwell Supplies, another reminder of LIC's industrial past, has sold construction equipment since 1933.
Looking west on 44th Drive toward Midtown, the  2001 Trump World Tower at UN Plaza and East 47th, once the  world's tallest residential building, dominates the scenery. You have to believe that since the building was finished in 2001, it resembles the alien monoliths in Stanley Kubrick's 2001: A Space Odyssey. So far, no one has evolved under its influence.
I am always drawn toward these brick factory buildings. This remaining specimen on the NE corner of Vernon Boulevard and 44th Drive now has a variety of tenants and uses. There is some painted writing on the southern-facing wall that has now faded to unintelligibility.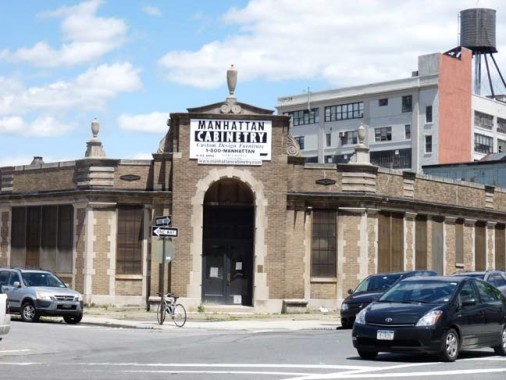 Manhattan Cabinetry now occupies this rococo structure with carven concrete urns. Across the street at 44th Road, it competes with…
The glassy, if not classy, Wyndham Garden Hotel. Are glass-fronted residential buildings something new? Better have good curtains.
A bend in Vernon Boulevard brings the Queensboro Bridge into unimpeded view. (it has other names, which I'll get to later.)
At 43rd Avenue and Vernon Boulevard is an ivy-covered brick building home, on the 43rd Avenue end, to DuVal Enterprises, which develops the interior spaces of this former meta foundry for magazine and video shoots. It's divided into three separate areas: The Foundry, The Terrace and The Loft.
The Foundry's website provides some details on what the building had been used for:
The Foundry is a 19th Century building where originally fine varnishes were manufactured [by Emil Calman and Co.] before it housed The Albra Metal Foundry. Their logo is still visible on the corner of the building at 9th Street and 43rd Avenue [hidden by foliage during the summer.]
By the 1970's The Foundry was essentially an abandoned space, housing defunct vehicles and a mountain of debris. In 1980 the Du Val family purchased the property. The family restored and renovated the space to reflect its original industrial character, and began hosting events in 2001. It is the only foundry in the area still standing today.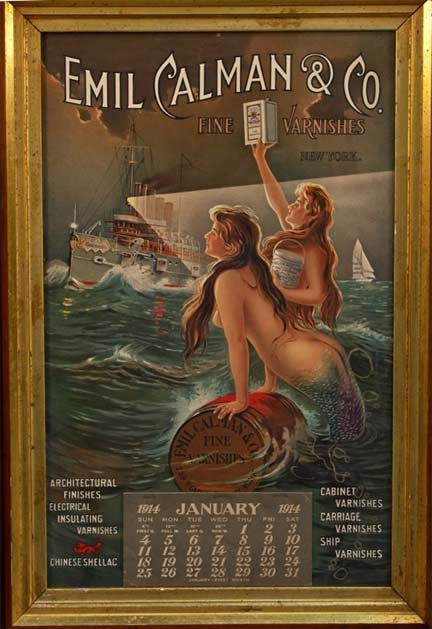 I've always been a mermaid fan. Here's an Emil Calman 1914 calendar — the sexy sea sirens have been known to offer free fine varnishes, tempting passing sailors to their doom.
I call it the Mayflower Building since this sign is still visible in winter months.
Here's a close look at the ivy. which cements the building's look for me. I was tempted to wander into the interior courtyard, but I despise beefy guys who call out "Can I help you?" which, in New York-ese, means "hey asshole, what are you doing here?"
LIC is a cab town. There is a major kicenser on Jackson Avenue and Oldee Taxi on Vernon Blvd. and 43rd opposite the Mayflower attracts cabs from all over for service and cab instruments. There were a couple of Checkers the day I was there, and a couple of other vintage models. Name those cabs!
43rd Avenue has generous amounts of Belgian block paving sticking up through blacktop that has worn down.
The Queensboro Bridge has spanned the East River and connected Manhattan and Queens since 1909. Before that, Queens was largely still farmland, with urbanity centered around three town centers: Long Island City, Flushing and Jamaica. In fact 1909 was not long after Nassau County, itself still farmland, separated from Queens while Queens' remaining towns joined NYC in 1898.
Sometime after the bridge was completed, many Manhattanites started calling it the 59th Street Bridge, while in 2011, before Ed Koch's death, the bridge was retitled the Ed Koch Queensboro Bridge after the 1978-1989 mayor. Oddly enough, the Triborough was also renamed the Robert F. Kennedy Bridge, for the former Senator from NYC who was murdered after his victory in the California presidential primary in June 1968, but without retaining the old name.
We blithely carry on calling them the Queensboro and Triboro.
Looking at the bridge anchor, it reminds me of nothing other than a windmill, without the blades. It tapers and has eyelet windows, like many windmills I've seen, and there's a lot of Dutch iconography in NYC symbolism like official shields, etc. It certainly wouldn't surprise me.
I wonder what is stored behind that heavy metal door…
I then headed east on Queens Plaza South and detoured down 9th Street, where I spotted…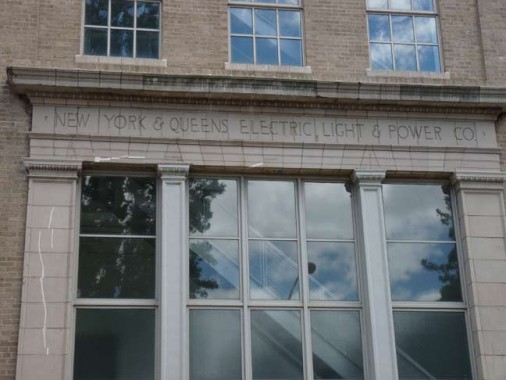 At 42-25 9th Street, the headquarters of the old NY & Queens Electric Light & Power Company, a predecessor of Con Edison.
The Insulator Gazette (yes, there is an Insulator Gazette) has some interior shots:
A short time ago [1902] the properties of the Electric Illuminating and Power Company, of Long Island City., L. I., the New York and Queens Gas and Electric Company, of Flushing, L. I., and the Jamaica Electric Light Company, of Jamaica, L. I., were consolidated under the name of the New York & Queens Electric Light & Power Company. The power house of the Electric Illuminating & Power Company was located on the East River at Astoria, L. I., and before the consolidation it contained one 500-kw., one 300-kw., and one 75-kw. alternating-current generators, the first two being Westinghouse two-phase 60-cycle machines with armature shafts direct-coupled to vertical compound Williams engines running at 150 r. p. m. The 75-kw. generator was a belt-driven General Electric machine. The station also contained eight 50-light T.-H. and two 50-light Brush arc dynamos, which were driven through a jack-shaft by two slow-speed horizontal Corliss-type engines.
I have no idea why I had not noticed Steinway Storage on 12th Street near 43rd Avenue before. If you're around there it's hard to miss. The huge building went up in 1926 and has possibly the largest example of the old worded telephone exchange in the city. The letters were painted by the Mack Sign Company. The warehouse was featured in the 2010 film Blue Valentine with Ryan Gosling and Michelle Williams.
A block away on 11th Street and 43rd Avenue is Hotel Z, one of many new hotels in the neighborhood. I don't know if the awning disguised as a car communicates a sophisticated atmosphere. Brownstoner Queens has some views from the roof.
Inscrutable 12-16 43rd Avenue turned out to be a Rolex watch facility or factory.
The latticed pillars of the Queensboro Bridge approach ramp seen from 12th Street and 43rd Avenue are impressive from afar.
This brick low-rise former factory at 13th Street and 44th Avenue is helpfully labeled "1919," the year of its construction. It's been repurposed as a gym.
C.E. Sheppard Company, 21st Street (formerly Van Alst Avenue) and 43rd Avenue. Sheppard was in the stationery business, specializing in looseleaf binders. According to the NY Times, this 100,000 square foot building was constructed for $500K in 1920.
There's currently a wire manufacturer based in Houston, Tx called C.E. Shepherd which has nothing to do with the now-defunct Sheppard.
Yet another taxi licensing palace in LIC, at 21st Street and 43rd Avenue, cleverly covered in yellow and checkered taxi-style livery.
At 44th Avenue and 22nd Street, yet another massive loft building has been turned into artists's space, Reis Studios:
Reis Studios is a finished workspace for artists featuring over 180 private studios, an art gallery space, an experimental gallery, a dirty room, and a small communal coffee area a collection of art and culture books, and a full loading dock with large industrial elevators servicing all of our three floors.
Reis Studios is a friendly community of over 180 artists from 20 different nations, working as painters, sculptors, photographers, graphic designers, fashion designers, installation artists, video artists and creative people of other disciplines. It was created in January 2002 by the Brazilian artist Juvenal Reis to initiate a community of contemporary artists in what is now New York City's most exciting emerging arts district, Long Island City.
The #7 elevated tracks, built in 1914 in what was a low-rise area of small brick homes and factories, has seen dizzying changes in the last decade as ever greater numbers of high rise apartment buildings have been built surrounding it. The local station, Court Square, has been completely rebuilt and new connections made to the G, E and M trains.
The 5 Star Diner, 43rd Avenue and 21st Street was, at one time, a small conventional diner serving the many truckers and cabbies who come to this part of Queens. For several years it has been an Indian restaurant, getting good reviews from websites like Serious Eats and The Daily Meal.
It's done so well the owners have opened a much larger catering hall next door.
I was amazed at how brilliantly white this auto repair shop adjoining the diner was. It might have been just painted. You need sunglasses walking past it.
Next door is the Show Palace, a strip jo…ah, gentleman's club, one of many located in the side streets north and south of Queens Plaza.
Most people who ride the #7 train get a good look at the illuminated Silvercup Studios sign as the train inches past it before arriving at the Queensboro Plaza station. Currently it's a TV production studio where many popular shows are filmed, like Person of Interest, Elementary and formerly, The Sopranos.
Before all that, though, Silvercup baked bread in this location between 22nd and 23rd north of 43rd Avenue. "When you came across this bridge, you could smell bread, twenty-four hours a day." These words were spoken by Astoria's own Christopher Walken. The bridge is the Queensboro Bridge, and the smell… well, it emanated from the old Silvercup Bakery at 42-25 21st Street in Long Island City. [boromag]
Walken would know — his family operated Walken's Bakery for many years. Gordon Bakeries sold bread under the Silvercup moniker and built this building which originally had 4 grain silos in the 1920s. Silvercup was sold until a 1975 strike forced the company to fold. The sound stages moved in in 1983, while Silvercup joined Bond, Taystee and other names in the NYC bread graveyard.
Off ramps from the Queensboro Bridge and tracks from the #7 and N/Q lines all have converged at Queensboro Plaza in a tangle of screeching metal from the late 1910s. In fact another el, the Second Avenue el, ran trains to the Plaza over the Queensboro until 1942.
Under the ramps, a barbed wire fence attracts plastic bags like a picnic attracts ants and yellow jackets.
Bike lanes have attained renewed prominence at the reconstructed Queens Plaza area (either side of the elevated structure) but this one at 21st Street seems to end ignominiously.
And so does my walk — I piled on the #7 here to return home.
8/26/13