The best Forgotten New York walks encompass worlds. A recent walk I did in a loop around northeast Staten Island brought me from the million-dollar mansions surrounding hidden lakes and ponds to the toughest projects to be found in any borough, with plenty in between. New York, as large cities go, is relatively small in area: Los Angeles, Houston, Dallas could all fit NYC easily within them. That's why there's sometimes very little separation from one "atmosphere" to the other. Sometimes in NYC a neighborhood can change in midblock.
I noticed some of that in a recent walk up Elizabeth Street, which sometimes gets lost in NYC lore and legend. It doesn't get name-checked like its parallel partner, Mott Street, does in Rodgers and Hart's "I'll Take Manhattan," nor is it a household name like the also-parallel Bowery. I decided to do a full-length walk on a road where I had rarely been. I always try and be on a street where I've never been at least once a week…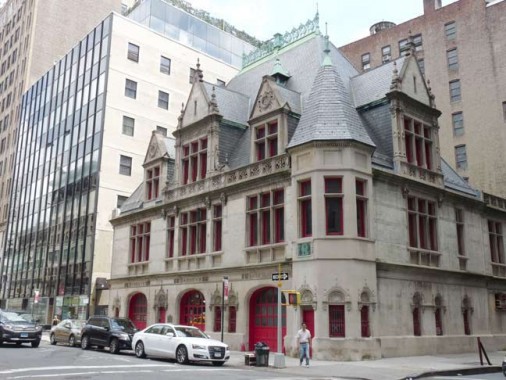 There aren't a lot of French chateaux to be found in NYC streets, and the former Engine 31, Lafayette and White Streets, is likely the most fanciful firehouse in a city that can boast a variety of architectural styles, from Flemish Gothic to Modernist, in the forms its firehouses take.
As the historical plaque says:
This building, constructed in 1893, is among the best of the many eclectic firehouses built by Napoleon de Brun and Sons. Today it seems surprising that such an elaborate design would be used for so utilitarian a structure. The entire spirit of the building — with its corner tower, steep roof, dormers and stone and iron crestings — recalls a romantic fairy tale.
Engine 31 was in service between October 20, 1865 and November 25, 1972. The building now is home to the Downtown Community TV Center.
To get to Elizabeth Street from here you have to zigzag around. There are interlocking street grids from the west side and east side coming together. Centre Street is the boundary line between the two, but now and then, some streets break through into the other's territory for a block or two.
At Bayard and Mulberry, across from Columbus Park, the site of the infamous 5 Points — again, a corner I have hitherto missed — is an imposing 5-story red brick tower with intricately fashioned and carved brownstone on the ground floor. I'm frustrated on finding any discussion on its architectural philosophy, as the internet and my NYC guidebooks ignore it. I was aware that it was the former PS 23. The Villager had this:
P.S. 23, which rang its first bell in 1893 and held its last recess in 1976, was at first an elementary school filled with European immigrants and first-generation children: Irish, Italian and East European Jews. The neighborhood demographics shifted several times in the 1900s, first becoming predominantly Italian, and then, with changes in immigration policy in 1943 and in the mid-1960s, predominantly Chinese.
The building has done as a stint as the Museum of Chinese in the Americas (now at 215 Centre), and at present, it is the Chen Dance Center.
Elizabeth Street is one of the few major streets in Manhattan that begins and ends at a T-shaped intersection. This is its southern end facing Bayard Street, just off the heart of Chinatown at Chatham Square, where today a statue of Confucius stands and where there had been a double-decker elevated train station serving both the Second and Third Avenue Els.
Most of the buildings lining Bayard are multifamily, or apartment buildings dating from the first decade or two of the 20th Century. Architects added flourishes like varied window treatments, terra cotta, or ornamental carvings then.
#1 Elizabeth Street, at the corner of Bayard. Again, it's awash in details and gewgaws that would be considered a waste of time and money by today's architects. The windows on every floor are treated differently. Some have recessed lintels and others have triangular pediments. In the middle of each recessed arch are horned devils, flanked by what appear to be two examples of what used to be fire horns, used by fire companies as a call to action. Perhaps the fire companies of the day had something to do with the construction. Every building in NYC has a back story, and some are more obvious than others.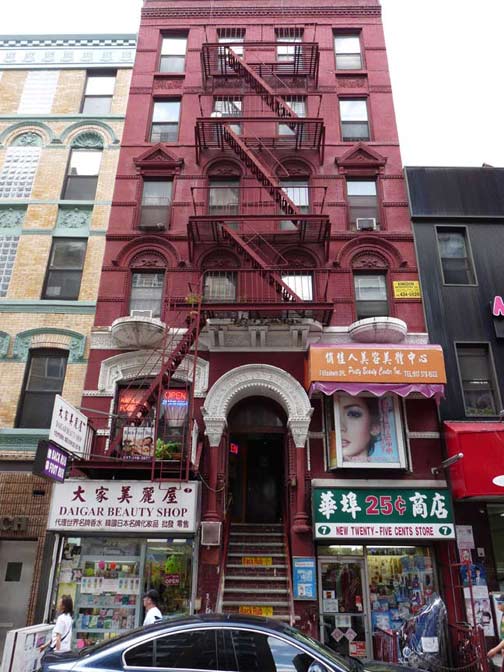 Hidden beneath all the signage at #7 Elizabeth is another ornately tricked out apartment from the early 20th Century. The entrance arch would look at home on a pagoda, which means that the building predicted the spread of Chinatown to Elizabeth Street decades in advance. It's very similar to #1 Elizabeth, complete with small heads in the recesses, so I'd bet the same architect designed it.
Chinatown Arcade, 14-18 Elizabeth, isn't the famed Chinatown Video Arcade on Mott Street (it closed, anyway, in 2011) but merely an indoor mall. Formerly the Canal Arcade, it was built on the plot left behind by the Bowery Theater, which burned down in 1929.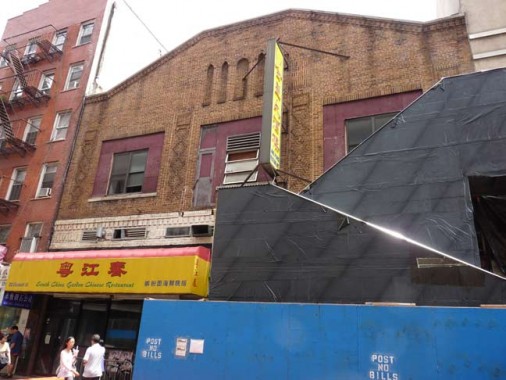 Next door at 20-22 Elizabeth, I was arrested by this brickfaced building with an unusually shaped roofline. I just knew something was up with this building, that there had to be some history behind it.
The largest and most famous of the Bowery beer halls, this sumptuously decorated building opened in 1858. It had its own brewery, shooting gallery, an all female orchestra, a giant mechanical music box (the orchestrian) and movie screens. The battle over a Sunday liquor license lasted over forty years, with constant raids and arrests of bartenders, waiters and the owner himself. Despite all this, the Atlantic Garden was one of the more democratic sites in 1880s New York–a place for immigrant families (predominantly German and Italian, but there were even some Asians!) to escape the swelter of the tenements. Untapped Cities
Though the exterior has been redone a few times, the shell of the 1859 beer garden is still inside. David Freeland, in his excellent Automats, Taxi Dances, & Vaudeville (for which your webmaster chipped in a cover blurb), devotes an entire chapter to the long history of this little-remembered NYC landmark.
Beer gardens, meanwhile, have come back into vogue in recent years, springing up in Williamsburg and other neighborhoods. The Bohemian in Astoria is the city's oldest one in operation.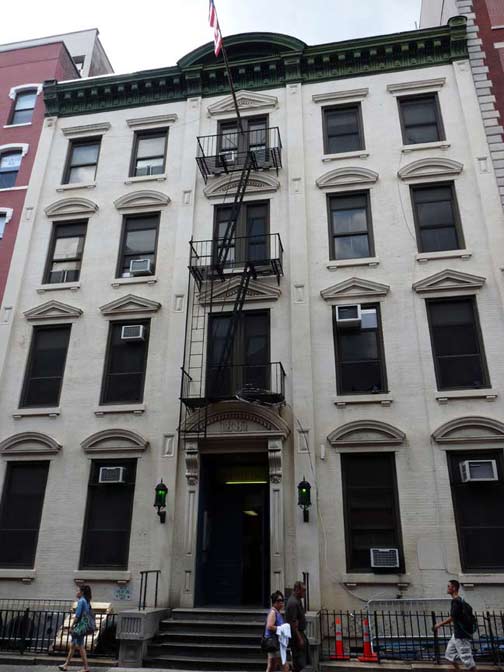 The NYPD 5th Precinct Building rose in 1881 — the date of construction is in the pediment above the entrance. The architect was Sergeant Nathaniel Bush — a member of the NYPD! In its early days it was the 6th Precinct, and the area then in the Sixth Ward, rife with gang warfare just north of Five Points, was called the "Bloody Sixth." The precinct raided the Atlantic Gardens repeatedly when it was then in violation of restrictive laws forbidding the sale of liquor on Sundays in theaters, which the Atlantic's owners resisted. A vestige of the blue laws remained on the books until July 30, 2006, when liquor stores were finally able to sell liquor consumed off-premises after 12 noon. The precinct later battled Chinese gangs and extortionists known as tongs.
The Daytonian, as he usually does, has the full scoop on the precinct house.
Canal Street, the main east-west artery in Manhattan south of Houston Street, connects the Manhattan Bridge with the Holland Tunnel. It began in the early 1800s as a drainage ditch used to drain off Collect Pond, in what would become the Foley Square area, since the freshwater pond and cattle watering pool had been used as a garbage dump and was now disease-ridden. After the pond was empty, the ditch was paved over and became the extra-wide, by Manhattan standards, thoroughfare. The east end of Canal Street was originally called Pump street, as noted in FNY's Lower Manhattan Street Necrology.
I admit I've never spent much time on Canal Street. The thick crowds on the sidewalks, and the honking trucks (this is a major truck route, and I think Robert Moses was onto something with his defeated Lower Manhattan Expressway, as long as it could have been mostly underground in a tunnel). After Boston's billions of dollars in Big Dig cost overruns, I doubt NYC will see anything like that.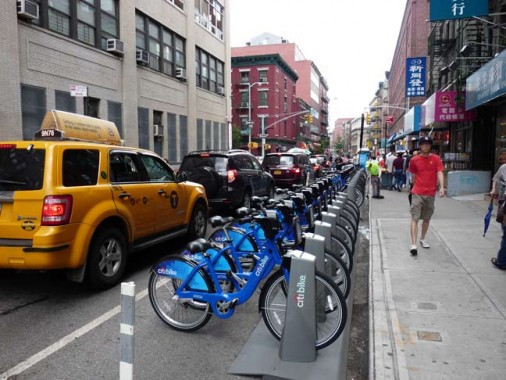 Bike share racks on Elizabeth near Hester Street. The popular program, sponsored by Citibank, has seen such racks proliferate around town, but some locations are headscratchers. In a very congested part of town, why eliminate precious parking space here?
I could be wrong but Elizabeth and Hester may be the only intersection in Manhattan where both streets are women's first names, though Hester isn't used much anymore. No one is sure who the original Elizabeth was — likely the wife or daughter of a landowner through whose expanse the street was laid out. Hester Rynders was the daughter of Jacob Leisler, a lieutenant governor of New York hanged for treason after he unlawfully seized control of the New York colony in 1691. Hester's daughter was named Elizabeth, however, though there's no documentation conforming the street was named for her. Benjamin Rynders owned a large amount of Manhattan lands in the colonial era. A former name of Centre Street is Rynders, or Ryndert, Street.
Other streets in Manhattan with women's first names are Ann and Catherine. You can't count Jane, as it was named for a Jaynes who lived in the West Village. There was also a tiny Rachel Lane in the Lower East Side.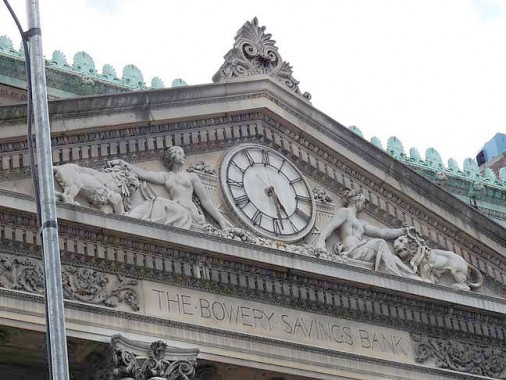 A McKim, Mead and White masterwork, the Bowery Savings Bank, rose from 1892-1894 on the Bowery at Grand, extending back to Elizabeth Street, when the Bowery was a theater district and the center of the NYC entertainment scene, and was still respectable — it didn't descend into despair until the 1910s. This bank set the template for the Roman Classical Style revivals for subsequent bank buildings. Bowery Bank had stood in this location since 1834: this was the third building. The interior featured marble mosaic floors, yellow marble tellers' counters, and cast-iron skylights and stairs. Thankfully the building has been saved and is now the Capitale nightclub.
After some mergers, the Bowery is now Capital One. Joe DiMaggio was the bank's TV spokesman for many years.
The sculpted pediments, depicting bare-breasted women petting lions, were designed by Frederic MacMonnies, later famed for his Civic Virtue statue that has gone from City Hall Park to Queens Borough Hall to Brooklyn's Green-Wood Cemetery.
Another semi-fanciful apartment house on the NW corner of Grand and Elizabeth. There was likely a capital on the corner that has been removed along the way.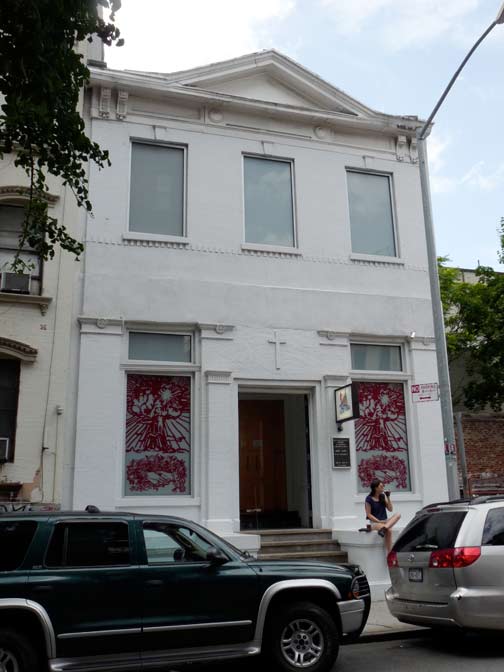 Christopher Henry Gallery, an art gallery at 127 Elizabeth north of Grand. It still bears the cross over the door from its days as the parish house of San Salvatore Church around the corner on Broome Street.
Five Brothers Fat Enterprise, Broome and Elizabeth. Apparently a fruit and vegetablewholesaler.
Apartment buildings, 1910 and 2010 style, on the NE and SW corners of Kenmare and Elizabeth Streets. I get accused at times of not liking anything new, but I like the irregularities of the new building and its wraparound windows, and how each floor is different than the other. You just have to be careful with the curtains if you live there.
I think I have shown this before, but there's a palimpsest of at least four faded ads on top of the other on the older building's Kenmare Street facing: Zaccaro Real Estate, J. Eis and Son and two more that are too faded to read now; one says "Home Laundry."
As Walter Grutchfield explains, the P. Zaccaro in the ad was Philip Zaccaro, who ran several agencies in the area; his son, John Zaccaro, is the husband of the late Democratic Congresswoman Geraldine Ferraro, who ran for Vice-President in 1984 and for the US Senate twice. John Zaccaro succeeded his father in the real estate business; "[i]n January 1985, Zaccaro pled guilty to fraudulently obtaining bank financing in a real estate transaction and was fined $1,000 and was sentenced to 150 hours of community service." -wikipedia.
J(acob) Eis and Son(s) are a hardware business still at the 105 1st Avenue location shown on the ad. The business became J. Eis and Sons in 1948, so this sign was inscribed here before that year.
Parking garage, SE corner of Kenmare and Elizabeth. The Williamsburg Bridge is a few blocks east of here, and parking garages are always found in the vicinity of bridges and tunnels. The grand art of architetcure has yet to produce an attractive parking garage.
As far as I'm concerned the boundary between Chinatown and SoHo is midblock between Kenmare and Spring, at least on Elizabeth, where the street trees begin. Going east to west, the line may zigzag around a bit.
The NE corner building at Elizabeth and Spring, nicknamed the Candle Building, has only been recently saved from a death grip of graffiti and bad street art. Jim Naureckas in Songlines: This 1888 carriage house and stable was for 30 years the home of John Simpson, an IBM employee who filled the building with Rube Goldberg-like contraptions and burned candles– surplus from the 1964 Worlds Fair–in the windows. 
It's also here that the shingles begin. Carved, painted and lettered shingle signs that hang over the sidewalk are becoming popular in the neighborhoods where the hip people go, and I tend to shuffle furtively around the edges, such as SoHo, the Willieburg, and even Red Hook. The nearest one advertises the New York Shaving Company, where you can get a $50 haircut. I still get mine hacked off for $15 by an Italian guy in Little Neck.
The Elizabeth Street Gallery, open to the public in a parklike setting, contains a variety of ornamental stonework, some of it depicting mythological figures such as the Sphinx, a lion with the head and breasts of a woman. If a traveler happened upon the Sphinx, she would present him with a riddle:
What goes on four legs in the morning, on two legs at noon, and on three legs in the evening?
The Sphinx devoured all who couldn't guess the riddle until Oedipus correctly answered it:
A man, who crawls on all fours as a baby, walks on two legs as an adult, and walks with a cane in old age.
Whereupon the shamed Sphinx killed herself.
There are also complete lions in the gallery, as well as complete women.
The sculptor had a griffin in mind, but "actual" griffins were said to be lions with the heads and wings of eagles, with a goat head growing out of the back, and a snake for a tail.
Some stray frisbees and footballs detract from the Greek-ruins atmosphere in the Gallery.
This sculpture likely depicts Hebe (pronounced AY-bay), a young woman who served as a cupbearer, or servant, to the gods of Mount Olympus. She married Heracles, or Hercules as the Romans called him.
The Gallery, an unofficial park, makes for a nice oasis in summer.
As is well-known, the bad boys get the hottest women.
At 209 Elizabeth, we find the first of a few older signs that have been preserved long after their old owners have moved out. The G. La Rosa & Son Bread Company is now Holland & Sherry Bespoke, which purveys home decor, bed and bath, tableware and linens and seasonal clothing, all pricey. It is an American branch of a Savile Row, London textiles firm in business for over 180 years.
Six-story apartment building at Prince and Elizabeth northwest corner, with some mighty corbelling at the roofline.
In a quintessential SoHovian scene, a stylish young woman crosses the street at Quality Mending Company, which sells vintage clothing and jewelry.
The Elizabeth Street side contains one of the last projects by artist Arturo Vega, whose work was most closely associated with The Ramones:
By 1976, when the band released its first album, titled simply "Ramones," Mr. Vega had largely set aside his fine-art ambitions and applied his design skills to all things Ramone. From 1974 to 1996, when the band broke up, he attended all but two of its more than 2,200 live shows. In the early years he would sell T-shirts before the concert, direct the lighting during the show, then dash back to his T-shirt display as the last song was playing to sell to people leaving. "They sold more T-shirts than records," said Danny Fields, the band's early manager, "and probably they sold more T-shirts than tickets." NY Times
Café Habana (Havana Cafe) at Elizabeth and Prince, one of SoHo's most popular restaurants, replaced Bella's Luncheonette, whose old sign is still faintly visible on the corner. Naureckas:
 A reader notes: "It used to be a diner we dubbed the 'rat cafe' because — in its previous incarnation — the moment it closed at night rats the size of Rottweilers would take the place over, slithering around the counters, licking the donuts under the glass covers. Eventually Japanese tourists caught on and it became a gruesomely fascinating must-see."
Metal Pointu's (French for "edgy metal") is a purveyor of metal artwork and jewelry. It's flanked by two unusual lampposts whose origin is unknown, to me at least.
Aesop, its only sign a small shingle over the sidewalk, is a skincare emporium that also has a branch in London's SoHo. Your webmaster can afford Irish Spring, but that's about it.
More and more, SoHo becomes a surreal world…
"Since 2000, Kate Keller and Phyllis Stigliano, principals of Moe's Meat Market, a gallery, located in Nolita, 237 Elizabeth Street, New York City, organize exhibitions that feature the work of Robert Kobayashi.
They come with many years of museum and curatorial experience."
On a recent day, leaning in the doorframe of his building at 237 Elizabeth Street in NoLita and wearing a paint-splattered sweater, Mr. Kobayashi, 84, looked more like a teenager. "I don't talk much, man," he warned.
Over the years, the building he bought for $35,000 in 1977 has attracted as much interest as the reticent artist who occupied it. Passers-by have long stopped to peer at the building's mysterious dollhouse-sized door, fit for a New Yorker of Stuart Little's stature. NY Times
I'm "officially" in NoLita, or North Little Italy, which is essentially the east side of SoHo, or South of Houston Street. I dislike the acronyms, but I'm a crank in my fifties.
Now, Albanese Meats is an actual butcher shop, albeit one immortalized by Martin Scorsese, who used owner Moe Albanese in an American Express ad. I suspect when the galley across the street was really Moe's Meat Market it was owned by Moe Albanese.  Here's a short film made by a family member:
243-245 Elizabeth and the galleries and shops on street level. Scorsese lived on this block in 1950, when he was 8 years old.
Street art. The sign on the left refers to 2013's Boston Marathon bombing, expressing solidarity with the Massachusetts  cousins. Doctor Doom, seemingly expressing disapproval, is at left.
At 267 is a popular taqueria, Tacombi, in what looks like a former garage. Food is served from a Volkswagen bug wagon inside.
Next door, with another vintage-look shingle sign, is The Musket Room; I correctly suspected it wasn't a gun dealer. It's a restaurant featuring New Zealand cuisine.
The trendier neighborhoods of Manhattan have always left me feeling like an outsider studying the area like Livingstone in Africa. I always feel out of place. For lunch, I feel more at home in diners and corner pizzerias. I walk these streets but will never be at home, really.
Area ID, 262 Elizabeth. In the apartment of our dreams, there are rooms filled with velvet-upholstered club chairs, Hesterberg Propeller tables and gently used zebra rugs. And everything costs, like, $50 or less. Back here in reality, it takes serious moolah to furnish a place with age-old brand names. Still, this shop is packed with retro-repro finery and inspirational ideas for the midcentury-modern palate. Highlights include a swan-shaped brass magazine stand ($850), unique handblown-glass table lamp ($950) and Mongolian pillows ($200 each). Time Out NY
Why does this stuff cost so much?
Crossing Houston Street, one block of Elizabeth before it ends at Bleecker, is officially in NoHo, or North of Houston Street…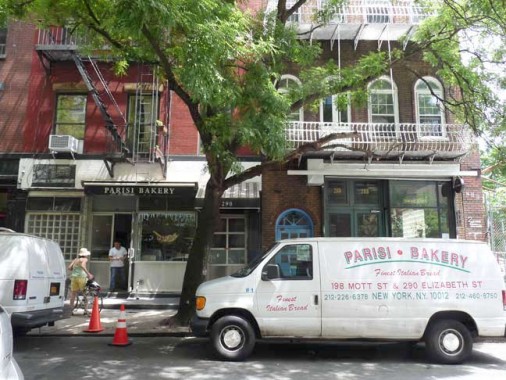 The Parisi Bakery has been in business since 1903, with the original Mott Street location now a deli run by the same family.
Flour, water, yeast, and salt. Back in 1903, a Neapolitan immigrant named Joe Parisi opened the Parisi Bakery at 198 Mott Street in Little Italy. The residents of that stretch of Mott were almost all from the Naples area, and Joe baked for them the kind of loaves that they knew from the old country. The basic dough was just flour, water, yeast, and salt. From that, Joe fashioned a variety of dense and chewy white breads with good crusts—rolls, long loaves that looked like puffy baguettes, round breads, lard bread, biscuits, and special Easter breads. Whenever Frank Sinatra was in town, he would send one of his daughters down in a limo to pick up four loaves.
In 1968, Joe handed the bakery over to his son Bob, who bought a larger bakery space at 290 Elizabeth Street nearby and kept the Mott Street address open as a deli.  Serious Eats
300 Elizabeth is a Federal-style townhouse  built in 1829, with vintage window shutters.
Elizabeth Street ends in another T-shaped intersection at Bleecker Street. The building on the right, #9, was home to the Youth International Party, a.k.a. the Yippies, an anarchist group headed by Abbie Hoffman for many years.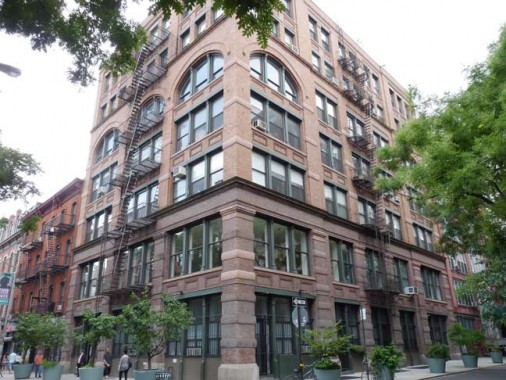 In 1893, even the factories were done attractively, such as this one at #10 Bleecker, SE corner of Elizabeth. It was formerly a recording space used by 1980s and 1990s favorites like the Bad Brains and dB's.
9/22/13