One of the few reminders of the old Schaefer Brewery on Kent Avenue and South 8th Street in the Willieburg is this sculpture of a raised glass and hops plants on a former brewery warehouse, now a Jewish school, one of two of the former brewery buildings that remained after the others were razed. The brewery closed in 1976.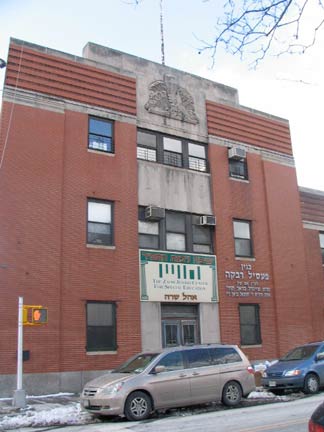 In the early 2000s the new Schaefer Landing houses opened in place of the Schaefer brewery. In mid-2015, plans were announced for a trio of glass-fronted apartment buildings to be developed by former NYS Governor Eliot Spitzer, and demolition of the remaining buildings was underway.
The marble pediment has been preserved and Spitzer announced it would be reinstalled when the buildings were complete.
Kent Avenue has changed a lot in recent years. Here's what it looked like in 2008.
9/3/13; rev. 9/2/15