In late summer 2013 I was again wandering in Greenpoint and Williamsburg, because the changes going on in these neighborhoods is accelerating to a breathtaking pace. What was once a busy port and trainyard in Williamburg has been transformed into riverside parkland and luxury apartments, with shops and amusements filled with shiny, happy people. Greenpoint is likewise poised to undergo a transformation to luxury, though I suppose it will proceed more in fits and starts than the conjuration perpetrated in Williamsburg since about 2005, the year zoning was changed to allow the luxury life to prosper there.
I walked Greenpoint Avenue from Manhattan Avenue west to the river and then walked West Street, which I had not fully explored, from north to south. The West Street results will appear soon, but I'll concentrate on Greenpoint Avenue here. There's also a ForgottenNY tour of Greenpoint scheduled for November 9th, 2013.
I walked Greenpoint Avenue's entire length, from Greenpoint to Sunnyside, a few years ago, and I'll recapitulate some of those themes here, though hopefully not too many. This page isn't meant to be a comprehensive look at Greenpoint Avenue's attractions; the previous page is more along those lines.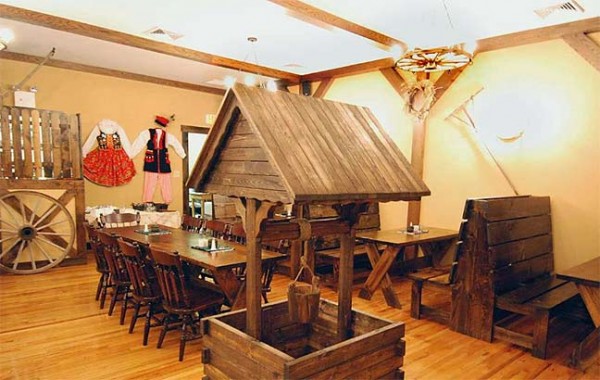 Karczma sets itself apart from other Polish spots in Greenpoint by playing up the Old World décor– appropriate for a place whose name means "farmhouse." Upon entering the heavy, windowless front door, you're greeted by costumed servers and ushered into the farm-themed dining room, replete with bucolic accents like a barrel, wagon, wooden-wheel chandeliers, and even an old-fashioned well.  NY Magazine
It's one of Greenpoint's many Polish restaurants, as you might expect. Polish cuisine is heavy on the meat, potatoes, and deep green vegetables, basic filling fare. Yelpers average four stars. Passing by, I liked the woodcut sign using Futura Bold Condensed.
Lee's Live Poultry Market, 122 Greenpoint Avenue. A throwback to the Greenpoint of old, this is an actual slaughterhouse where chickens due for NYC's tables meet their end most days of the week. The abattoir, built as a wagon shed in 1893, is accompanied on the south side of the street by luxury housing (at #118), a catering hall, a Doric-columned credit union building, and the Karczma restaurant, and has been the target of neighborhood ire for years because of its noisome, bad-smelling atmosphere.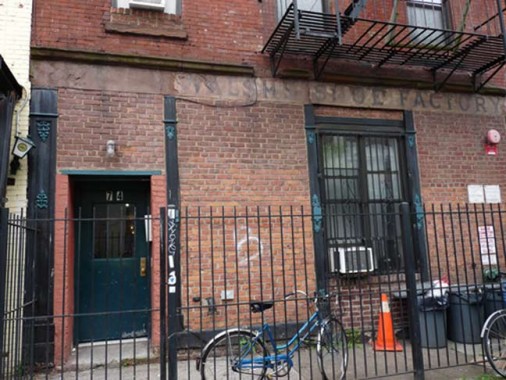 I kneel before the shrine of the Walsh's Shoe Factory at #74 every time I'm here. (Your webmaster's name is Walsh.) Nothing is known about the factory — even the great Walter Grutchfield, who has rooted out information on some of NYC's obscurest signs — is silent on this one. It's the only ancient sign or ad I've been in town that bears the name.
There is a Walsh Court in Midwood, Brooklyn, which runs for a block.
Coco 66, at #66 Greenpoint Avenue, probably imported the neon BAR sign from elsewhere.
Forrest Gump's quote about a box of chocolates could certainly be applied to Coco66, located in the nether regions of Greenpoint. Co-owned by the guy who runs the Brooklyn Chocolate & Cocoa Company [since shuttered0, which supplies the Ritz-Carlton and Peninsula hotels with sugary treats, this new bar has an eclectic clientele. Barely legal locals (who probably grew up in Greenpoint) down pints of Guinness ($5); well-dressed, fiftysomething businessmen sip Scotch (Johnnie Walker Red Label, $7); greasy-haired hipsters stay focused on the DJ (who played Britpop, punk, and classic rock on a recent Thursday night); andPearl Jam–loving college types wait for their turn at pool in the large back room. The bar's decor is a bit of a mix as well: Dark-wood benches, tables, and window frames; pressed-tin walls; concrete floors; an ornate, gothic-looking skylight; a kitschy fake fireplace; votive candles; and red lights. Still, as much as there is to spit out here, there's just as much to savor, like ultra-stiff vodka concoctions (Stoli and soda, $6), late-night specials (a PBR and a shot of Jim Beam, $5), and freakishly friendly customers. Plus, coming soon: boozy chocolate drinks and Skee-Ball. —-2006 review from the Village Voice.
Is graffiti guy Adam "COST" Cole making a comeback? 58 Greenpoint, now battered and abandoned, was formerly home to a tag and envelope company.
The Red Star Bar, Greenpoint Avenue and West Street, is ensconced at the edge of the new Eberhard Faber Greenpoint Historic District, which I'll definitely explore in future segments. The pencil company, founded by the German immigrant Faber in 1861, had its offices and factory in Greenpoint until 1956. Many Faber buildings can be instantly recognized by the company symbol, a star within a diamond.
This building, #37 Greenpoint, was built in 1881 by the Valentine family. The Faience Company, manufacturers of pottery, occupied the building before Faber purchased it for office space in the late 1800s.
If you look closely there is a star motif on the window lintels, but I think that's merely coincidental, since Faber moved in years after the building was constructed.
Once an art gallery moonlighting as an S&M club, this three-story warehouse now caters to Greenpoint's sports-obsessed. And they might all be able to watch the game at this three-floor bar with fifteen flat-screens. Hanging globular lights, tin walls pressed with burgundy fleur-de-lis, and sea-green window frames keep the place from feeling like a Houlihan's. Pub tables and an immense three-sided bar take up the ground floor, while gigging local bands usually drown out the TVs on a second landing, accessed by a cleverly designed staircase.  NY Magazine
Some of the buildings between West Street and the river — officially a dead end section of Greenpoint Avenue — have portions that have been left unchanged for decades. Both #23 and #25 have been altered on the ground floor, but even those alterations are very old. The stained glass number on the transom on #23 has been preserved, as well as the entire front door of #25 — could that be the original? The same door curtains were there when I was here in 2009. The door knocker is ancient, as well. A milk jug serves as a wastecan, or spittoon.
One of Brooklyn's newer "artisanal" or craft bakeries, Ovenly, opened next door in May 2013. I applaud the new trend of the store shingle extending over the sidewalk. The shop specializes in pastries and bar snacks: popcorn for the nearby Brooklyn Brewery.
Looking over your shoulder heading west on Greenpoint Avenue, you can see the painted Eberhard Faber ad on the second building east of West Street, #37 Greenpoint Avenue.
Eberhard Faber, the scion of a Bavarian pencil producing family, arrived in the USA from Germany in 1848, and after his first Manhattan factory burned down in 1861, he relocated to Greenpoint in 1872; the Faber company moved to Pennsylvania in 1956. The manufacturer, which pioneered the practice of placing erasers at the ends of their pencils, is recalled by a large sign facing the East River painted on its original building at 37 Greenpoint Avenue at West Street, and by the huge yellow terra cotta pencils on its newer 1924 Art Deco building next door at Franklin. Faber pencil factories, numerous in the area on Kent and west Streets near the river, are recognizable by a distinctive yellow star-in-diamond symbol. In its heyday Faber employed hundreds of Greenpoint residents.
Faber was infamous for "borrowing" ideas from other pencil manufacturers. When a competitor, Austrian-based L. and C. Hardtmuth added yellow coloring to simulate, so they said, an Asian origin for their pencils (Siberia being a chief source of graphite), Faber quickly followed suit and named one of their models "Mongols."
#21 Greenpoint Avenue has been recently renovated, with odd windows without sashes, that simply open by turning them. Aren't unscreened windows problematical during the summer?
On the ground floor is the River Styx restaurant. It was closed in midafternoon, since it opens at 6 PM.
Next door is #19 Greenpoint Avenue, which contains some unusual elements such as vintage mailboxes and an old-school wall lamp.
I though I had seen that same style lamp before, and I had, since a couple of them can be found on a building at Hudson and Beach Streets in Tribeca. Perhaps the style is readily available at hardware stores.
The storefront at #19 shows off an antique school writing desk/seat combo, cages, and a model airplane. I was bewildered by this display until I turned to old reliable, NY Magazine:
Former fashion-photo producer Maya Marzolf opened this charming antique home décor shop in May 2009, at the waterfront end of Greenpoint Ave. The vibe is part New England gothic, part steampunk, from the rough-hewn plank floors and pressed-tile ceilings to the industrial odds-and-ends available for sale (railroad ties, vintage copper flashlights). Marzolf scouts her stock from around the Northeast, ranging from tables, chairs, dressers, and mirrors to candlesticks, door knobs, and drawer pulls. The hand-painted walls are lined with glassware, china, fans, lamps, and vintage kitchen appliances—cherry pitters, mayonnaise makers—that may be more useful as modern-day decorations. For a dash of vintage glamor, there are plenty of ladylike trinkets and accessories, including enamel opera glasses, mirror-and-brush sets, and porcelain pitchers and wash bins. A smattering of giftworthy new items are also mixed in with the old, like quirky letterpress cards, linens, scented soy candles, and small matted prints.
Grenier is 'attic' or barn' in French.
WNYC Transmitter Park, at the west end of Greenpoint Avenue, was just an empty lot protected by a locked gate the last time I visited here in 2009. It's since been developed into a neighborhood park, with ample views of the river. While it's more developed and landscaped than the Grand Street Ferry Park further south, it retains sort of a rough and ready feel, with metal benches and bridges.
A lengthy pier juts into the East River, lit by davit poles featuring new "Helm" luminaires. The pier was built expressly for the park by WXY Architecture, which has designed a number of projects around town.
The park includes an overlook to the south, seating, and a waterfront esplanade. The center of the park includes a large, open lawn with a separate children's play area featuring a nautical theme to reflect the site's context. It also includes a spray shower and nature gardens. A pedestrian bridge has been restored as a wetland accessible to visitors. At the end of Kent Street is a recreational pier, featuring opportunities for fishing and a view of the Manhattan skyline and East River. NYC Parks
A look at Manhattan from the pier. We are across from East 14th Street. The Jacob Riis Houses are on the left and a large Con Ed plant on FDR  Drive and 14th Street is on the right. #1 World Trade Center lords it over the scene.
Looking northwest, this view takes in Waterside Plaza and the Bellevue Hospital area. The jetty belongs to the India Street East River Ferry station.
A look further northwest upriver. The UN Secretariat Building, the slanted Citigroup Building on Lexington Avenue and East 53rd, and the inscrutable Trump residential tower, until recently NYC's tallest residential building until supplanted by the Frank Gehry-designed 8 Spruce Street, are featured.
The west end of Kent Street, which contains many key Faber Pencil buildings as well as some of Greenpoint's handsomer residences, is seen here from Transmitter Park, with a contender for Brooklyn's rustiest lamppost.
Kent Street. Hope this worked out.
Long before anyone thought to put a park here, this was the site of a WNYC radio transmitter.
WNYC was founded in 1924 and the first broadcasts were sent out to listeners through a transmitter located on the 25th  floor of the Municipal Building in downtown Manhattan. Unfortunately those new-fangled skyscrapers shooting up in the 1920s and '30s began to create interference for the transmission signal, causing "dead spots" in broadcasts. These dead spots were so notorious at the time that by 1934 WNYC was described as "practically a useless shamble." In order to improve reception around the city, the radio station went in search of a site to construct a new transmitter, discovering an ideal spot in a dilapidated Greenpoint ferry slip. Greenpointers, which has the full story on a hidden aspect of Greenpoint history.
More from Greenpoint anon.
10/14/13