I was still not working, and the dead dog heat of August baked with its usual intensity (and this year the dead dog heat would be extended into October, when it hit 86 degrees the second week). But the Wandering Sickness had taken hold. I took the #7 train to 74th Street and changed there for the M on the Queens Boulevard line. The M is one of those lines that the MTA tends to send to different neighborhoods a great deal. Until 2010 it worked the Broadway Brooklyn el, the 4th Avenue Brooklyn tunnel, and then the West End el to Coney Island, but the latest switcheroo has it beginning and ending in Queens: from Ridgewood over the Broadway Brooklyn el, but then up the 6th Avenue Manhattan tunnel to the Queens Boulevard line, where it ends at Continental/71st Avenue. (I think this is the first time a subway line has begin in one borough, crossed into another, and finished in the same borough where it started.)
Ridgewood has always been a favorite neighborhood in Queens for me, because it closely resembles bordering Brooklyn in its use of row houses. In fact, some Ridgewooders persist in the belief that they're really Brooklynites, no matter what the city says.
I took the M, then, through Manhattan and into Ridgewood. I paused at Seneca (formerly Covert) Avenue, where an ancient fake painted ad beckoned…
This set of ads was painted in the mid-1980s for the feature film Brighton Beach Memoirs. They were cleverly rendered to match the prevailing painted ad stylings of the period when the movie was set. Dominating the center was a simulacrum Planters Peanuts ad featuring a smiling peanut vendor and in the oval on the right, Mister Peanut, as he appeared in the 1920s or 1930s.
Planters Peanuts was founded in 1906, in Wilkes-Barre, Pennsylvania by Amedeo Obici. In 1916 the company held a contest to create a company logo. A fourteen year-old schoolboy named Antonio Gentile won the contest with his drawing of a Peanut Man and an artist later added spats, a top hat, a monocle, and a cane to the drawing, and Mr. Peanut, or as Antonio called him, Bartholomew Richard Fitzgerald-Smythe, was born. wikipedia
Planters has a huge store on the Atlantic City boardwalk, complete with neon-lit marquees.
In the colonial era, Ridgewood was originally the northeastern section of Bushwick, or Boswijk, a Dutch settlement. In the early days, there was a border dispute between Bushwick and Newtown (now in Queens), settled by the 1769 placing of "Arbitration Rock," which marked the border; a rock found in latterday excavations and placed behind the historic Onderdonk House on Flushing Avenue is believed by many to be the original, though it's been hotly disputed over the years.
Surveyors then placed the Brooklyn-Queens border in a straight line between the marker and the Cemetery Belt north of Jamaica Avenue, which meant that some homes were split down the middle between Brooklyn and Queens. The border was redrawn to a zigzag route in 1925.
GOOGLE MAP: from Ridgewood to Sunnyside
Heading west on Putnam Avenue from Fresh Pond Road:
The still-active Ridgewood Democratic Club at Putnam Avenue and Stier Place, just west of Fresh Pond Road, is a building still pretty much in the same condition it was back in the 1930s, at the very least. Its original stained glass windows, still marked with an interlocking RDC, are still in place and are enjoying a recent renovation. The five-pointed star on the windows, called the Star of Epiphany, is a symbol of the Democratic Party.
According to Charles Ober, President of the Ridgewood Democratic Club, the building was purchased by the Ridgewood Democratic Club (founded 1908) in 1916. It was expanded and renovated to the current configuration in 1917 and the club moved in that year. A large two-story extension with a full basement was built to the rear of the building at that time. Shortly after the club moved into the building membership hit 1400 members; the membership hit a height of 2,000 and declined after 1950. There are currently 200 people on the club's mailing list and approximately 100 members. The lobby of the club is rather interesting: the floor has a mosaic with the name of the club in it, and there is a painting of the founder (Carl Berger, who served as president for some twenty years) with a brass plaque under it. The most important elected official associated with the club is Assemblywoman Catherine Nolan, who is a Ridgewood native.
A dead end street (ending at the right of way of the M train el) is named Stier Place. At this late remove, few Ridgewooders know for whom the alley is named.
In the years before World War I, developer Paul Stier built more than 750 houses in Ridgewood under his own name, and after he partnered with August Bauer, they together built 200 more. The area bordered by Fresh Pond Road and 71st, Putnam and Forest Avenues had at one time been called 'Stierville,' since that is where many of his homes were built. He sold his single-family houses for $5,600.
In 1915, Stier won the election for Sheriff of Queens County. This new venture proved to be his downfall. The German immigrant, who came here with nothing and fulfilled his version of the American dream, was shot dead by a crazy man in Whitestone while attempting to execute a contempt-of-court warrant in 1916. He was 42 years old at the time of his death. He was laid to rest in Maple Grove Cemetery in Kew Gardens.
Stier Place
Putnam Avenue at 60th Place
Ridgewood is renowned for its block after block of row houses; two new Landmarked districts have been created in the past decade to make sure the exteriors are preserved as is, joining the already established Stockhom Street district. Oddly, none of the districts include very many of the Stier houses found in this stretch along Putnam Avenue and parallelling streets.
In the early 20th Century, farmer Walter F. Ring, sensing change in the air as urbanization was taking hold, went out independently and found a partner, William R. Gibson. They formed the Ring-Gibson Company, whose forte was building multi-unit rowhouses with businesses at ground level.
They were very interested in developing the part of the Ring land that fronted Fresh Pond Road, but as it was still owned by the Ring heirs (of which Walter was one), they could not buy it directly. In a strange and legally questionable arrangement, they asked Paul Stier to buy the land, which Ring-Gibson then purchased from him for $1. Much of today's Fresh Pond Road commercial district came about because of this deal.
Those of you familiar with Astoria and Long Island City's brick row houses are familiar with the name Gustave X. Mathews, who developed mass-produced these multi-unit houses for about $8,000 and sold them for $11,000. They did not have central heating or hot water systems. The only heat came from coal in the stove and a kerosene heater in the living room. Despite this, the U.S. Government gave special recognition to Matthews' concept in 1915 when an exhibit was opened at the Panama-Pacific Exposition in San Francisco. It showed the world how efficiently these type of apartments met housing needs for a surging population. Many of Mathews' flats line Ridgewood streets.
Finally, Henry W. Meyer was born in Germany in 1850. He came alone to America in 1866, when he was 16. He saved the money he made working as a grocery store clerk and eventually was able to purchase a failing tobacco store. He started making his own tobacco and turned the business around. His best selling brand was called "Ivanhoe." in addition to being one of Ridgewood's largest land developers, Meyer also owned a paper box company, and a hat company, all of which were once located either in Williamsburg or Ridgewood.
Before his death in 1898, Meyer amassed quite a bit of land in Ridgewood and Glendale by buying up pieces of other families' estates. He called his estate "Ivanhoe Park." The name has since died out.
A law passed in 1959 mandated the conversion of remaining coldwater flats so they had heat and hot water.

There's a short street in Ridgewood that doesn't show up on maps, and is no longer marked by the Department of Transportation, so I thought I'd make up a Queens white and blue sign (used between 1964 and 1985) and place it myself.
If you blink you'll miss it. It's just a footpath along the elevated tracks running east from 60th place south of Putnam Avenue.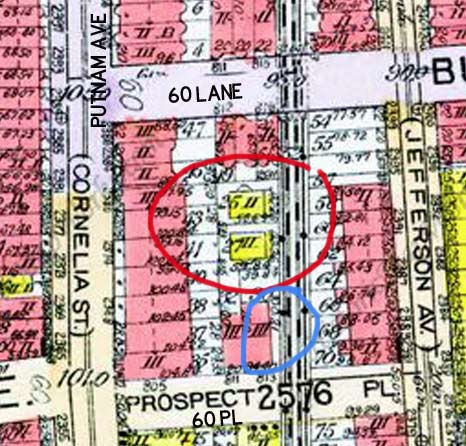 I have enlarged this 1915 atlas excerpt and labeled it with modern street names. Kleupfel Court is circled in blue, and I have circled in red the two reasons for the walkway's existence: the two houses, #1 and #2 Kleupfel Court, that still stand, facing the el. The el, by the way was originally a steam railroad that was purchased under the BMT "Dual Contracts" deal in 1911 and subsequently connected to the Broadway Brooklyn El via elevated.
#1 and #2 are a pair of wood frame houses with varying ages of siding. #2, in particular, seems weatherbeaten and aged. They predate the brick row houses that sprung up from 1905-1920, and likely faced the steam railroad.
The el tracks make interesting shadows on 60th Place. But the shadows are cast upon something even more interesting: brick streets punctuated by trolley tracks. The el here runs on its own right-of-way, an unusual situation in NYC (though not in Chicago) and when the steam line was elevated the tracks remained in place and were used by the #58 route running from the Wyckoff-Myrtle trolley junction to Flushing, using old Strong's Causeway. The trolley line ended service July 17, 1949, but its route is nearly exactly replicated by the Q58 bus today.
In 2013, the MTA was planning a dedicated busway along this right-of-way, serving the Q58, B13, and B20, that would connect Wyckoff-Myrtle with the Fresh Pond Road depot. The tracks would be removed along the entire route if it were paved over for buses.
The MTA is now favoring busways, here as well as possibly Red Hook and the north shore of Staten Island, fearing costs that would go along with building light rail, or the trolleys of old.
Trinity Reformed Church, 60th Place and Palmetto Street. The church is proud of its history and provides a thorough accounting on its website:
In 1843 an English-speaking congregation was formed in New York City at Avenue B and Fifth Street. They were part of the Reformed Church in America. In 1853 a small group of German speaking people came together in the Williamsburg section of Brooklyn and started a congregation there. They became part of the Deutsche Evangelische Lutherische St. Petri Kirche. Eventually the two congregations decided to merge in 1919, with Pastor George Wacker as the first minister of the united church. They moved to our present location in 1926. The Sanctuary in which we still worship today was dedicated to the glory of God on Feb. 27, 1927. Trinity Queens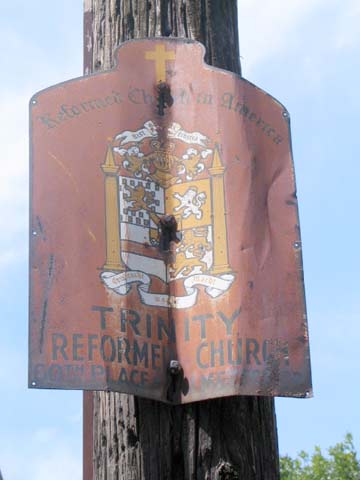 The church was also responsible, long ago, for the placement of this sign at Palmetto Street and Woodward Avenue.
ForgottenFan Joseph Ditta of Gravesend, Brooklyn Then and Now fame:
Brooklyn's official motto is Eendracht Maakt Macht. Written in the (old) Dutch language, it is inspired by the motto of the United Dutch Provinces and translated as In Unity There is Strength. The motto is displayed on the borough seal and flag, which also feature a young robed woman bearing fasces, a traditional emblem of republicanism. viawikipedia
But we're in Queens, not Brooklyn!
ForgottenFan George Miller: This was an old Brooklyn congregation that moved to Ridgewood during the 1920s (after many of its church members relocated to the Ridgewood area). Trinity was/is not a Dutch Reformed Church, but was and to some extent still is a German language Reformed Church, I believe it is a member church of the Reformed Church of America, successor to the former Reformed Dutch Church. The church corporation may have just adopted the official motto and crest of the City of Brooklyn since it was organized within the former city of Brooklyn.
Palmetto Street. The city has begun to phase out the Donald Deskey lampposts first installed in 1958 (becoming commonplace in 1964) because there are no longer parts being made to serve them. This change is especially seen in Ridgewood, where replacements have already arrived, such as the new mast placed on the telephone pole.
A Bicentennial Hydrant. To commemorate the nation's 200 years of independence in 1976, many fire hydrants were painted in various permutations of the US flag, with red and white stripes or white stars on a blue field. Many of these hydrants have never been repainted.
Gates Avenue between 60th Place and Forest Avenue. Western Queens streets in Astoria, Hunters Point, and then south into Ridgewood, are populated by modest houses built in the early 20th Century with what I call "casual elegance." Modern day builders consider aesthetics a waste of time and money.
Forest and Gates Avenues. Ostensibly a shoe repair shop, this corner store doubles as a hardware store and triples as a hookah pipe dealer.
Platz Hardware, housed in one of Ridgewood's fine old brick buildings, still has some gold-leaf lettering on the doorway. The Platz Brothers started selling painting supplies in 1909 from the smaller building on the left, and in 1913 built the corner structure so they could expand their business to include hardware. After over 100 years, Platz Hardware is still in business. They remain at the same location, and now they also sometimes sell flowers. In 1909, they advertised on the side of a horse-drawn cart. Today they reach the masses via their website.
I handed the young guy behind the counter my card, and he well knew about Forgotten NY. He offered that he had a brochure distributed by the Democratic Club (see above) but didn't know where it was at the moment.
Forest Avenue and Linden Street. The gray stone clad Prima Biserică Baptista Română, or First Romanian Baptist Church, features one of the few signs I have seen in town written in Romanian.
Romania is an Eastern European country which, in the medieval era, was the homeland of warlord Vlad the Impaler, who according to legend was the inspiration for the Count Dracula vampire character in the original Bram Stoker story and many others.
Forest Avenue and Grove Street. These handsome mixed-use brick buildings. especially the one ob the corner, have been well-preserved. The corner unit has had a touchup that emphasizes the design under its roof brackets.
At Forest and Menahan Street, a Mormon church occupies what looks like a former bank building that bears the date 1924 on its cornerstone.
Turning onto Metropolitan Avenue from Forest. I hate to cast aspersions, but this looks like the kind of place where rusty drills are used and the Novocaine is used sparingly.
#1 World Trade Center looms large over Metropolitan Avenue, which runs from the East River in Williamsburg, Brooklyn, to Jamaica Avenue in Jamaica. It was constructed as 1816 as the Williamsburg(h) and Jamaica Turnpike and remained a toll road until it was acquired by the city of Brooklyn in 1872. An early name for this section of Ridgewood was East Williamsburgh, as it is found just east of Newtown Creek.
Despite being a busy truck route, Metropolitan Avenue is not considerably wider than it was on the post-colonial era. Consider the additional lanes added to Thomson Avenue/Hoffman Boulevard, now Queens Boulevard, and Trotting Course Lane, now Woodhaven Boulevard.
A trim bridge connects Andrews Avenue and the intersection of 60th Road and 59th Place near the junction of the Montauk Branch and Bushwick Branches of the Long Island Rail Road. Both branches are used mainly for freight. It's all very modern and streamlined these days …
But when I found it in January 2000 it was a rubbish-strewn rattletrap. It's lost some character but it's easier to drive on these days.
Now on the southwest edge of Maspeth. This is a cottage-style house at 59th Place and 60th Avenue. Even though it's siding, I like the color.
This is a part of Queens in which every street is in a narrow number range.
Flushing Avenue, laid out around 1900 as the Bushwick and Newtown Turnpike, was placed in an open cut a few decades ago to eliminate the grade crossings at the Montauk and Bushwick LIRR branches. In effect, the change turned the mostly sleepy route into a four-lane speedway.  The overpass is one of the remaining bastions of the double-shafted Deskey lampposts.
The avenue goes nowhere near Flushing, but ends in Maspeth, where following a few more routes does lead to Flushing.
In what has been Queens' Rust Belt adjoining the noxious and noisome Newtown Creek, the appropriately-named Rust Street runs along the Montauk Branch tracks between Flushing and Maspeth Avenues.
Rust Street, at 57th Drive, runs past the former site of St. Saviour's Church, which was designed by architect Richard Upjohn in 1847 on land donated by James Maurice, a prominent lawyer, politician, and landowner. After a protracted battle against a developer, the church was dismantled in early 2008 and is at present located in a storage facility, while the land where it stood remains mostly empty except for a few new warehouses.
Some longstanding brick buildings face the old church site on 58th Street and 57th Road.
The residence of the late Hon. James Maurice, who represented Queens County in the Assembly in 1852 and the First District in Congress from 1852 to 1855, is on a portion of the Furman farm fronting on Maspeth avenue, a short distance west of the trout ponds. It Is now occupied by the deceased's brother and sisters. Prominent among the residents of Maspeth, who are well known socially and politically, may be mentioned Mr. Cord Meyer, Chairman of the State Democratic Committee; State Senator Edward F. Fagan, ex-Sheriff Garret Furman, John Van Coli, James W. Smith, Thomas Pettit and Police Justice Francis Mc Kenna. Brooklyn Times, June 2, 1889, via Juniper Civic
The old house written about in that 1889 article is still there today at 57th Place and 57th Road. An old bluestone sidewalk is still there and the hill on which it rests has never been leveled off.
Clinton's Maspeth
This part of Maspeth was lived in by possibly the most prominent politician in New York State in the early 1800s, DeWitt Clinton.
Clinton was a founding father who served as NY State Assemblyman, NYS Senator, NYS Governor, US Senator and NYC Mayor during an illustrious career capped by his indefatigable support for the Erie Canal. Several streets around town were named for him, and when Green-Wood Cemetery opened in 1838 his remains were later exhumed from the original burial plot in Albany, NY and moved to Brooklyn.
DeWitt Clinton lived in Maspeth for several decades in this house that had stood near Newtown Creek. The house was built in the mid-1700s, while Clinton moved here about 1780; it is said original plans for the Erie Canal were drawn up here. During the Revolutionary War the house was occupied by General Warren, and Gen. William Howe planned an invasion of NYC via Newtown Creek here.
The house didn't fare well in its later years, as the area surrounding it became increasingly industrial, and it was divided into tenements in the 1920s and burned down in 1933.
The NYS historical marker for the Clinton House stood on 58th Street and 56th Road and read:
DeWitt Clinton House 1790-1828. Stood several hundred feet north of here. Gov. Dewitt Clinton worked on plans for Erie Canal here. 
Above from the Queens page for NY State Historical Markers in NYC.
In the first half of the 20th century, Maspeth residents danced their cares away at Clinton Hall. Its wrap-around interior balconies and grand chandelier are seared into the minds of older generations. It was built in the 1920s and is being used now as a laboratory and for industrial purposes. Judge Joseph Sackett built a two-story wood frame mansion with porches around both levels in the area behind Clinton Hall in 1750. Governor DeWitt Clinton, who held every important office in New York State at one time or another in the early 1800s, planned the Erie Canal from this Maspeth waterside retreat, which he had inherited from his father-in-law, wealthy Manhattan merchant, Walter Franklin. Citizens converted the grounds of the Sackett-Clinton House into a park around 1910, but could not keep the house from burning down in 1933. The dance hall is the house's namesake. The entire area is now covered with industry, revealing no trace of the mansion that was once there. From the JPCA's page on the Newtown Historical Society's 2011 tour of Maspeth
The former Clinton Diner at Rust Street and Maspeth Avenue, a way station for truck drivers, railroad men and possibly Newtown Creek boatmen in days gone by,  has changed its name to Goodfellas Diner, honoring the Martin Scorsese classic about the career of Queens mobster Henry Hill. The actual menus feature Forgotten New York material, and it was here, in April 2011, where your webmaster repaired with the Newtown Penticleer after a fall on the Metropolitan Avenue Bridge. Bleeding again, an ambulance was summoned to the diner where I was whisked to Elmhurst Hospital for stitches.
At Maspeth Avenue and Rust Street is one of NYC's few grade crossings. All of the remaining grade crossings in town, except the one in Little Neck, cross the Montauk branch, which merges into a line coming from the Sunnyside Yards, creating another one at Borden Avenue near the Long Island Expressway entrance. Grade crossings can still exist at the Montauk because it has relatively few freight runs.
Rust Street becomes 56th Road at about Maspeth Avenue and continued to run along the LIRR. I ordinarily wouldn't take much interest in a produce wholesaler, but this one has some defunct tracks around the back that, at some time in the dim past, connected a loading dock to the Montauk tracks.
56th Road looking toward the Kosciuszko Bridge, which will be replaced by two new spans scheduled to finish in 2017, and the King Of All Buildings.
I haven't seen Canada Dry soda on local shelves lately, but this building on 56th Road served as a distributorship.
The "dry" in the name refers to a lack of sweetness, especially for the brand's flagship ginger ale. Various tough guys, such as Aldo Ray, Broderick Crawford and Jimmy Connors appeared in Canada Dry commercials in the 1970s, using the old standard "Ain't She Sweet" to plug the soft drink.
Classic Queens along 56th Road…razor wire and a chain link fence.
Turning north at 48th Street I detoured west on 54th Road to take a look at one of Hagstrom Maps' old headquarters. I have interviewed twice for the company, in 1981 (in Midtown) and 1992 (here) and was skunked both times, though the pay wouldn't have been much. Paper maps have fallen in popularity since the rise of GPS in cars and,Google Maps online. As you can see, the old American Map Corp. stencil can still be seen behind a sign for the present occupant. For several years, American was the Hagstrom parent company.
48th Street and Laurel Hill Boulevard. The road is named for the Laurel Hill area in which it originates. The isolated neighborhood, also called West Maspeth, is wedged between Calvary and Mount Zion Cemeteries, the Queens-Midtown Expressway and Newtown Creek. Laurel Hill Blvd. mostly runs under and alongside the BQE viaduct.
Shamrocks adorn the front entrances on some attached brick buildings on 48th Street near 50th Avenue. This is a clever evocation of Celtic Park, formerly the home soccer field belonging to the Irish American Athletic Club:
Established on January 30, 1898, originally as the "Greater New York Irish Athletic Association", they shortened the name to the Irish American Athletic Club a few years later. They purchased a plot of land in what was then called Laurel Hill, Long Island, near Calvary Cemetery, Queens, and built a state-of-the-art athletic facility on what was farmland. The stadium, called Celtic Park, formally reopened after renovations on May 9, 1901, and until the facility was sold for housing in 1930, some of the greatest American athletes trained or competed on Celtic Park's track and field. The Irish American Athletic Club adopted a winged fist adorned with American flags and shamrocks as their emblem, with the Irish Gaelic motto 'Láim[Sic] Láidir Abú' or 'A strong hand will be victorious,' and were often referred to as the 'Winged Fists'. At one time they had clubs in Boston, Chicago, San Francisco and Yonkers, New York. wikipedia
Chevy Impala, 50th Avenue near 46th. Name that year!
Two-story woodframe houses cluster along 50th Avenue between younger apartment buildings that likely date to the 1920s.
Here's a 1960s-era "Curb Your Dog" sign, a survivor on an apartment building wall. Dog curbing and waste cleanup became mandatory with the NYC "pooper scooper" law in the 1980s.
The only public park in Sunnyside is Lance Corporal Thomas P. Noonan, Jr. Playground, at 42nd Street and Greenpoint Avenue. Noonan (1943-1969), a US Marine, was awarded a posthumous Medal of Honor for heroism and bravery in combat in the Vietnam War. He was also awarded the Purple Heart, the National Defense Service Medal, the Vietnam Service Medal with two bronze stars, and the Republic of Vietnam Campaign Medal.
On February 5, 1969, his company was ordered to change the position they had been holding near the Vandergrift Combat Base in A Sahau Valley. This change was made especially difficult by recent heavy rains; descent down the steep hillside proved treacherous and four leading men in the company were wounded by North Vietnamese soldiers concealed in the area. The other members of the company were unable to rescue the four wounded marines in the midst of heavy enemy fire.
Noonan left his position of relative safety and descended through the hazardous terrain. Protected by a rocky outcropping, Noonan shouted words of encouragement to the wounded men. Bracing himself, Noonan then made a dash towards the injured men and had started to drag the most seriously wounded one to safety when he was hit by enemy fire. Noonan picked himself up and continued to drag the soldier away, but was mortally wounded before he could carry his comrade to safety. His heroic actions in the face of harrowing danger so roused his fellow marines that they launched an assault on the enemy positions that forced the North Vietnamese soldiers to withdraw. Noonan was awarded the Congressional Medal of Honor, the Purple Heart, the National Defense Service Medal, the Vietnam Service Medal with the bronze stars, and the Republic of Vietnam Campaign Medal. NYC Parks
The former Thomson Hill Park was renamed for Noonan in 1996.
Forgotten NY Correspondent Christina Wilkinson's article on Ridgewood was quoted by this page.
10/20/13