From the New York Public Library Archives comes this photo of Triton Avenue in Coney Island. The avenue was wiped out in the late 1960s, but it inadvertently led to the genesis of Forgotten New York.
The photo was shot from Shell Road and shows the one block street leading to its end at West 6th Street, where the elevated train called by subway historians the Culver Line (after Andrew Culver, who built the steam railroad replaced by the el) runs overhead. This is the first time I've ever seen Triton Avenue as it actually appeared. I've seen traces of it, however.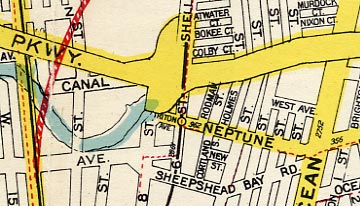 Triton Avenue as it appeared on a Geographia map from 1938.
Before the Peter Warbasse Houses were completed east of West 6th and south of the Belt Parkway in 1964, the area was full of little streets like Rodman, Holmes, Cortland, Dewey Place (not on the map) and Triton Avenue, a former important trolley turnaround. Cars would turn left onto Neptune Avenue, which Triton became after crossing West 6th, and follow it into a terminal. The trolley era was over by the 1950s, the construction of Warbasse Houses in '63-'64 wiped out all these small streets, and Neptune Avenue was thereafter straightened. Triton Avenue, though, named for the fish-tailed, conch-blowing son of Poseidon (Roman name: Neptune), god of the sea, was not eliminated so easily. In fact, Triton had left his scales all over the area.
In 2005 I found this pair of 1950s-era street signs on Shell Road and featured them in FNY. I couldn't resist, even though I knew I was writing their death sentence. Sure enough, next time I returned, the Department of Transportation had removed them.
In 1968, Triton Avenue figured in the gestation of an idea that would lead to FNY. I was on my first lengthy foray on my bicycle outside Bay Ridge, and I found a treasure trove here at this spot. Here was an old road, Triton Avenue, the Department of Traffic (as it was then called) was paving over; a rusted old castiron Corvington still hung in there on Triton Avenue; old school incandescent gumball lights still were suspended from the el to light West 6th Street. All this is burned into my brain, but not preserved on film, unfortunately.
One of the rules of Forgottening: Always carry a camera, and as I found to my frustration, always make sure the camera has a memory card in it.
1/14/14