A Perry Street townhouse at #43, constructed in 1860, was given a radical remake in 1967 when the entire exterior was covered in grey marble with casement windows, with a coat of arms at the roofline bearing the odd inscription "Dog of the Ilk." Such a remake wouldn't be possible under today's landmarks law, but this stretch of Perry near West 4th Street wasn't landmarked in 1967.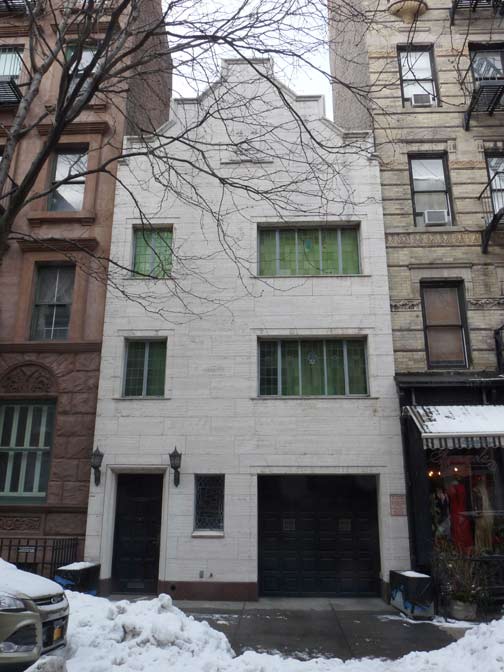 This is the Scottish coat of arms of the Doig, or Dog, family. It shows two flowers, a sword and an upside-down "V." In heraldry-speak, it's "Earliest Doig Coat of Arms: John Dog of yt Ilk registered a coat of arms in 1468 (Lord Lyon's records, Ref. FAL224), described as "Gules, a chevron Argent between two cinquefoils in chief Ermine and a sword erect in base Argent."
In heraldry, "gules" is red, "argent" is usually white, and "ermine" indicates figures on a background. Of course the colors don't come into play here. "Cinquefoil" is a five-leaved flower. The colors of the shield can be seen on the Doig Family heraldry page.
So, we can infer that the person who remade the building was in that family or was otherwise associated with it. "Ilk" is a pejorative these days, but it wasn't always that way and was formerly a word that meant "member of."
2/18/14