Queens Boulevard is possibly the fastest and furious-est, most pedal to the metal grade level road in Queens, other than an expressway. It roars from the tangle of elevated train tracks at the east end of the Queensboro Bridge through Sunnyside, Elmhurst, Rego Park, Forest Hills and Kew Gardens, finally petering to a close as a modest two-lane road at Jamaica Avenue after running ten lanes for much of its route and having acquired the nickname the "Boulevard of Death" for its pedestrian-unfriendliness.
Before the arrival of the Queensboro in 1909, Queens Boulevard was a modest country road known as Thomson Avenue and then Hoffman Boulevard, and before the coming of the white man to Queens it was likely a trail used  by the original residents. The bridge brought new residents to the borough, and finally the overwhelming popularity of the auto spurred its widening and redevelopment in the Roaring Twenties, development which was also applied to Trotting Course Lane (to become Woodhaven Boulevard) and Kings Highway in Brooklyn. The country lane became a 10-lane megaroad.
Between Hillside and Jamaica Avenues at the edge of Briarwood and Jamaica, Queens Boulevard is reduced to much the same condition as its ancestral roads, narrowing to two lanes. It's mostly a nondescript stretch with collision and auto body shops.
Arriving at Jamaica Avenue, a cluster of pretty much every fast food franchise that can be found in NYC is here. Queens is famed for its food selection, both ethnic and pre-processed.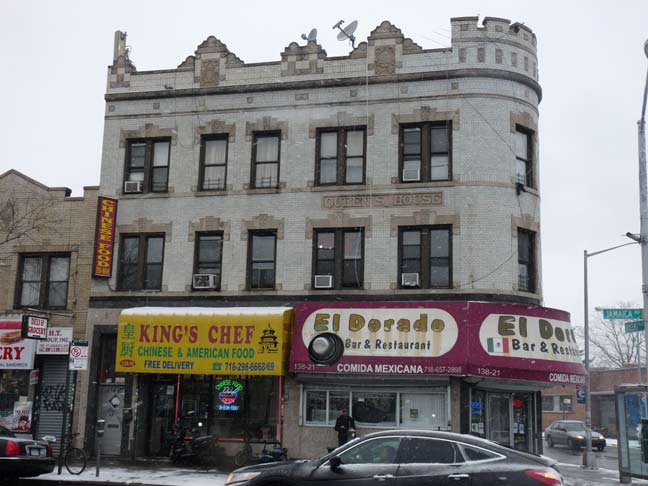 There's also a handsome apartment house, with Flemish-style steps on the roofline and a rounded corner, which would put it more at home on the Bronx. But an inscription on the Jamaica Avenue side makes it indubitably clear that we're not in the Bronx.
… Queen's House. Are we looking at a marvelous coincidence — was the building constructed before Hoffman Boulevard became Queens Boulevard? Or, was the house at the end of Queens Boulevard built and inscribed with an apostrophe the name of the boulevard doesn't have?
The mists of time have obscured the answer.
2/11/14