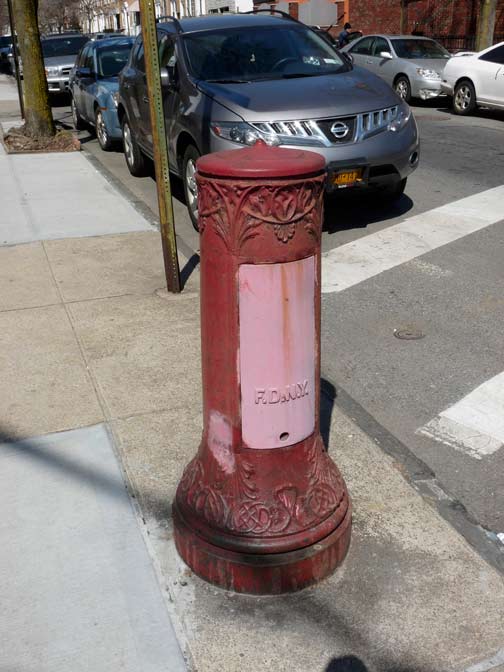 This decommissioned NYC FDNY fire alarm has stood on the corner of 6th Avenue and 77th Street in Bay Ridge for eons, or at least since I was a wee boy. (I suppose the two eras are now coterminous.) The city took it out of action in the Fab Fifties, or perhaps before that, and neatly covered the base with what looks like a dinner platter.
As stated, I noticed it even as a boy. Almost from the cradle, I walked 6th Avenue up and down, in my very young years accompanied by a parent or grandmother. In 1962, I noted when the cast iron Corvingtons were replaced by shiny, sleek, L-necked Donald Deskey poles. The Deskeys originally had the humpbacked streets signs that hung on the Corvs transplanted over to them, but then in 1964 came the advent of the color coded vinyl black and white signs that ruled into the 1980s, when they were replaced by green and whites. In the 1980s, I noticed when the Deskeys succumbed to classic octagonal-shafted light poles, rendering the now-rarer Deskeys into classic status. Through it all, this decommissioned fire alarm with its dinner plate cover has sat there unchanged, much like your webmaster.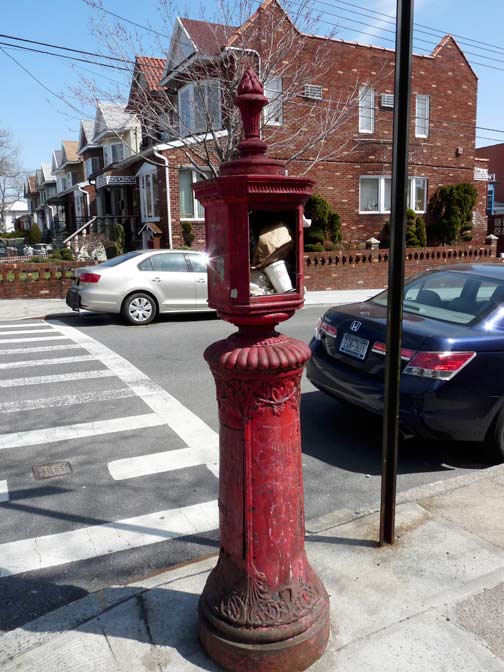 About 60 percent of NYC's fire alarms are still the longstanding 19-teens classic design, with an ornamental torch at the top that to me resembles an ice cream cone. Since the 1990s, many have been put out of business as mobile phones have come into vogue and their presence becomes redundant.
The city no longer covers them with dinner plates, though, and enterprising, resourceful New Yorkers have treated the empty mouths of the decommissioned alarms as waste bins.
To add to the desertion of the alarms, the city has stopped servicing the lighted brackets that signaled the alarms' presence, and they now hang empty and forlorn on their utility poles.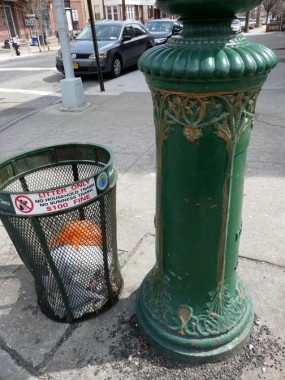 An enterprising Dyker Heights artist has repainted one of the decommissioned alarms a bright hunter green, complete with gold leaf on the filigree. If the forlorn alarms aren't going to be removed (perhaps the city hopes to reactivate them someday?) I hope to see more artists take a whack at them.
3/29/14