Despite what some daily NYC websites and their commentators have been saying over the years, and what the NY Times architecture critic said when it opened in 1975,  the large Verizon tower adjacent to the Brooklyn Bridge approach on Pearl Street is neat-o by me. I mean, I've seen worse. I'm not an architectural critic myself, but I know what I don't mind.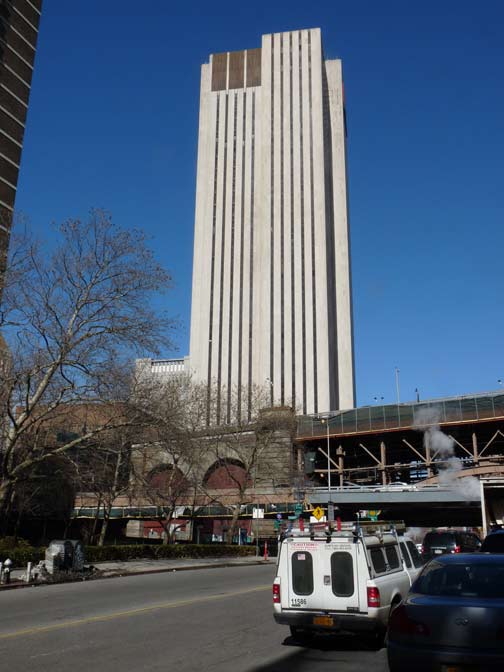 Officially called 375 Pearl Street, it was built for New York Telephone, but has served NYNEX, Bell Atlantic and Verizon over the years, and when Verizon is sold or merges with the next telecom company, it'll serve whatever it's renamed; in 2007, Verizon sold the building to Taconic Partners and now leases three floors. In turn, in 2011 Taconic sold it to Sabey Data Center Properties, which intends to develop it as a technology hub.
The building is a stark white tower with vertical-slit-shaped windows. When it opened in 1975 NY Times critic Paul Goldberger said it "overwhelms the Brooklyn Bridge towers, thrusts a residential neighborhood into shadow and sets a tone of utter banality." The UK Telegraph ranked it #20 on their list of "ugliest buildings in the world."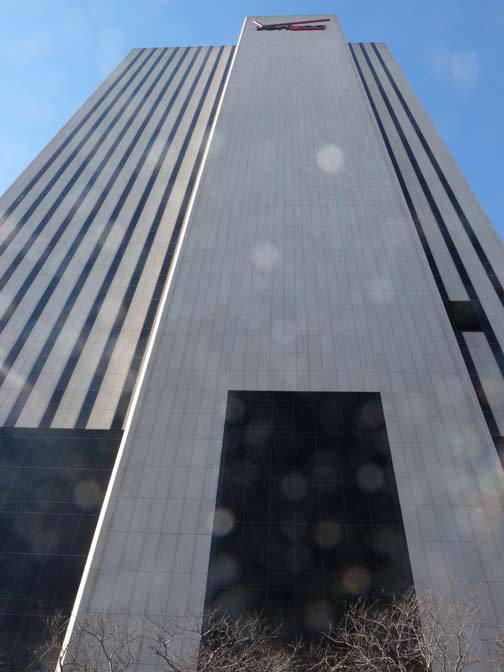 Am I really missing something here, or do I have no taste whatsoever? Brick for brick, is this as ugly as some of the piles of crap on that UK Telegraph list?
I like the white color, the clean lines, the slit windows. It projects orderliness and stability which are two things I tend to prefer. No question, the architects wanted to communicate the same thing.
There's really nothing wrong with this structure. It's no landmark, but it's not evil personified, either.
3/10/14