Willow Place is a southern "extension" of the somewhat longer Willow Street, separated by 3 blocks between Pierrepont and Joralemon Streets west of Hicks Street. Its one block length has given it a tight knit, close atmosphere and for several decades, it's been known as "Willowtown" or "Willow Town" by its denizens. Walk down the one-block stretch, and you see a microcosm of The Heights.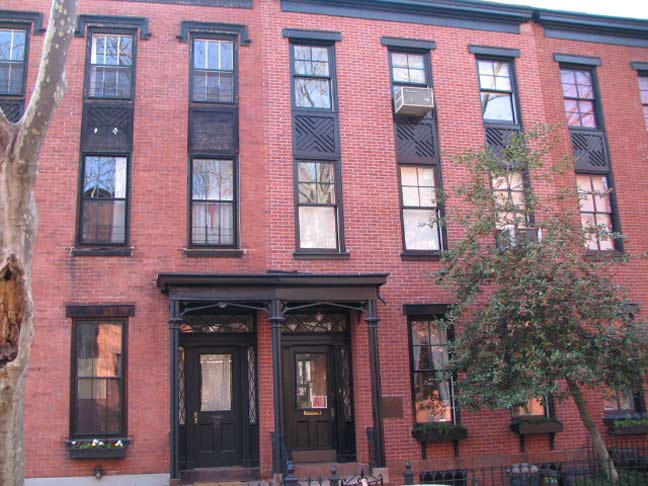 6 and 8 Willow Place
2, 4, 6 and 8 Willow Place are a group of four residential brick buildings that first appeared in city directories in 1847. Each has a handsome entrance porch that protects residents from the weather when fumbling for the keys, along with diamond-paned glass transoms and sidelights. A couple of the buildings look like they have original fences and railings. Note the metal panels that unite the second and third floors — they are known as "Davisean" after famed architect Alexander Jackson Davis, who made great use of them.
21 Willow Place
Dotted around Brooklyn Heights you will see a number of smallish buildings with wider entrances than usual, mostly along the side streets, but sometimes on Henry and Hicks. They are carriage houses and usually sheltered carriages or wagons on the bottom floor, requiring a doorway big enough to fit them. Residential quarters usually were found on the second floor.
26 Willow Place
The Unitarian  Church built this chapel in 1876, which later became known as the Alfred Tredway White Community Center honoring the architect who built the "Workingman's Apartments" on Hicks Street and their near-identical twins on Columbia Place a block away; White also built the landmarked Warren Place as "workingmen's" cottages — each now sells for well over a million. The church had moved out by 1962, when the Heights Players acting troupe moved in. Alumni include Alan Arkin and the late Richard Mulligan.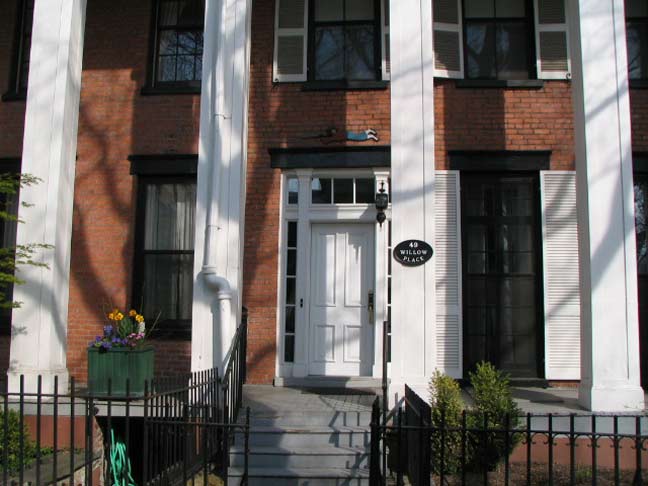 43, 45, 47, 49 Willow Place
This handsome grouping of brick apartments united by a common columned front porch has been called Brooklyn's last colonnade row. All were built by 1846. As you can see this unit is meticulously cared for by their owners, with the wood posts receiving frequent paint jobs in gleaming white. Across the street, there's a reminder of what happens when their upkeep isn't quite as enthusiastic.
#46 Willow Place
It's the lone survivor of #42, 44, 46 and 48, on the west side of Willow Place. As you can see it hasn't received nearly the same amount of TLC. Modern monstrosities hem it in on both sides.
A 1930s, or perhaps even 1920s-era parking garage faces Willow Place on Street. You can still find its original neon sign there, though the neon is long gone.
3/26/14