The Jefferson Market Courthouse, now Library, was constructed beginning in 1875 and was inspired by Ludwig II's Bavarian castle, Neuschwanstein. Ludwig built three magnificent castles; he later went insane and was found drowned.
The story of the Jefferson Market begins in 1833, when a large market was constructed on the new 6th Avenue in the triangle also formed by Greenwich Avenue and West 10th Street, named Jefferson Market after the former U.S. President who had died in 1826. Also in the complex were a police station, a prison, and a tall octagonal fire watch tower. Beginning in 1875, British architect Fredrick Clarke Withers built a High Victorian turreted, towered and parapet-ed Ruskinian Gothic masterpiece that served as a courthouse (with civil and police courts), with adjacent buildings along 6th Avenue serving as new housing for the market. Most notably, a 100-foot tower was built that replaced the previous one; the bell was preserved and placed in the new tower. Its spiral staircase is periodically open for visitors, as it was during Open House NY 2004.
In 1896 author Stephen Crane testified on behalf of a woman accused of prostitution in the courthouse, and in 1906, Harry K. Thaw was tried for the murder of famed architect Stanford White in the famed "Girl in the Red Velvet Swing" case. Thaw was judged insane and was sent to an asylum until released in 1915. Two years before the devastating fire in 1911  that claimed the lives of 125 workers, Triangle Shirtwaist Factory employees, mostly women, struck the company, demanding more humane conditions and higher pay. The company harassed the workers relentlessly and had dozens arrested, and cynically arranged to have their trials in this building due to its association with prostitution arrests.
By the twenties the courts in the building were used to try women exclusively. Mae West ran afoul of the 'decency' laws and was hauled in by the Society for the Suppression of Vice. She wound up with a $500 fine, a day at the new Women's House of Detention, built in 1929 to replace the old market building, and a week on Welfare Island. The Women's House of Detention had its own set of notorious names passing through, including Dorothy Day of the Catholic Workers, convicted Soviet spy Ethel Rosenberg, feminist Andrea Dworkin and radical Angela Davis. The courthouse was closed in 1971 and razed in 1973, replaced by a community garden.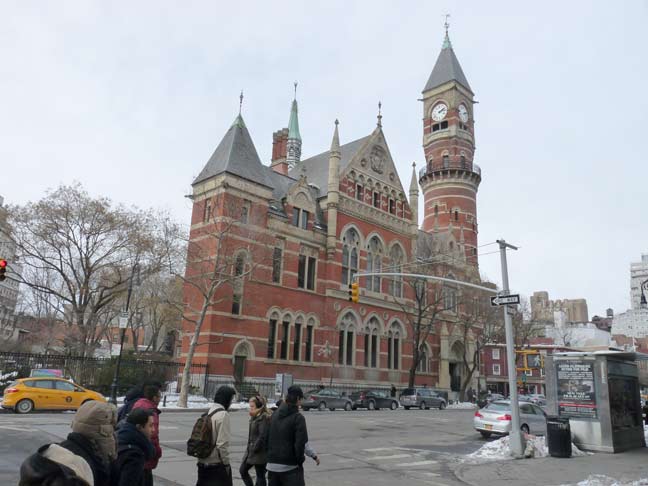 As for the Jefferson Market Building, its own courts had closed in 1945 and it was occupied only by the NYPD academy. In a familiar NYC story, by 1959 it was deteriorating, run down and a serious candidate for demolition. Village community members including architectural commentators and activists Margot Gayle and Lewis Mumford interceded …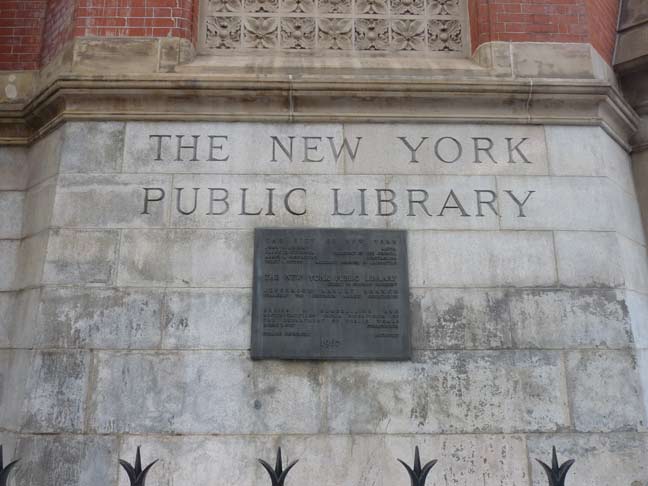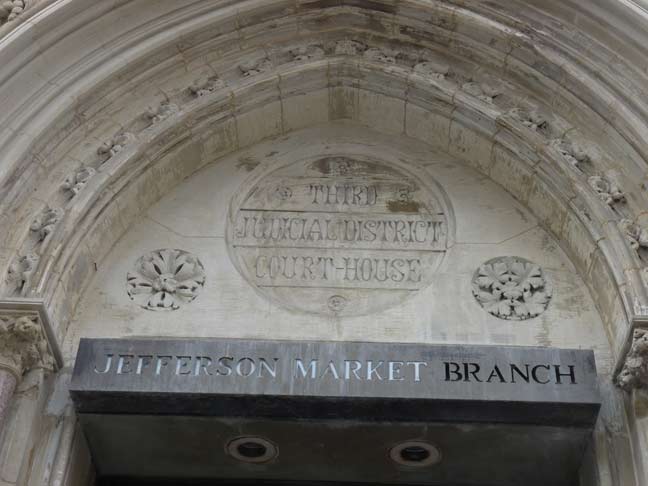 … and the decision was made, before the Landmarks Preservation Commission was organized, to save it and convert it to a library, which opened in 1967. The library is renowned for its New York city rare books collection, which I should really visit more often. My only time I was there was shortly after the ForgottenBook came out in 2006 and I gave a joint presentation with Roberta Brandes Gratz, the author of The Battle for Gotham: New York in the Shadow of Robert Moses and Jane Jacobs. Ms. Gratz is much more of an intellectual than your humble webmaster, but I held my own, and it wasn't a debate, anyway.
The building has so much detail for the urbanophile, like a fountain on the corner of 6th and 10th, and a bas relief of a weary traveler. I have not yet been able to determine who this fellow is, so if you know, drop me a line.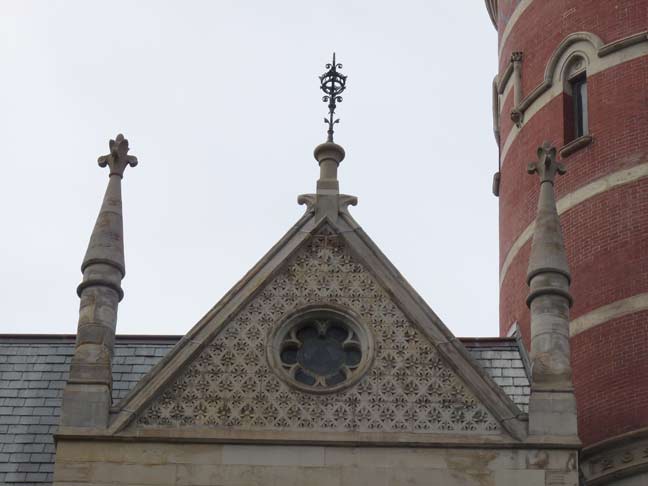 An intricately carved pediment with side columns, and a sexfoil window.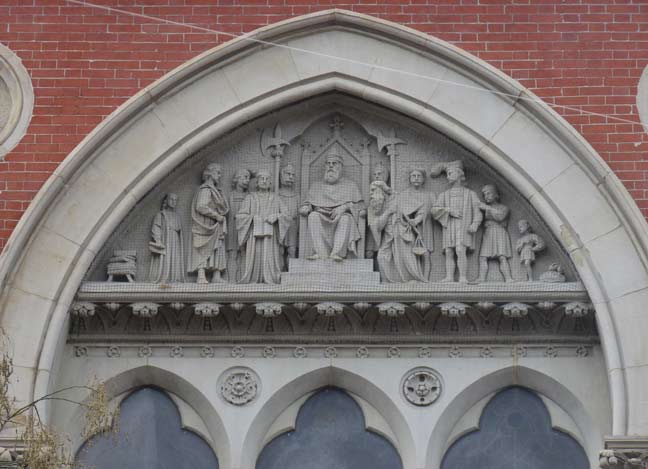 A representation of a medieval court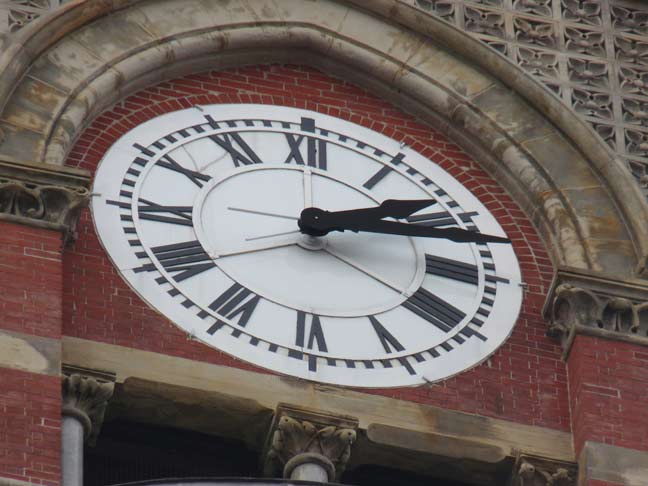 The clocks, stopped for a number of years, have recently been restarted as part of major renovations.
For more, see New York Architecture.
5/21/14