Aimlessly meandering through the East Village during the spring (2014) wondering what was going to happen next, I noticed that I was on lower 2nd Avenue near East Houston Street, and I realized I hadn't gotten a good photo of the New York Marble Cemetery gate and entranceway. It's one of the more obscure alleyways in New York, and is unnamed because I doubt it ever admits motorized traffic. I found to my surprise that the gate was open, and what's more, the gate to its "competitor," the New York City Marble Cemetery a block or so away, was also open to the public. The New York Marble Cemetery is open every 4th Sunday of each month during spring and summer, while the NYC Marble Cemetery is a bit more strict, opening on several selected dates during the year.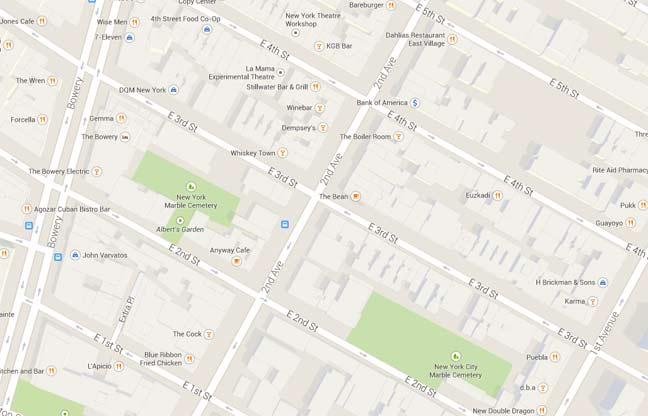 These are a pair of "neighborhood" cemeteries established by 1831, the first nonsectarian cemeteries in NYC. After the mid-1840s, the city, (erroneously) believing cemeteries would exacerbate disease epidemics such as yellow fever and cholera, legislated against any burials south of midtown; St. Patrick's parish then established Calvary Cemetery across the river in Queens, for example, and Brooklyn and Queens' 'cemetery belt' came into existence. In downtown Manhattan, though, there are still some small cemeteries scattered around, some dating to the 1600s, such as the Trinity Church yard at Broadway and Wall Street.
The New York Marble Cemetery and New York City Marble Cemeteries were established in 1830 and 1831 respectively and are considered completely separate entities, though both were built by the same individual.
NY Marble Cemetery
I often miss the entrance alleyway. It's on 2nd Avenue between East 2nd and East 2nd Street.
The NY Marble Cemetery (NYMC) is unique in New York City in that it contains no freestanding gravestones, and never has had them. The NYMC — along with the nearby New York City Marble Cemetery (NYCMC) were developed by the same person, Perkins Nichols, beginning in 1830, when East 2nd Street was still considered uptown. Instead of earth graves with headstones, family vaults the size of small rooms were built ten feet underground. The relatively deep location was decided on because at that time there was still fear of contamination from deadly or debilitating diseases from fresh remains. The vaults are set in pairs and can be accessed by removal  of stone slabs set beneath the "lawn." The NYMC contains 156 vaults and 78 entrances.
Among the original internees were prominent  businesspeople, what today some would call the "one percent." Uriah Scribner, a founder of the Scribner publishing and book-selling empire; Aaron Clark, NYC's first Whig mayor (from 1837-1839); US Representative and President of Columbia University, James Tallmadge; Benjamin Wright, Chief Engineer for the Erie Canal; and Deys, Varicks and other prominent names found on NYC street signs.
The roughly hewn stone walls of the NYMC contain marble plaques (hence the "marble' in the name) showing original owners and the precise location of each vault. Tuckahoe marble was employed for the aboveground plaques and lintels and also below ground for the vaults' walls and arched ceilings, preventing "miasma," or harmful vapors, from seeping to the surface. Unfortunately, marble doesn't hold up very well in wind and rain and many of the names, once chiseled deep into the stone, have suffered nearly 200 years of weathering.
New York City Marble Cemetery
The "other" local cemetery, though trustees of each cemetery likely call NYMC or NYCMC the "other" one, is located via a more conventional entranceway on East 2nd Street between 1st and 2nd Avenues, though the NYCMC is open to the public less frequently than the NYMC. It's interesting that the NYMC literature I acquired on my visit claims that Perkins Nichols built both cemeteries, but that NYCMC was "founded" in 1831 by a consortium consisting of wealthy New Yorkers Evert Bancker, Samuel Whittemore, Garret Storm, Henry Booraem and Thomas A. Emmet, without mentioning Nichols' name. Land was purchased from a Samuel Cowdrey.
Apparently in that now-remote era, 2nd Avenue was due to become a fashionable road lined on both sides with expensive housing and expensive emporia. Instead, an el was eventually built on the avenue north of East 23rd Street and 2nd Avenue was thrown into shadows punctuated by flaming sparks and belching smoke from the overhead tracks. Fifth Avenue, leading north from Washington Square, stole the glory. By the 1890s the NYCMC was faced by tenement housing on East 2nd Street and many of the families with members interred here decided to reinter them upstate, away from the hoi polloi. However, others held firm and instituted a trust that has helped maintain the NYCMC to this day. At length, it was declared a NYC Landmark in 1969.
The NYCMC is faced on 59 East 2nd Street by the Romanesque Russian Orthodox Cathedral of Holy Virgin Protection, constructed in 1867 as Mt. Olivet Memorial Church, constructed by Joshua Cady,  the architect behind the uptown Museum of Natural History and the first Metropolitan Opera House at Broadway and West 39th, now demolished. The Russian Orthodox Church obtained the building in 1943.
The NYCMC is also under the baleful glance of #67 East 2nd (the 6-story walkup in the center) where, NY Songlines' Jim Naureckas reports, domestic terrorist Sam Melville made his hideout in 1969 after bombing the US Draft Induction Center on Whitehall Street, Criminal Courts Building at 100 Centre Street, the RCA Building, the General Motors Building and the Chase Manhattan Bank and other places, all without killing anyone, not for lack of trying. He was sent to upstate Attica and died in the prison riots there in September 1971, which he helped instigate.
Much like the New York Marble Cemetery, the NYCMC burials are in vaults about ten feet below ground and are accessed by opening stone slabs buried beneath. Unlike the NYMC, the NYCMC faces East 2nd on one side and thus there isn't a stone wall for marble monuments to be displayed. Thus you will see them arrayed on the cemetery field, and many families have chosen to erect substantial monuments.
This cemetery in the past was the final  resting place of President James Monroe from his death in 1831 until  1858, when the State of Virginia requested his remains be reburied in Richmond. The cemetery can claim three NYC mayors, Marinus Willett (from 1807-1808), Isaac Varian (1849-1851) and Stephen Allen (see below). NYC Public Library founder James Lenox (of Lenox Avenue fame); John Lloyd Stephens, archeologist and Mayan expert; James Henry Roosevelt, founder of Roosevelt Hospital; and several other Roosevelt family members, are buried in NYCMC.
Vault of John Trenor, #183 of some 258.
Monument for Hannah Secor. This is an old New York-area name associated with a Huguenot, or French Protestant, family who settled here in the colonial era.
James Oliver. Just about everything else on this substantial monument has been weathered off.
Leonard De Klyn
Preserved Fish (1766-1846), was a prominent shipping merchant. He was a member of the prominent political Fish family in New York, whose perhaps most famous member was Hamilton Fish (1806-1893) who became the 16th Governor of New York, a United States Senator and United States Secretary of State. Preserved Fish, however, was born in Portsmouth, RI, son of a father who gave him his name. It is not a pun or a play on words, as it is pronounced in three syllables, "pre-SER-vid" and implies "preserved in God's sight or God's grace."  His monument can be found on the west end, or 2nd Avenue end,  of the cemetery in the middle.
You can't miss Stephen Allen (1767-1852), the 55th NYC mayor from 1821 to 1824 and a sailmaking entrepreneur before entering politics; his vault is marked by a large tapering shaft topped by a globe just to the left of the cemetery entrance on East 2nd Street.
He headed a committee that sought additional sources of drinking water, eventually focusing on Rye Pond in the future borough of the Bronx, and a potential canal to be built in Westchester. Allen and the council were raring to move forward, but state bureaucracy, yellow fever outbreaks and focus on the Erie Canal would delay the development of a viable aqueduct for many years.
Allen made a bigger impact on New York's prison system as a member of a state committee that inspected conditions at the first state prison in Auburn, New York. Their evaluations eventually led to the construction of Sing Sing prison.
He left office after three years as mayor, but he didn't leave politics or Tammany behind, eventually becoming a state senator and helping raise money to build the first Tammany Hall.
He spent his latter days at home on Washington Square, but tragically, he did not end up dying peacefully in bed here as other future mayors would do. He was aboard the steamship Henry Clay in July 28, 1852 when, after an ill-advised race with another vessel, it caught fire and crashed on the Hudson River, killing dozens of passengers including Nathaniel Hawthorne's sister, famed landscapist Andrew Jackson Downing and, sadly, our former mayor Allen. Bowery Boys
7/13/14