I was meeting someone in Yorkville a couple of weeks ago and I was a bit early, so I started shuffling about, and decided to investigate these massive edifices between 2nd and 3rd Avenue between East 90th-92nd Streets. They're very well-designed as high-rises go, in your webmaster's humble opinion.
According to NYC Architecture,
Ruppert Towers were built as an urban renewal project on the site of the old Ruppert Brewery, which closed in the 1960's. The complex consists of three 24- to 42-story brick-clad towers set on a landscaped site, unified by a consistent design highlighted by narrow vertical windows and chamfered corners with cantilevers. The buildings' height, irregular massing, and dynamic design create a visual landmark on the Upper East Side…
Ruppert's Brewery (which survived Prohibition by bottling and selling near-beer) was perhaps best known for the annual salary battle between Babe Ruth and Yankee owner Ruppert. Located in Yorkville, then a heavily German neighborhood, it took up four blocks (East 90th to East 94th), between Second and Third Avenues, a complex consisting of 35 fortress-like brick buildings. Ruppert's Knickerbocker label was sold long his after death to Rheingold, in 1965. The complex, which survived 98 years, was bulldozed and replaced by enormous high-rises, one called Ruppert Towers. A sad employee, on the last day of the plant's operation, poured himself a cold one and groused, "This would never have happened if the Colonel were still alive."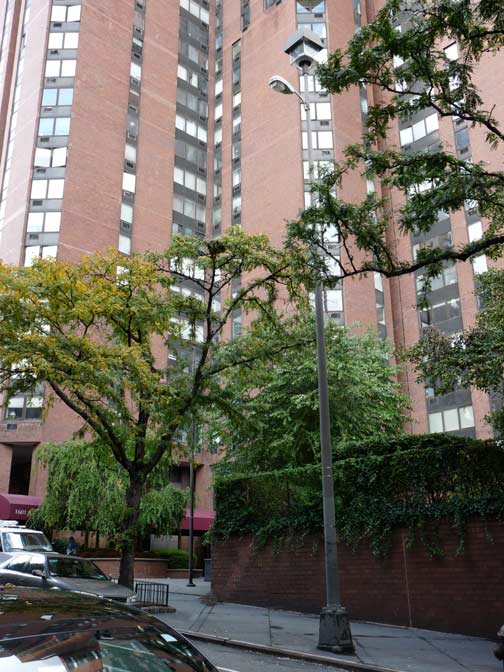 What also piqued my interest is that I've known for several years that the streets bordering these high rises were given a special lamppost design, and these are high-rise lamps, towering over the usual octagonal poles the city uses as a rule. They go back to when the project was built from 1975-1979. They also appear on East 91st, a walkway between the two towers.
The Department of Transportation has placed spare parts like mini-cobra necks on a couple of the posts, as seen here. The original shaft was short and straight and is still on some of the poles. Whatever ones were on 2nd Avenue, if any, have been removed as the avenue continues to be ripped up for the never-ending subway project.
10/31/14