By SERGEY KADINSKY
Forgotten NY correspondent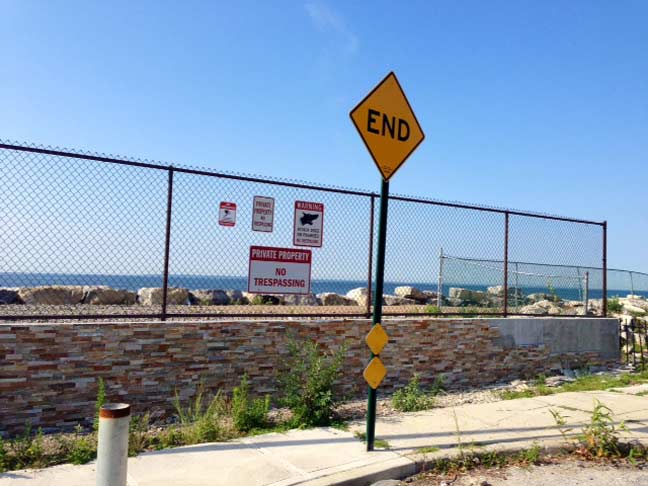 In the 1870s, the southern shoreline of Manhattan Beach was straightened with an 8-block waterfront walkway running between the southern ends of Corbin Place and Ocean Avenue. In 1987, property owner Jack Laboz fenced off the portion of the walkway between the water's edge and his home, arguing that the city neglected to maintain the Esplanade. A judge agreed with Laboz and the Esplanade has since been claimed by other local property owners. Grass was planted on top of it. Visitors are discouraged from "trespassing" by sings warning of guard dogs, security cameras and property owners threatening to call the police.
More recently, the city included the Esplanade in its Vision 2020 plan, seeking to connect the public beaches at Brighton Beach and Manhattan Beach with a waterfront walkway. The local Community board agrees with the city but the property owners insist that the 1993 court ruling is eternal.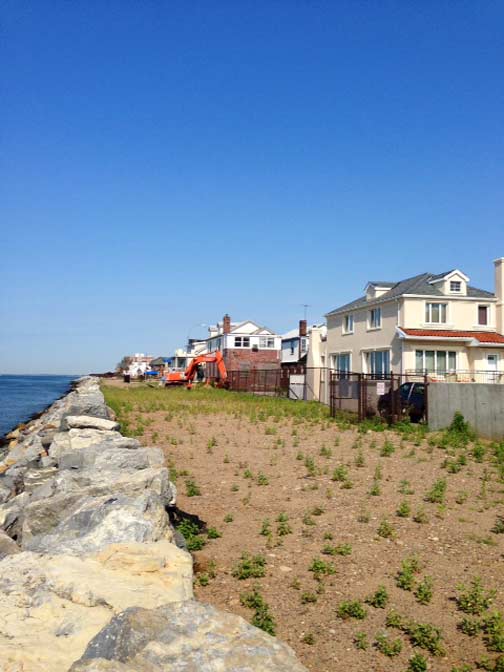 Among the residents who capitalized on the land claim are Laboz, whose home at 253 Amherst Street encroaches on the former walkway and has a lawn extending to the water.
Nearby 296 West End Avenue, owner by Gary Vinbaytel, took over land at the dead end of the street. His 17,000 square foot mansion was appraised at $9.75 million in 2012.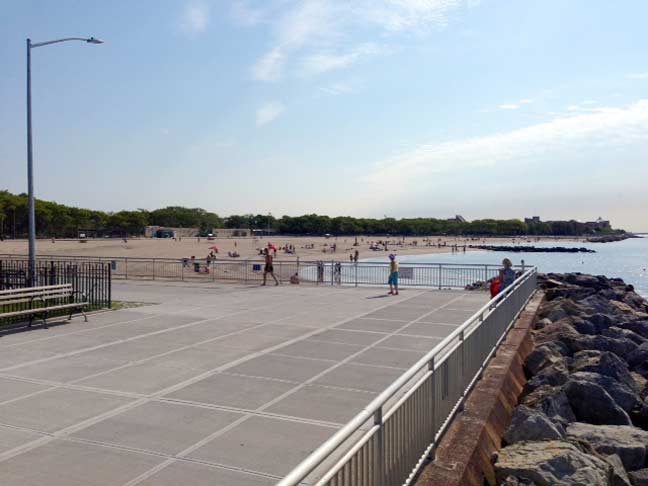 Only a small section of the Esplanade is open to the public, at the southwest corner of 
Manhattan Beach Park
 here at the end of Ocean Avenue.
When the city speaks of linear coastal parks, Hudson River Park and Brooklyn Bridge Park serve as leading examples but the Manhattan Beach Esplanade predates them by more than a century.
Other factoids: There are other roads called Esplanade in New York City:
Esplanade in the northeast Bronx (reported in Forgotten-NY)

In addition, the walkway above the Brooklyn-Queens Expressway between Remsen and Vine Streets in Brooklyn Heights is officially called the Esplanade, but everyone in Brooklyn calls it the Promenade.
12/16/14