One of Manhattan's oldest streets was named very early on, in the 1660s, and commemorates the paddle-tailed, dam-building, aquatic rodent whose pelts made up the chief avenue of commerce between Dutch settlers and the already established Native Americans during New Amsterdam's earliest days from the 1620s through the 1650s, after which sales of beaver pelts fell off greatly.
Nevertheless beavers continued to be much prized for centuries, so much so that the wealthiest man in America during his time, John Jacob Astor, made his fortune on beaver fur, and representations of the beaver are seen in the official seal of New York City (along with a number of other puzzling artifacts that are decoded on this page; and, of course, terra cotta beavers can be seen in the Astor Place station, named for John Jacob.
This is the original street plan of New Amsterdam as mapped in 1660: I have helpfully added modern street names. Despite some landfill at both river edges, this street plan, with additions and modifications, is the same one found today in lower Manhattan. In fact the street plan itself has been recognized by the NYC Landmarks Preservation Commission, designated in 1983.
Fort Amsterdam appears at the present location of Bowling Green. If you look closely, you can see individual houses represented on the edges of the streets. At this time, canals still ran on Broad Street and a section of Beaver. There was still an actual wall at the northern end of the settlement, built to keep out those Native Americans hostile to the Dutch, as well as Europeans.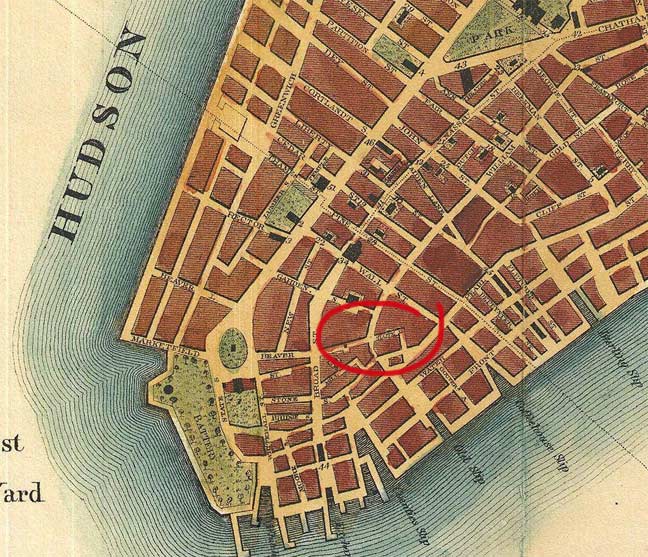 This map of lower Manhattan was produced in 1807. By that time there had been some landfilling, the fort that became Fort George had been torn down, and the street pattern we know today had more or less been established. There have been some name changes (Partition and Fair were combined to form Fulton Street, for example, after Robert Fulton popularized the steamboat.)

Beaver Street, though, hadn't attained its final shape. Today the street runs from Broadway at Bowling Green northeast to Pearl Street just barely south of Wall Street.
However, for much of the colonial era and afterward, Beaver Street ran between just Bowling Green and Broad Street. The block between Broad and William was variously called Prince or Princess Street, depending on spelling and the whim of the mapmaker, and there was just an L-shaped section between William and Pearl.
According to the invaluable resource of Gil Tauber's Old Streets, this was a short lane called Slote, or Sloat, Street, named for the Dutch sloot, or drainage ditch, which we can guess was pretty much its original purpose. After 1807, Sloat became Exchange and later, Merchant Street. Finally, after 1835, Beaver Street was extended to its present length and the remaining section of Merchant Street was then called Hanover Street.
Heading northeast from Bowling Green past massive #2 Broadway, finished in 1959 but given a new sleek exterior in 1999, you immediately see the small alleyway Marketfield Street, which redirects at a 90-degree angle to Broad. Google Maps incorrectly calls it New Street, but that's an easy error to make since New Street begins a northward run opposite Marketfield.
The street is an English transliteration of the Dutch marktveldt, or "market-field." Before lawn bowling became a craze in the Dutch colonial days, a produce and livestock market was located at Bowling Green and this street once ran past it, becoming Battery Place further west. After the British took over the street was also occasionally known as Petticoat Lane, a name I wish it had retained.
This stretch of Beaver was once home to NYC's first synagogue in the colonial era.
18 Beaver Street (at Marketfield Street) caught my eye not only for the old school Yip's Restaurant sign but what I found on the pediment at the top. It was likely before this particular 3-story building was constructed, but 18 Beaver was once the home of Thomas Williams, scion of the family of "the oldest and largest firm in the world dealing in mahogany and other imported cabinet woods."
The girl on the pediment is likely Hebe. I am not trying to be insulting — Hebe (pronounced AY-bay) was the 'cupbearer of the gods' in classic myth. One of the little details that Beaux Arts architects, who no doubt studied the classic myths in school, provided on buildings to make them beautiful. A trifle, lost from the practices of today.
The building next door, 20 Beaver, is over a century old and has a varied history, according to the former site The Masterpiece Next Door, which sadly has been taken down:
20 Beaver Street looks like a Federal-style (right? Federal?) warehouse. Some net-sleuthing connects the site (and probably the building itself) to the Holmes & Haines cabinetmaking company starting at some indeterminate point early in the 1800s. By 1901, it is home to George A. Kessler & Co.; Kessler was a wine merchant written about in numerous New York Times articles, including one about his escape from the Lusitania disaster and another on a mad expensive $300-a-plate "polar party." Later it became home to Samuel Lakow's custom office furniture business.
While the Lakow office furniture wall-dog ad has been expunged from North Moore and Hudson Streets, Mr. Lakow will apparently have a presence at 20 Beaver for as long as it stands.
I can't avoid mentioning the Type 1 BC Bishop Crook post on the south side of Beaver Street between Marketfield and Broad. This was an early version of the taller Type 24 Bishop Crooks that have been reproduced by the thousands around NYC over the last 30 years, but this one dates to the 1910s. It's shorter in stature, has a garland figure around the shaft, and a ladder rest that pays homage to the gaslamps that preceded it. The modern "Mission Bell" light makes it look a bit topheavy, but Bob Mulero got a photo of it when it had an older Bell affixed to it.
The lamp will be hard to see under scaffolding until further notice.
NYC Landmarks has published a handy dandy history of NYC streetlighting, which contains a list of extant poles, though some of them have been demolished despite their being landmarked.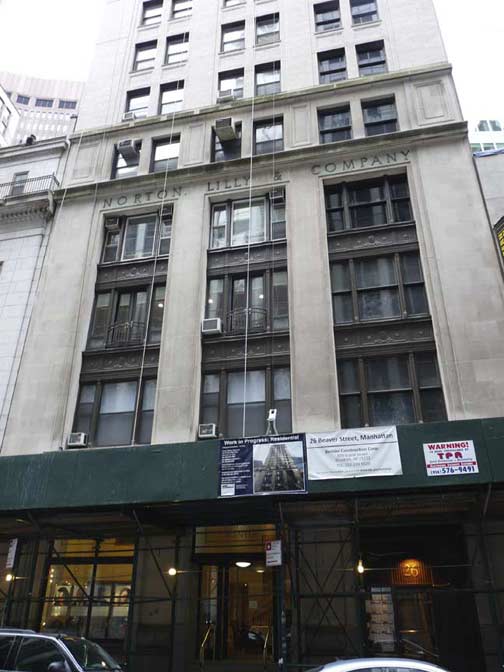 #26 Beaver Street is presently being converted to a residential tower. This used to be the headquarters of Norton Lilly International, a major shipping concern that is still in business, though apparently without an office in NYC. Downtown used to be a center for shipping and steamship company offices; the Cunard Building is nearby on 25 Broadway.
Before my mother worked in Manufacturers Hanover HQ (now JP Morgan Chase) at 4 New York Plaza in the early 1970s (JPMC just sold the building, actually) I seem to remember her working at 75 Broad Street, which became the International Telephone Building shortly after its construction.
It was built in 1929 at South William Street as the headquarters for ITT Corporation, once an international telephone and telegraph giant. During World War II the building was a hub for communications with American submarines operating in the Atlantic Ocean. But ITT moved out long ago, and over the years 75 Broad became a multitenant office building. The building was taken over in default in the late 1980′s, when the future of office properties in the downtown area seemed bleak. NY Times
Amazingly, I hadn't taken much notice of this massive, stone Ionic-columned and pilastered pile, originally the American Bank Note Company, before. #70 Broad Street was built in 1908 and was once home to the company that produced bank notes currency and stock certificates. The building was purchased by a Chinese investment and construction company from Global Country of World Peace Foundation, which was founded by the late Maharishi Mahesh Yogi (who came to prominence as the Beatles' guru in the 1960s). It had become a prominent center for the study of Transcendental Meditation. American Bank Note had sold the building in 1988.
Another massive bank note building in Hunts Point, Bronx, was developed as luxury housing about a decade ago.
Passing Broad Street, at #44 on the south side of Beaver is what was originally the Kerr Steamship Company Building, which has kept some nautical motifs despite its present status as HQ for the NYC Sanitation Department. Kerr Steamship built the Rochester, the first Allied vessel to successfully challenge the German blockade during WWI, reaching Bordeaux, France. The building was completed in 1920.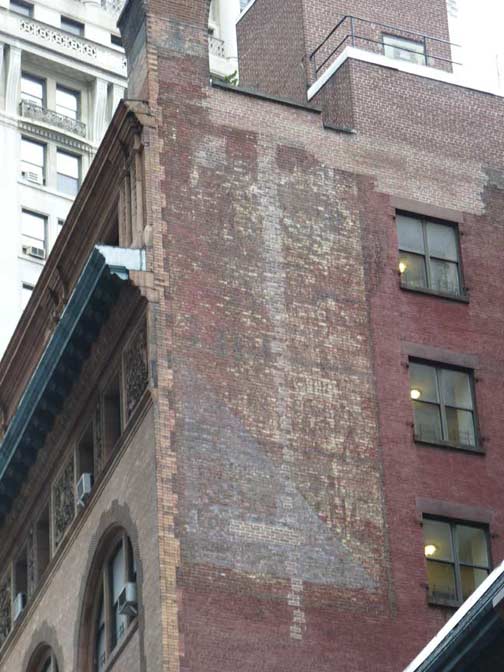 A long-faded painted ad appears on the back end of the building I'l be discussing next. A better preserved one is also discussed below.
South William Street curls north from Broad Street to the intersection of Beaver and William, creating a pair of virtual triangle-shaped plots, the better to build two unusually-shaped buildings. The first of them is the famed Delmonico's Restaurant building at #56 Beaver, a Renaissance Revival tower completed in 1891. Swiss immigrant brothers John and Peter Delmonico opened a pastry shop on William Street in 1827, and their restaurant opened in this location in the late 1830s, becoming a massive success. At its height the restaurant had ten branch locations, with the flagship located here. The original Delmonico's went out of business in 1919, with other restaurants taking the famed name for nearly a century after.
On this FNY page, I noted that the history of Delmonico Place in Bedford-Stuyvesant, Brooklyn, was connected to a farm the brothers owned in what was then the hinterlands.
This painted ad on #44 Beaver can be seen looking west on Beaver Street from Delmonico's. The OX exchange stood for OXford.
The second Renaissance Revival, Flatiron-ish tower at this junction is One William Street, originally the J.W. Seligman & Co. Building, constructed in 1907. It is the current USA home of the Italian banking group Intesa Sanpaolo.
The new addition to this 5-cornered intersection is 15 William, also known as the William Beaver House, a new residential tower opened in 2009. For most of its history, there were never many people actually living in the Financial District, but developers realized there was a market in developing older office buildings as well as tearing down older buildings in favor of towers like this one.
The AIA Guide to NYC labels it "the Post-It Note Building" because of its rectangular yellow panels that help to liven up its otherwise dull gray exterior. According to the Guide, the apartment building boats 24-hour room service, a private movie theater, an indoor dog run, and an on-site auto mechanic.
The current ad campaign pitches it to families. (Financier families.)
#3 Hanover Square's back edge faces the southeast corner of Beaver and William. Traces of the building's old role as the home of the New York Cotton Exchange can be found on its exterior. It's one of the oldest commodities exchanges in NYC (founded in 1870) and has occupied a number of downtown buildings, including #1 and #3 Hanover Square (the latter was built in 1922). It was a tenant at #1 World Trade Center when it was destroyed by terrorists in 2001. NYCE merged with other commodites exchanges in 2004 to form the NY Board of Trade, which is presently located in the newest NY Mercantile Exchange Building.
20 Exchange Place was constructed on William Street between Beaver Street and Exchange Place in 1931 for the merged National City Bank of New York and the Farmers' Loan and Trust Company, which decades later evolved into Citigroup. It's a 57-story Art Moderne tower with touches like large coins on the sides of the building and large, staring heads looking down on the street from the 20th floor. The 16th through 57th floors are being converted to residential use called Twenty Exchange.
Scouting New York, run by a movie location scout who is able to gain access to many buildings closed to the public in his work capacity, has several interior scenes at #20 Exchange, including the original mural from the bank, and several photos of the door, now hidden under scaffolding, which has fantastical Moderne representations of planes, trains, steamships, hot air balloons and other means of transit. He also has good close-up shots of the exterior coins.
Once again, the scaffolding is there… until further notice.
Killarney Rose has been serving beers, shots and the occasional lunch on Beaver Street since 1968, as the neon sign indicates. Ever-present scaffolding can't completely obscure the sign. Killarney is a small town in County Kerry, Ireland. Its name is derived from an Irish Gaelic term meaning 'church of sloes', a sloe being a blackthorn plant from which a variety of gin is derived.
The sign is in the sanserif Peignot ("PEN-yo") font.
Finally, one more "Flatiron-esque" building, #82-92 Beaver at the northeast end on Beaver Street at its sharp junction with Pearl just south of Wall, is the Beaver Building, which began as the Munson Steamship Co. building and later the NY Cocoa Exchange Building, cosntructed in 1904, about the same time as the Flatiron. Recently it's been given the odd address #1 Wall Street Court. It isn't on Wall Street but in plain sight of it, and developers wanted to give it a cachet to attract residential buyers.
Munson Steamship owned the building until 1921.
1/11/15