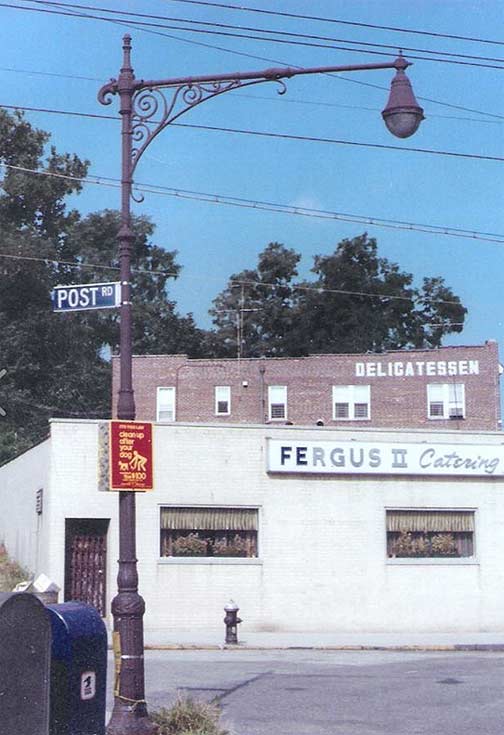 I'm happy to say I "discovered" this remaining Type G Corvington post, one of the lettered series of NYC lampposts in the early 20th Century, as early as the mid 1980s on my pre-Forgotten New York scouting missions, at Mosholu Avenue and Post Road in Riverdale, Bronx. I was preparing for Forgotten NY then, but didn't know it. I got some photos with my film camera, which still survive. NYC King of Lampposts Bob Mulero had, at the same time, also heard of its existence, and obtained this shot sometime in the 1980s while the Bronx still had its blue and white street signs.
Shortly after FNY went live in 1999 the Department of Transportation finally removed the pole, even though it had been landmarked. The DOT had allowed it to so deteriorate over the years that there was no choice but to remove it. A regular paint job could have saved it.
This was also a surviving example of what I called the "junior bell" lamps, which resembled the Bell fixtures that have since been revived, but with a cone-shaped housing instead of bell-shaped. These were usually employed on secondary roads, not as important as main drags but more important than side streets, which usually received lamps unprotected by reflector bowls.
I know, I know, I have more info on this kind of thing that's actually the mark of a sane person. What can I tell you.
1/13/15