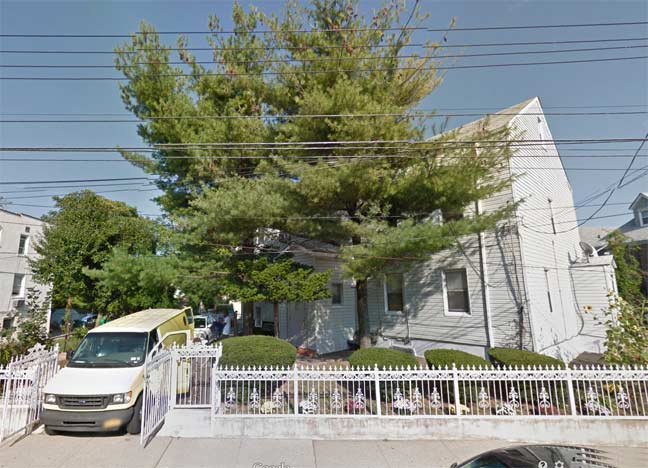 There's an unusual frame house on Mickle Avenue between Adee and Arnow Avenues that faces diagonally to the street on which it has an address. Usually, that's a tipoff to an ancient or unusual history, and in this case, it doesn't disappoint. ForgottenFan Don Gilligan, an area resident, writes, quoting the Chester Civic Newsletter:
Recently, Bronx Historian, Professor Lloyd Ultan wrote a series of articles, published in The Bronx Press Review, about historic Bronx houses.  Among them were: Poe Cottage, The Van Cortlandt Mansion, The Bartow-Pell Mansion and The Valentine-Varian House.  About the same time, [the late] Bill Twomey, who writes for the Bronx Times Reporter, wrote about another historic Bronx house: the  now demolished Vincent-Halsey house where President John Adams prudently spent several months in 1797, visiting his daughter, while the then seat of government, Philadelphia, was in the grip of a Yellow Fever epidemic.  
It might surprise you to learn that there is still another Bronx house of some historic significance right in our own back yard which few people know about, much less write about.  It dwells in relative obscurity at 2910  Mickle Avenue, behind the Baychester Post Office Station, just off Gun Hill Road.  The large house does not face the street, ranked in soldierly fashion, like all the other neighboring houses, but sits rather skewed on its lot, oriented towards no particular street, because it was built long before Mickle Avenue was built.  
The house was the home of Robert Givan, for whom Givan Avenue is named.  Situated near the crest of the hill, it had a fine view to the south and east that overlooked the salt marsh and tidal creek which powered his mill.  Today, Bay Plaza, the MTA bus garage and Home Depot now stand on the landfill which buried that marsh.  Givan was a Scotsman who purchased a large parcel of land, located east of  Eastchester Road approximately between what is now Mace Avenue and Boston Road, from the Bartow family in 1795.  His house, presumably, was built not long after, which would make it about 200 years old.  If the house is not notable as the homestead of an early landowner and settler in this area, it should at least be acclaimed for its longevity.  There are very few houses of that vintage surviving in the Bronx.  We wonder what the future holds in store for it.  How long will it be before it suffers the same fate as the Vincent-Halsey House?
The late John McNamara, Bronx historian, mentioned that Scottish merchant Robert Givan arrived here in 1795 and called his large estate "Ednam" for his home county in Scotland. Therefore this house could be about 215 years in age.
2/17/15