On a late winter Sunday in February 2015, cabin-fevered from weeks of cold and ice (I complain equally bitterly about summers when they are hot and humid for weeks on end) I took the LIRR to Flushing Main Street, exited the train and walked the length of Kissena Boulevard, which runs from Main Street just south of the railroad overpass to Parsons Boulevard and 75th Avenue. A tidy little 2 to 3-hour adventure.
I also consulted old photos and maps, since I knew that the boulevard evolved from a rural route that connected Queens' two largest towns, Flushing and Jamaica Avenue, but ran through rural farms and fields to do so. Presently, the route runs past flocks of high-rise apartment houses but also the open fields of Kissena Park and the fairly expansive Queens College campus, which still contains a number of buildings left over from when it was the grounds of the Parental Home.
My route today was prosaically simple, but it's always nice to have a map, anyway.
This 1909 Bromley atlas plate of Kissena Boulevard's V-shaped intersection with Main Street shows a nearly identical street layout, matching today's, but nearly all the street names have changed.
At the top of the plate, Jamaica Avenue meets Jaggar Avenue at what is the present intersection of Main Street and Kissena Boulevard. At the time Jaggar Avenue ended at Franklin Place, today's Franklin Avenue. It wasn't until 1935-1940 or so that Main Street assumed its route and was extended south to met Queens Boulevard in Briarwood.
Sanford Avenue, named for the local-born political family of Nathan Sanford, who served in the US Senate, and Edward Sanford, who served in the NYS Senate, has kept its name for over 100 years; so has Maple Avenue. After Queens and its various small towns were absorbed into Greater New York in 1898, there was an initiative to standardize its street nomenclature — hence its sometimes confusing street numbering system. Several communities had their own Jamaica Avenues, Flushing Avenues and Washington Streets, etc., necessitating a renaming program. Obviously Flushing's Jamaica Avenue had to go, as the lengthy route from Brooklyn's East New York to the Nassau line where it became Jericho Turnpike had first dibs.
Hence, Flushing's Jamaica Aveune/Jamaica Road was dubbed Kissena Park, after the park it runs past. The park lies on the former plant nursery grounds of Samuel Bowne Parsons, and does, in fact, contain the last remnants of their plant businesses. Parsons Boulevard (we'll see it later) is the road built in the 1870s that connected Parsons' farm with that of Robert Bowne. A natural body of water fed by springs connecting to the Flushing River was named Kissena by Parsons, and is likely the only Chippewa (a Michigan tribe) place name in New York State. Parsons, a native American enthusiast, used the Chippewa term for "cool water" or simply "it is cold."
You've seen the inverted "V" on the 1909 map. Here's the scene it describes today, with Kissena Boulevard (right) meeting Main Street at the LIRR overpass. A station can be accessed across Main Street. Billboards cover most of the venerable trestle, which celebrated its centennial in 2013 with no fanfare whatever. Before 1913, he railroad actually ran at grade in what was then a rural enclave.
The oldest object in the photo is nominally the spire of St. George Episcopal Church, which has been in Flushing since the early 1700s and the present building since 1854. However, a tornado, rare in these parts, decimated the spire on 9/16/2010 and a new spire was finally completed in 2013.
Since 1998 the fulcrum of Flushing has been the glass-walled Flushing branch of the Queens Public Library. It's usually packed with students from Flushing High School researching projects online and even occasionally with a paper book and recent immigrants perusing books in their various languages, while hordes of oldsters are here to chat (quietly).
Every day, more than 5,000 people walk through the doors of this branch in Flushing. The Queens Library system is the busiest in the nation, and the Flushing branch is the busiest in the system.
They come to study English, to get help with health insurance, to learn how to start their own business.
They come, in short, to connect with America.
"It helps people living in a foreign country not to feel so isolated," said [library assistant manager Paul Xinye] Qiu, who hails from Shanghai. The library offers books and movies in English and about 50 other languages.
Last year, borrowers checked out more than 2.3 million items from the Flushing library, including books, tapes and movies. By comparison, the busiest branch in the Los Angeles County system, Valencia, gets about 1,000 visits daily, and a spokeswoman said that last year it circulated 775,000 items…
The library building's curved glass front resembles the prow of a ship sailing past the Amerasia Bank across the way. Chiseled into the well-worn stairs outside the library are titles of books in Russian, Arabic, Chinese and English…
On a recent afternoon, a dozen people, including women in saris and burkas, stood in line in front of the checkout counter, many with their arms full of books. Next to the windows, posters advertised events such as a workshop for immigrants on access to healthcare, an afternoon of Cuban folk music, a discussion of the international implications of Taiwan's presidential election, and a lecture on Yiddish sayings and imagery. In every chair was a reader. Los Angeles Times
The present library is the fourth at the V formed by Main and Kissena. The Free Library of Flushing was situated in a former Baptist Church for about a dozen years beginning in 1890…
…followed by the handsome Flushing Carnegie Library, built in 1904 with the donations of Andrew Carnegie, the Scottish industrialist/ philanthropist;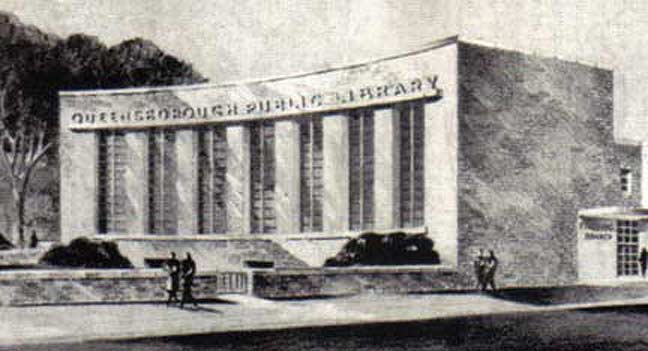 … and the Modernist building in place from 1957-1993.
Library pictures from Flushing 1880-1935, Postcard History Series, James Driscoll, Arcadia 2005 and Lighting the Way: The Centennial History of the Queens Borough Public Library 1896-1996, Jeffrey Kroessler
Flushing is no longer thought of as heavily Jewish — things have changed as immigrants from Asia have shaped the area the last 20 to 30 years — so it's a bit surprising to find this imposing, Corinthian-columned edifice, the Free Synagogue of Flushing, at Kissena and Sanford.
The temple was founded in 1917 by the Hebrew Women's Aid Society and was named the Free Synagogue because it followed the principles of the first "free" synagogue, the Stephen Wise Free Synagogue in Manhattan. The principles included freedom of  religious philosophy, seating positions (some synagogues separate men and women), equality of men and women in participation and leadership, and a general liberal philosophy in all matters.
An inscription from the Book of Isaiah is seen on the pediment above the entrance.
The original synagogue building was a stately pillared mansion which stood on the corner of the lot, designed by the noted architectural firm of McKim, Mead & White in a classical-revival style popular in the 1880s. This mansion was built around the bones of an old hunting lodge, which indicates the character of Flushing in the early nineteenth century. In 1925, the synagogue membership had grown so large that a new sanctuary had to be built. To make way for the larger sanctuary, the congregation decided to move the White building to the Sanford Avenue frontage of the synagogue and use it for offices and classrooms. The new neo-classical building, designed by architect Maurice Courland [completed in 1929], features a massive portico supported by four Ionic pillars. Ascending the stately steps, one reaches the magnificent sanctuary, where dark green pilasters support brackets upon which rest the enormous dome. Stained glass windows on all four walls, with glass crafted in Czechoslovakia, bathe the sanctuary in rich, radiant colors.
The windows depict Noah's Ark, the lions of Judah, great swirls of leaves and vines and delicate flowers symbolizing Sukkot, and the two hands of the priestly blessing, which many know as Spock's "Live Long and Prosper" symbol from Star Trek. In the center of the domed ceiling that covers the entire sanctuary is a smaller stained-glass dome designed around a Star of David. –– Free Synagogue of Flushing
The southeast corner of Kissena and Sanford used to contain a very large lawn in front of the Warren G. Harding Houses, named for the scandal-ridden Republican president who died in office in 1923. Harding was from Ohio and died in San Francisco, so it's odd that a NYC housing project would be named for him, but it's likely a case of what I'd call "coincidental patriotism", as the houses went up during or shortly after his administration, and the builders chose to honor whomever was US. President at the time. Two more U.S. presidents are honored with srteet names in Briarwood to the south, Hoover and Coolidge, and they were likely laid out in the late 1920s.
The new building with the curved, balconied edge in the triangular plot at the corner is new. It went up in just the last few years [as of 2015].
What the building replaced was a scrubby patch of lawn with a couple of tree stumps growing alongside a concrete pediment. There was , at one time, a bust of President Harding located on the pediment, but long ago it was moved to a museum in Harding's home state of Ohio.
There was likely a time when the NE corner of Sanford and Kissena was tree-shaded, with a house with Victorian detail and a spacious lawn arrayed in the front. These days, the civil contract calls for more prosaic, utilitarian structures, such as a parking garage with a ubiquitous bank branch at street level.
The once-rural Kissena Boulevard runs through a neighborhood dominated by high-rise apartment houses, such as the Park Hill at Maple Avenue, likely a product of a utilitarian era, late 1930s forward…
… and this apartment building on the opposite side of the street, which, with its additional architectural flourishes, is likely 1920s or earlier. This is a massive complex with an arched entrance on Kissena Boulevard that may have been manned by a guard at one time.
An even bigger apartment building at Kissena and Franklin Avenue. And you wonder why Flushing is so crowded! Beginning in the 1920s, and accelerating in the 1980s, Flushing's sleepy small-town vibe was forever inundated by dozens of developments like this, large and small. Today, small enclaves of Flushing's Victorian-era past, like Waldheim (between Kissena and Parsons Boulevard and Beech and Cherry Avenues) are holding fast, but the string unravels just a bit every year.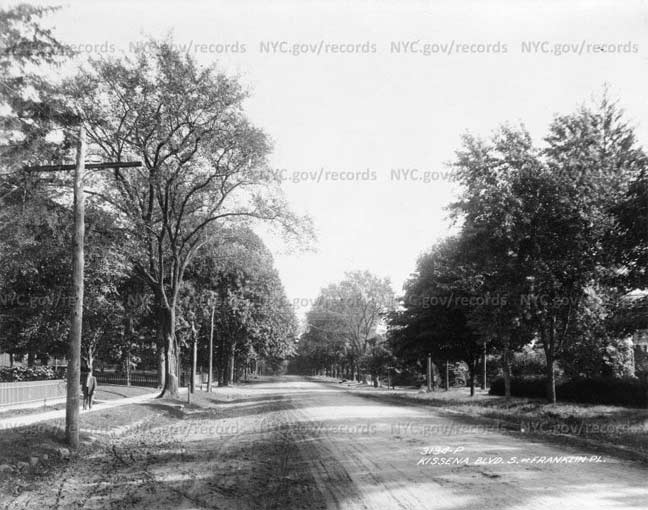 Did I mention Flushing used to be small-townish and rural? Here's a photo from the NYC Municipal Archives (the watermarks won't let you forget it) of a dirt-track Kissena Boulevard looking south from Franklin Place, now Avenue.
One of the Carlyle Towers, a massive multi-unit development located between Franklin and Elder Avenues and between Colden Street and Kissena Boulevard.
At 45th Avenue we begin to see some older Flushing housing stock interspersed with the towers, a row of four two-family homes. And, a turn west on 45th Avenue will reveal a surprise…
The New York Armenian Home, 137-31 45th Avenue, opened in 1948. "The Armenian Home, on 45th Avenue in Flushing … has long housed many [survivors of the April 1915 Turkish massacre] who escaped by playing dead, fleeing or other means. Most of the residents are from families decimated by the genocide, but only a half dozen — all in their 90′s — actually escaped it as children.
The most recent death of a survivor was in August [2004]: Lucy Derderian, age 103, who "only survived the genocide because her mother was smart enough to hide her under the dead bodies during a massacre," said Aghavni Ellian, the home's executive director.–from Corey Kilgannon's NY Times story, April 23, 2005
One of Kissena Boulevard's more unusual aspects is that there are no Christian churches along its length, which is one or two miles. We've already seen the Free Synagogue of Flushing, and on Geranium Avenue just off Kissena we  see the Muslim Center of New York. Though according to its website the center was established in 1975, the building looks newer than that. The minaret, or prayer tower common to all mosques, can be seen at left.
Not to be outdone a block away at Kissena and Holly Avenue is Flushing's Hindu Center, not as insanely ornate as the nearby Ganesh Temple on Bowne Street near Holly Avenue (which gets so many tourists and visitors it established its own "canteen" so famed that TV personality Anthony Bourdain visited)but a testimony to the 'diversity' the newspaper articles about Queens are always crowing about, because of the many faiths represented in the region and their own architectural stylings for houses of worship.
Completing our quartet of world religious buildings, here's the fanciful pagoda-esque structure that houses the New York Chen Buddhist Associates on Kissena Blvd. and Kalmia Avenue. The winter sun angle didn't allow very good pictures, and I'm at sea about Chinese art — so I'll let these images stand for themselves, though I'd be grateful if someone can describe in detail what some of them are about. A better look at the building, perhaps, was scored by the Google Street View truck.
Incidentally we're in the section of Flushing in which avenues are named in alphabetical order, from A to R, for plants, as several plant nurseries operated here from the colonial into the modern era, the largest of which was run by William Prince. I describe these avenues in detail here. From that page:
Kalmia are evergreen shrubs and trees native to mostly North America, bearing small white, pink or purple blooms that grown in 6″ clusters. The plant was named for Finnish botanist Pehr Kalm. Flushing's Kalmia Avenue runs in two sections: between Colden Avenue and Kissena Boulevard and from Burling Street east to 156th.
Some of the Kissena Boulevard area's more modest hosuing stock. We'll see an older building that looks old a bit later. These houses, with new exteriors and sidings, look rather different than they must have when built.
One of these buildings, which was at Kissena and Holly, was home to Lewis Latimer, one of the 20th Century's greatest inventors (he is chiefly known for inventing the light bulb filament) but his story is a rich and involving one. His house was moved to Leavitt and 143rd Streets, north of Northern Boulevard, several years ago and is now a NYC Landmark and open for visitors.
Across the street is the unusually configured Good Fortune Restaurant.
I wanted to show this house at Kissena and Negundo Avenue from two angles — it's an unreconstructed Flushing original, with what appear to be an original cornice, siding and windows. Most of the buildings in the southern "plant section" as I call it are in many cases rebuilt and resided, but not this one.
Negundo is a species of maple tree also known as the box elder and maple ash (making Elder Avenue and Ash Avenue somewhat redundant). The trees can be found all over North and Central America. Its wood is light and is used for fiberboard.
Next week: Past Kissena Park and Queens College
3/1/15