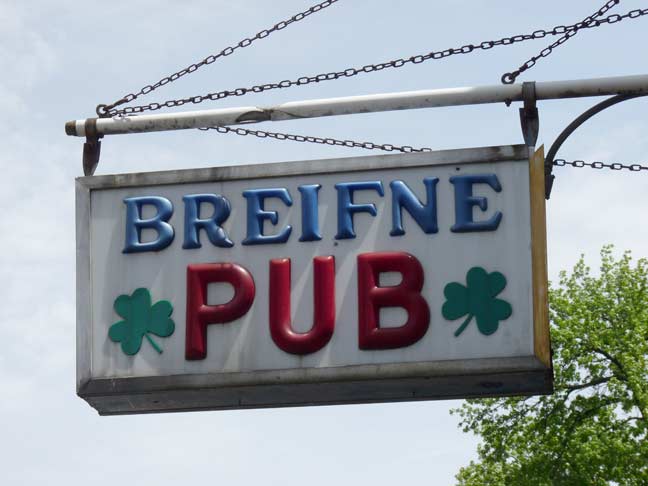 The Breifne Pub at Crocheron Avenue and 169th Street in Flushing has a nifty illuminated sign with raised lettering, though I'm unsure if it works at night.
The name refers to a medieval Irish territory located in what are now the Counties Leitrim, Cavan, and Sligo.
The Crocheron name, meanwhile, is very old in Queens, and when Queens streets were mostly numbered in the 1910s and 1920s, Crocheron Avenue kept its name.
The Crocheron family lived on the edge of Little Neck Bay for centuries. The first family member to live in the area was John Crocheron, a farmer whose will dates from 1695. His long line of distinguished descendents include: Henry Crocheron, a Congressman from 1815 to 1817; Jacob Crocheron, a Congressman from 1829 to 1831; Nicholas Crocheron, a member of the 1854 State Assembly; and Joe Crocheron, a horse racer and gambler who was as renowned as Cornelius Vanderbilt and August Belmont. NYC Parks
All this time, though, I've been perplexed on how to pronounce it. My guess is  CRO-sher-on, with the CH pronounced like SH.
Is my guess correct?
5/25/15