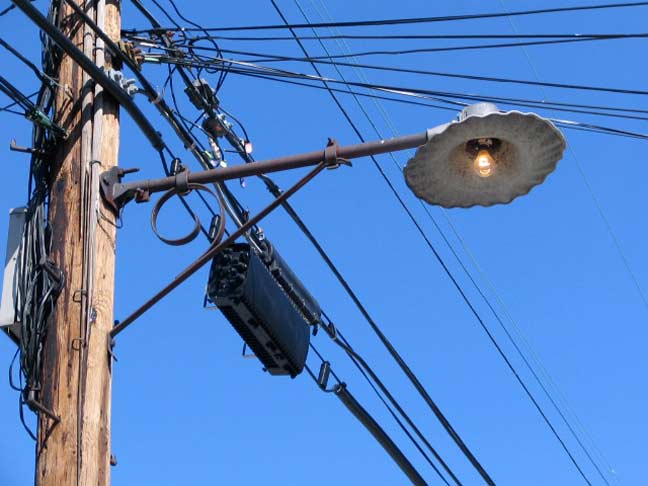 To find working "radial-wave" luminaires with functioning incandescent bulbs, you have to leave New York City, though not that far. There's a flock of them on Skillman Street, a residential dead end off Old Northern Boulevard just south of the Roslyn Viaduct.
For some reason, Roslyn has served as a repository for former lamp designs; you can find some scatted "gumballs" around as well. Roslyn is also worth a visit for its famed clock tower, as well as its 18th Century grist mill. Generations of North Shore-ites have celebrated at Hendrick's Tavern (formerly George Washington Inn) located in an 18th Century estate.
Throughout Brooklyn, Queens, Bronx and Staten Island, "radial waves," named for the flutes on its reflector shield, were the undisputed rulers of the roads from the 1910s well into the 1940s, when they began to be replaced by other forms. Very few "rades" remained in NYC when I first started noticing lamps in the early 1960s, and spotting one was a feather in my cap. I doubt any are left in NYC now!
5/15/15