No street, inch for inch and brick by brick, represents what has happened to many NYC communities more than what has happened to Summit Court, a dead end on Sanford Avenue just east of College Point Boulevard. I took a photo of it in the early 2000s and you can see that it was lined on both sides (trust me about the right side) with detached two story private homes, and there was even a conifer toward the rear. It was a private lane with a fence.
Sometime around 2010, the private homes were sold off to a developer, who built objects more in line with what is going up in many parts of town these days…
… Fedders Specials, with exposed meters, air conditioners and metal doors, pretty much the accepted model for "affordable" homes in certain parts of NYC.
Looking north on the alley provides a gimpse of what it used to look like, if you use your imagination.
Politicians and demographers will cite Flushing's increasing population, sociologists will cite different perceptions of esthetics, while developers will say they're building for necessity.
I just lament the whole situation.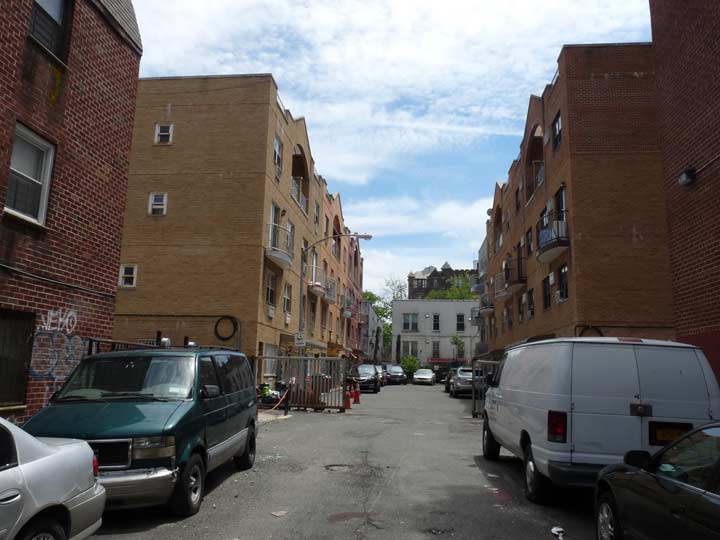 The pine tree is gone, of course.
One constant must be mentioned: the presence of a curved-mast lamppost. The city hasn't installed these regularly since the early 1950s, and this one has gone through a variety of lamp fixtures.
Summit Court was likely named for a rise, or small hill, that has since been leveled. The apartment building next door is likely named for the alley, and not the reverse, but it has two antique signs on the Sanford Avenue side.
6/23/15