There is a classic Bishop Crook post in the United Nations area that I haven't featured in FNY much over the years. The reason is simple. I never seem to be over there at a good time to get decent photos of it — there always see to be too many shadows. Fortunately NYC's King of Lampposts Bob Mulero was over there at a propitious occasion and did get some decent photos of it.
Beekman Place is a two block street running in the Turtle Bay neighborhood from Mitchell Place north to East 51st Street. It is lined by tony townhouses and apartment buildings, many of which are occupied by United Nations delegates and employees. For many years, America's greatest pop composer, Irving Berlin, lived on Beekman Place.
In Manhattan, which is dominated by numbered streets and avenues, two separate streets are named Beekman: this one and Beekman Street in the South Street Seaport area. They are named for two different people, but from the same family. Beekman Street is named for Dutchman Willem Beeckman, who arrived in New Netherland in 1647 and owned land in the Seaport area. Beekman Place is named for a descendant of his, James Beekman, who built a mansion, which he named Mount Pleasant, near the East River in what would become the UN neighborhood. The British used Mount Pleasant as a headquarters during the Revolutionary War and hanged Nathan Hale in the mansion's orchard. The mansion was torn down in 1874.
The Bishops Crook lamp, at Beekman and East 51st, has been left pretty much as it was since it was installed, likely in the 1920s or 1930s, and still has the Bell fixture, likely the second luminaire in its lifespan. I'm not sure if the actual bulb is still incandescent or has been replaced with a brighter sodium light, since I'm never over here at night; I'll have to check that out when I can.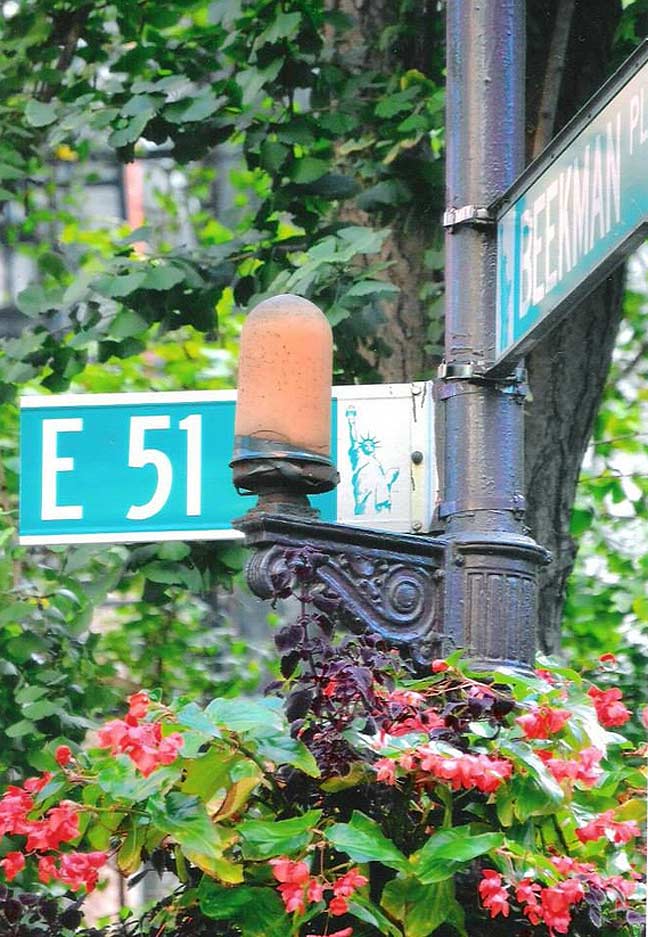 In addition, it has an intact scrolled fire alarm lamp bracket. These are getting very rare by 2015; most older castiron posts with fire alarm lamps have been torn down. There are still three on the Stuyvesant Town grounds, and when a Bishop Crook on Warren Street downtown was restored, it retained its old bracket.
New retro versions of NYC castiron lamps used the J-shaped brackets found on new aluminum octagonal-shaft posts. A few years ago, the presence of orange fire alarm lights was made redundant by new, smaller lights mounted directly on luminaires, or on apices and finials of the cast iron posts.
Thus, when that cylindrical orange lamp goes missing, whenever that occurs, it won't be replaced.
8/18/15