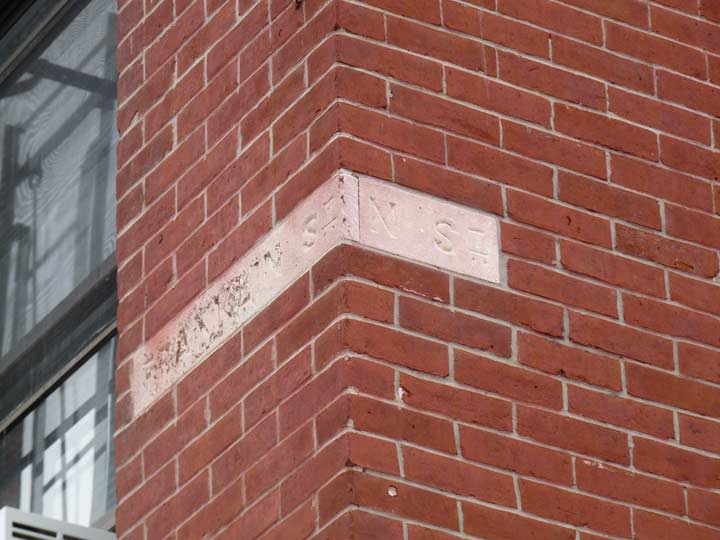 After Greenpoint's grid street system was laid out by developer/entrepreneur Neziah Bliss in the mid-1800s, east-west cross streets were named simply, A through Q Streets from north to south. Greenpoint Avenue was a plank road that was bridged over Newtown Creek, entering the Queens township that gave the creek its name, but it later became National Street and later,  simply L Street.
The story goes that by the early 1850s Greenpoint residents were dissatisfied with the bland lettered street names, and thenceforth they acquired names. Interestingly there's a pattern to those: the ones in the north, Ash, Box, Clay, DuPont — seem to honor the industry and manufacturing along Newtown Creek, though some historians believe Clay Street was named for Henry Clay, the "Great Compromiser" of the US Senate in the early to mid 1800s.
Further south, Huron, India and Java Streets hark to the shipyards found on the East River side, where vessels from the world over unloaded their cargoes. L became Lincoln in honor of the 16th President, while Milton and Noble honor Williamsburg political luminaries. There may have been many Oak trees in the area, while Quay (properly pronounced "key") is a fancy word for "dock." There had never been a "P" name, since P Street became Calyer for an early Greenpoint patriarch.
While most traces of Greenpoint's letter system have vanished, a chiseled sign at the NE corner of Franklin and Noble Streets still displays the former "N ST" name.
8/25/15