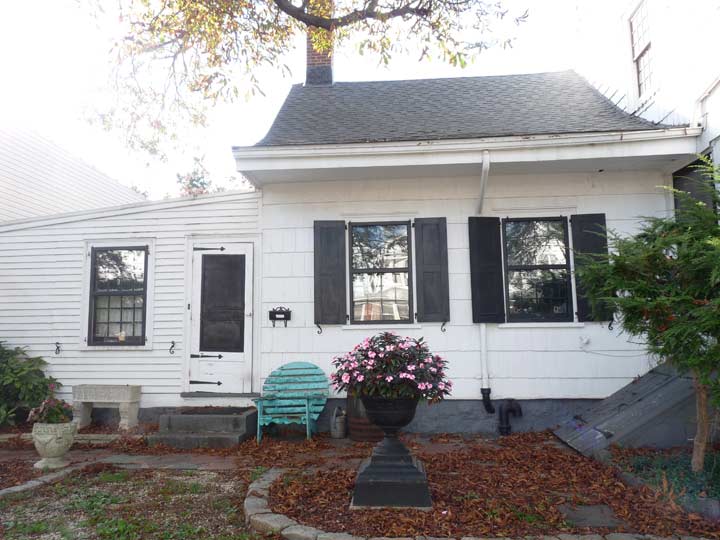 At 1640 East 48th, near Avenue M in Brooklyn's Flatlands section, is the colonial-era Stoothoff-Baxter House, one of a handful of Dutch Colonial homes remaining in eastern Brooklyn (Flatbush, Flatlands, Canarsie, East New York). It was purchased, or inherited, by Irish immigrant John Baxter in 1796 after previous owner Garret Stoothoff passed away. By 1812, Baxter had added the larger part of the house.
Shown here is the smaller part of the house that, according to a historical plaque by the front entrance, was built in 1747 by Dutchman Elberts Stoothoff, though I suspect that's somewhat too early. The house was moved to its present location around 1900 when the street grid was introduced. According to this real estate website, the surrounding homes date to the 1940s.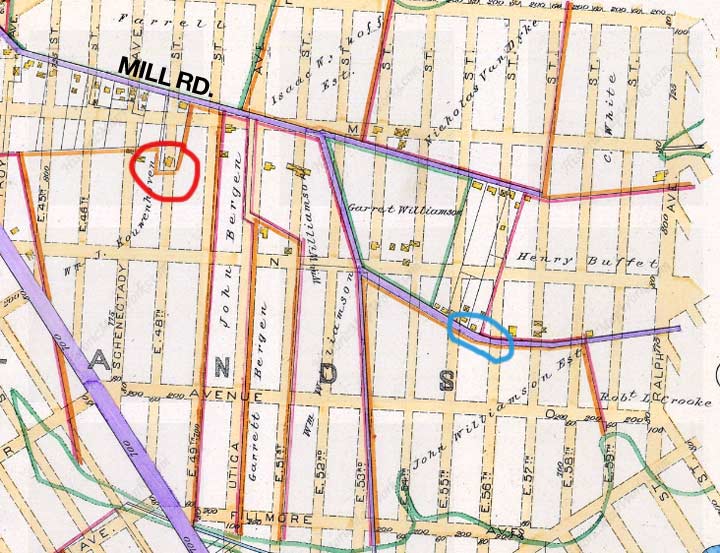 Here's an 1890 atlas plate of the area, when this was still the Town of Flatlands. Existing roads are indicated in purple, but as you can see, the current street layout was already plotted out as the town would become part of the City of Brooklyn in a couple of years, and then NYC in 1898. The only extant road in these parts was Mill Road, which wound east on its way to a mill on Jamaica Bay. I've helpfully marked the location of the Stoothoff-Baxter House in red and as you can see, it was in the scheduled roadbed of East 48th Street. The house was moved, probably pulled by horses and/or oxen, several yards west and aligned with East 48th.
Mill Road disappeared as the grid was built up, but I circled a small section between East 55th and 56th that still exists, and there is also a two-block section east of Ralph Avenue, at the right edge of the map, that is also still there.
Passersby on East 48th likely have no idea that there's a colonial-era relic on the block, but no doubt its current owners do.
12/17/15