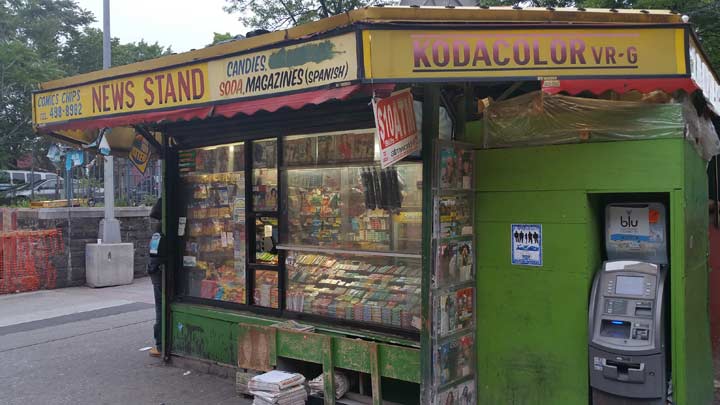 By GARY FONVILLE
Forgotten NY correspondent
Kodak is a perfect example of how corporate miscues can bring a once mighty and ubiquitous company almost to the point of extinction.  Kodak as we know it was started in 1888 by George Eastman, with headquarters in Rochester, NY.  The company prospered with products that were easy to use for consumers.  Many people of a certain age may remember the name Instamatic. When have you last heard that name?  Instamatic camera used film, in a simple cartridge,  that a small child could easily load  into the camera. No manually winding of film was necessary.  It was a cartridge that you just inserted into the camera and advanced it to the first frame and advanced after every shot taken.  That predates automatic advance cameras by a few years. In addition, Kodak made professional grade film for photography enthusiasts, notably 35mm film.  It was so much a part of the landscape, that when you mentioned film, Kodak was the virtually the only brand that came to mind.  The phrase, "It's a Kodak moment" entered our lexicon referring to a moment that should have been photographed.
Ironically the new kid on the block, digital photography, was invented by Kodak in the mid 70s. In a huge, and I mean huge corporate blunder, the suits at Kodak didn't think digital photography would ever be a threat to their core product: film. In retrospect, this decision was not well thought out, as it  was eventually disastrous for the company. Around that time,  they cornered 90% of film sales and 85% of camera sales!  Even at this time, to make things even worse,  Kodak was losing market share to Fujifilm of Japan.  A few years later, digital photography began to eat Kodak's lunch. Kodak tried, but was too late, to join the digital parade.  Ten years ago I had a Kodak digital camera.  It was not manufactured in Rochester, NY.  It was manufactured in Japan, through an arrangement with a Japanese camera manufacturer.  This was after Kodak exited the camera manufacturing business, leaving thousands of Kodak workers jobless in Rochester.
Kodak's slide from dominance was hastened even  further by digital cellphone camerass.   With improved and improving  technological advancements, cellphone cameras now  rival the performance of "real" cameras. Kodak became less relevant because now almost everyone has a cellphone with a camera in it. As you're reading this, think of the last time you have seen a person take a picture with a point and shoot camera? Not too often I suppose.
In my travels around New York City, I saw  these two examples  as evidence of Kodak's former dominance in consumer photography and was then  prompted  to do this entry.  I know there are  many FNY fans who have many fond memories of their Kodak cameras, and perhaps can  share them with us.  On a personal note,  I remember the joy of my aunt giving me  a Kodak camera kit, complete with a flash attachment, for Christmas, 1964, when I was almost 13 years of age.  What a feeling it was to have my own camera and take pictures when I wanted to. It got even better when I was able to scrape up some extra money to buy COLOR film.  It didn't get better than that! Oh, I almost forgot, you had to scrape up even more money to buy the individual  bulbs for the flash attachment.  Memories, memories!

Above: This newsstand at the entrance of the Broadway Junction complex at Van Sinderen Ave., between Fulton and Truxton Streets  that hosts three stations,  Broadway Junction, East New York (A,C), Broadway Junction (L), Broadway Junction, Eastern Parkway (J,Z).  Kodacolor VR-G likely refers to a professional grade film that Kodak once manufactured back in the day.  This stand was where you could likely purchase film or drop your film off to be processed into photographs.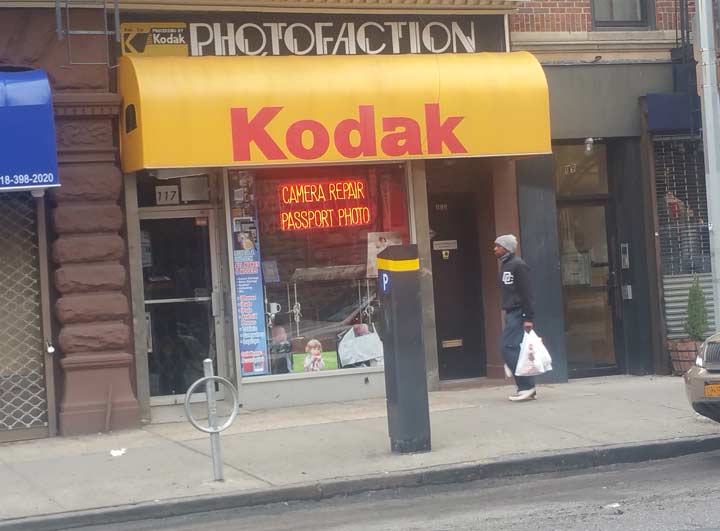 Photofaction, at 117 7th Avenue, between President and Carroll Streets in Park Slope, Brooklyn still sports a huge Kodak  sign with the company's logo.
11/7/15