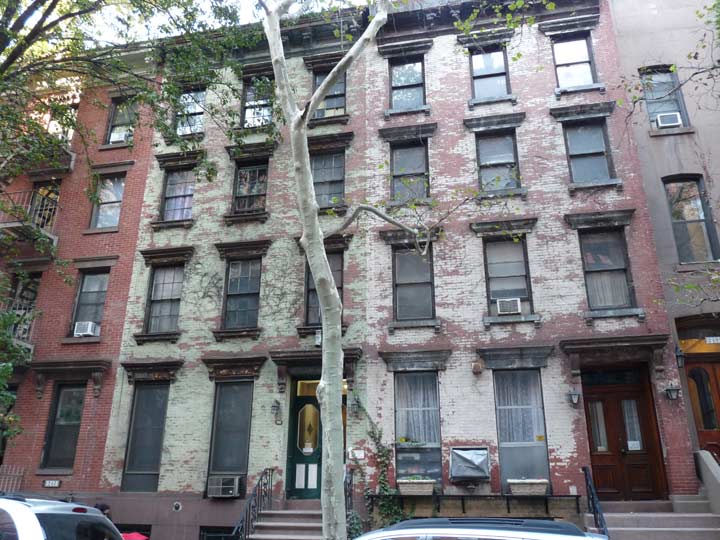 The east end of East 31st Street between 2nd and 3rd Avenues is one of Manhattan's rare tree-lined streets, consisting of brownstone and brick townhouses punctuated by the 1904 Church of the Good Shepherd. This was once the slaughterhouse/waterworks district, and unlike today, these buildings in the early 20th Century housed folks of modest means. Before that, in 1863, this was the site of the worst of the Draft Riots, during which New Yorkers were conscripted into the Civil War unless they could cough up $300, a fortune in those days.
Near 2nd Avenue, at #251, is one of New York's secret restaurants. It's well-known enough that it has seen steady business for decades, but is never written about or mentioned in your New York or Time Out magazines. It is identified only by a family crest of the Marchi family.
Marchi's was founded in 1930 by chef Francesca Marchi and has remained in the family ever since, and family members still participate in daily hands-on operation. Quirkily, there is no menu. Everyone who patronizes Marchi's is served the same five-course banquet that includes tuna salad, lasagna, fried catfish, veal and chicken; dessert includes lemon fritters, and meals are accompanied by large platters of salad greens. The meal costs $56.50. Marchi's is open every day during the holiday season and unlike, say, Rao's uptown, tables can easily be had. Since the Marchi family owns a row of four townhouses on the block, there are apparently no worries about breaking even or profits, and tradition and pride keeps the place open. Among the restaurant's quirks is that ladies cannot arrive with furs, since those will not be checked.
It's  fascinating corner of New York City: a menu-less restaurant, well-known, but hiding in plain sight.
12/10/15