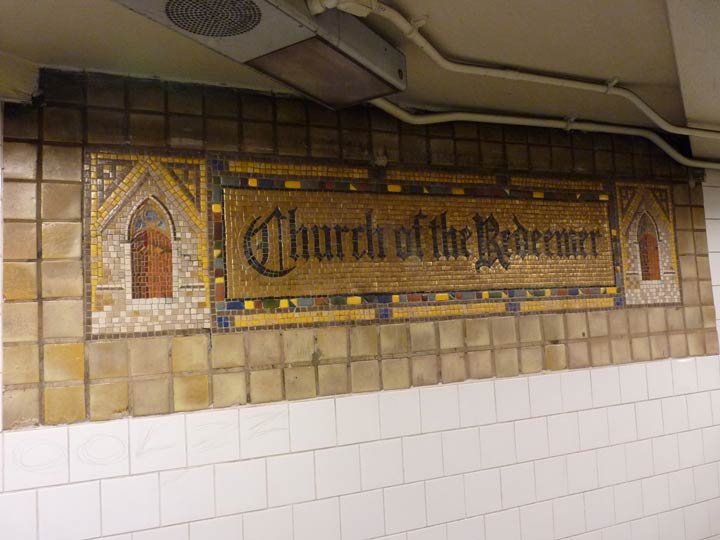 There's a gorgeous mosaic sign indicating the presence of the Episcopal Church of the Redeemer at the bottom of the steps on the BMT (R) subway exit at the Barclays Center station (which used to be known as Pacific Street) and indeed, the steps will bring you to the NW corner of Pacific and 4th Avenue. In fact it's one of the last gasps of intricate tilework on the Brooklyn stretch of this line, since most of the mosaics were covered with utilitarian cement blocks with occasional splashes of color around 1970.
When I was a kid they would sell mosaic puzzles or scenes in the hobby shop. You placed the mosaics, which were backed with glue, onto a surface; numbers would indicate where the mosaics would go. An afternoon doing that and you felt you really accomplished something.
You don't get a sense of how intricate NYC's subway mosaics are once you get up close to them. Note there are two or three shades of beige, yellow and red and a little blue and green to indicate stained-glass windows.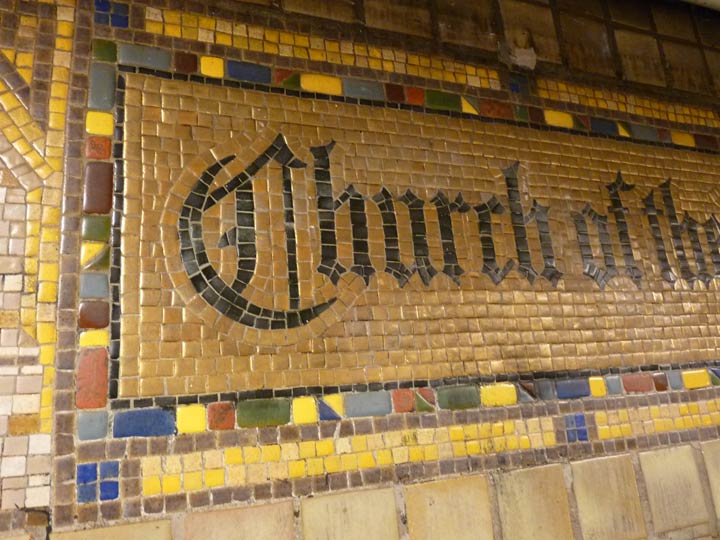 The designers, though, outdid themselves on the borders, where most colors of the spectrum are used. I can only guess at this point, but to me, this indicates an installation date that came nearly at the end of the era of mosaic subway signage in NYC, 1925-1928, when more colors in the palette were used; compare the mosaics in other latter-day BMT stations on the Canarsie Line (1928) and the Main Street station of the #7 Flushing Line train (same year). Before that, mosaics emphasized earth tones, browns, reds, greens.
It must be said, though, that the BMT 4th Avenue line was built between 1915 and 1916, except the southernmost stations which arrived in the mid-1920s.
photo: bisnow.com
The church advertised by the mosaic was razed in late 2015-early 2016. It did not have protection by the Landmarks Preservation Commission, even though the Gothic-style Church of the Redeemer was built in 1866 and was designed by pre-eminent ecclesiastic architect Patrick Keely, who generally worked on Catholic church commissions. Maintenance had been deferred over the years and the church, which served an West Indian and Caribbean congregation, had incurred $4m worth of repairs — prompting the Long Island Episcopal Diocese to close it.
…the Gothic-inspired structure was built of blue stone with sandstone trimming, and consists of the nave, aisles, and the chancel, with recesses on either side for the organ and antiphonal choirs. The altar and font were of elaborately carved Caen stone, with chancel and other furniture of black walnut. Formally opened on July 1, 1866, the completed church cost a little over $30,000, including the organ. The church was later elegantly decorated with polychrome. [NYC American Guild of Organists]
Will the MTA retain the orphaned sign? We'll have to see.
6/11/16