The Walt Whitman Branch of the Brooklyn Public Library is located on a short piece of St. Edward Street that has been "permitted" to survive by city planners in Fort Greene, just north of Myrtle Avenue and Fort Greene Park. The "good gray poet" who once lived nearby, edited the Brooklyn Eagle, and inspired Fort Greene Park has put his stamp on the area, as the Walt Whitman Houses are also a few blocks east.
The library is a remarkable survivor, having opened in 1908, financed by Scottish-born  industrialist and philanthropist Andrew Carnegie. Dozens of libraries in the NYC metropolitan area were built with his largesse. The library once served workers in the Brooklyn Navy Yard, which was in operation almost 160 years, ending in 1966. Today the library serves residents of the Raymond Ingersoll Houses and Walt Whitman Houses.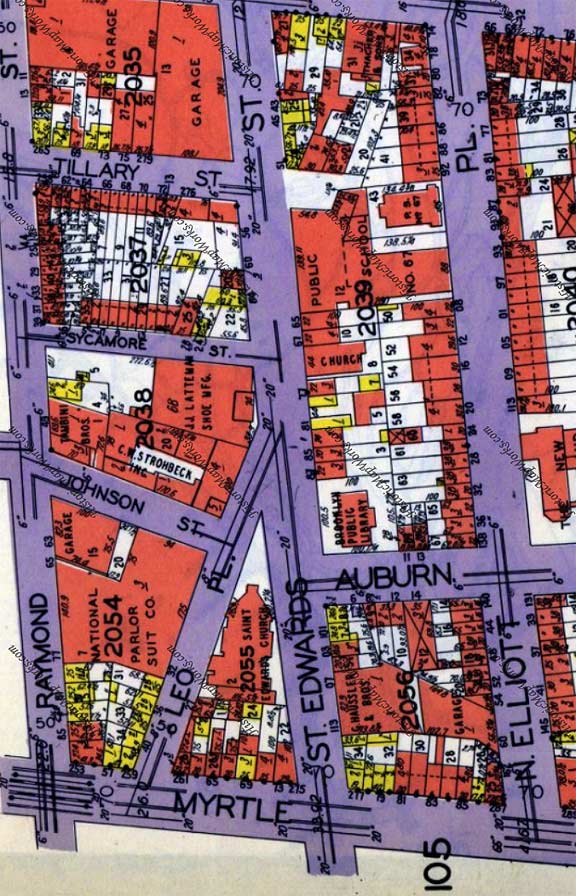 I've mentioned that the library, seen here on this 1929 atlas plate at St. Edward Street and Auburn Place, is a survivor. Looking at the map, most of the streets and the factories and houses on it have utterly disappeared, with the exception of Myrtle Avenue, St. Edwards, Auburn and pieces of North Elliott Place. Everything, with the exception of the library and St. Edward's Church (now the St. Michael and St. Edward Church) was wiped away when the Raymond Ingersoll Houses were built in 1944. The el serving Myrtle Avenue since 1888 was eliminated in 1969.
Thus, Leo Place, Raymond Street (home to a forbidding prison for many years) Sycamore Street and the eastern ends of Johnson and Tillary Streets were excised not only on maps but also memory, as no one alive today remembers anything about these streets. Surprisingly National Parlor Suit was not a haberdasher, but a furniture maker. C.W. Strohbeck made shoes as did J.J. Latteman. Gottlieb Haussler, a German immigrant, operated G. Haussler & Bros., a truck body manufacturer, for fifty years. Sic transit, Gloria!
I must have 'forgotten' something. kevinjudewalsh@gmail.com
6/29/16