This was one of what was originally five exquisite entrance and exit kiosks, rendered in beautiful Beaux Arts terra cotta, that used to stand at 2nd Avenue and East 60th Street where trolleys from Queens let out, or accepted passengers from an underground station.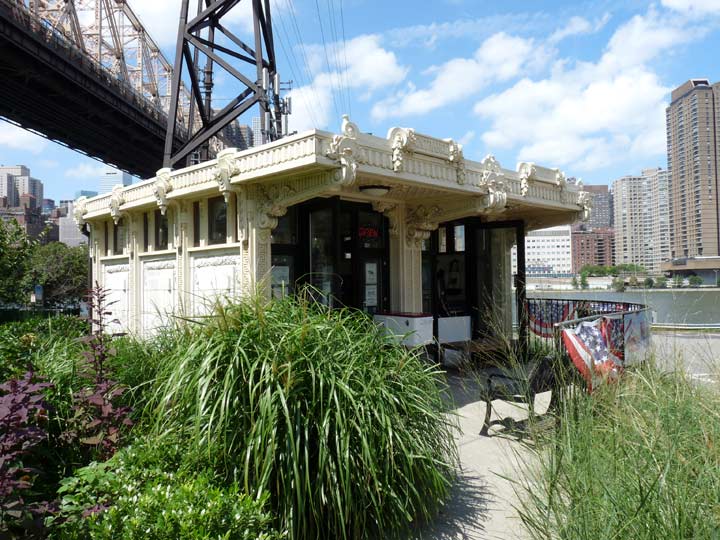 One of the kiosks, now the Roosevelt Island Visitor Center, is dwarfed by the Queensboro/59th Street/Ed Koch Bridge, as well as one of the huge stanchions that carry the tramway wires.
The bridge was one of the last bastions of trolley traffic in Manhattan, as the line that left people of midspan, to be carried by elevator to the island, was among the last to be shuttered in the late 1950s.
Both kiosks, this one and one that has been allowed to remain on 2nd Avenue, go all the way back to the year the Queensboro opened in 1909. Trolley service to the bridge ended in 1957 when the Welfare Island, now Roosevelt Island Bridge opened to Astoria.
Thus the five Beaux Arts kioks were orphaned. Three were executed, one remained in place, and one was shuffled off in 1970 to the Brooklyn Children's Museum in Bedford-Stuyvesant's Brower Park, where it was used as the main entrance. However it was in danger of being discarded when the Museum planned a complete renovation by famed architect Rafael Viñoly.
However, at the intercession of the Roosevelt Island Historical Society's Judy Berdy, who worked with the BCM and several other agencies, in 2006 the kiosk was transported here to the very spot where the trolley elevator landing was once located, where it now serves as the Roosevelt Island Historical Society's visitor center.
12/23/16