Before 1894, Flatbush in Kings County was a separate town on its own, with a separate government, police department, street layout, etc. The town was annexed by the City of Brooklyn that year, and then that big fish was gobbled up by an even bigger fish, Greater New York City, in 1898; Brooklyn's vote to join was only by two hundred plus votes. Of all the boroughs, Brooklyn has remained the most independent in character over the years, though Staten Islanders may protest that statement, as they periodically take a vote on whether to separate.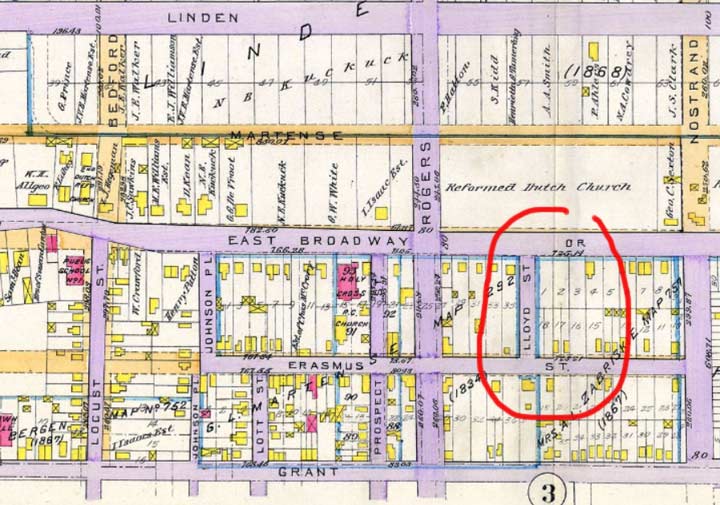 Here's a selection from a Kings County 1880 atlas of a slice of downtown Flatbush. Paved streets are indicated in purple, while streets under development are in beige. I've always been somewhat fascinated by Flatbush's network of downtown alleys and short streets, many of which remain in place. Surprisingly, Bedford Avenue was not yet developed this far south; it later absorbed Locust Street was it was extended south. East Broadway has been straightened into Church Avenue; though the route is named for the Dutch Reforned Church, which was instituted in Flatbush in the 1690s, it also runs past Holy Cross Roman Catholic Church, which remains on Church Avenue at Prospect Street, now Veronica Place.
Already in place in 1890 was Lloyd Street, seen here between Church Avenue and Erasmus Street where it runs for just one block. The two frame buildings on the right are likely of considerable age; only the siding hides it.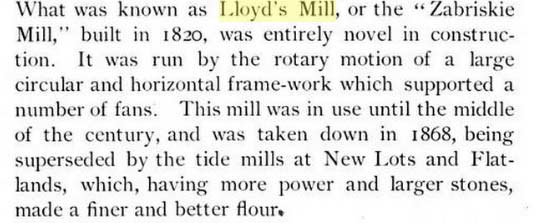 Erasmus and Lloyd was the site, between 1820 and 1868, of Lloyd's Mill shown above. The Lloyds were a prominent Flatbush family, intermarrying with the Lott and Zabriskie families. Lloyd Street may have developed as a path from the main route, now Church Avenue, to the mill.
Old fashioned windmills were once prominent in the NYC area in the colonial era. Modern three-bladed windmills have been installed in waterfront areas.
Check out the ForgottenBook, take a look at the gift shop, and as always, "comment…as you see fit."
12/14/17