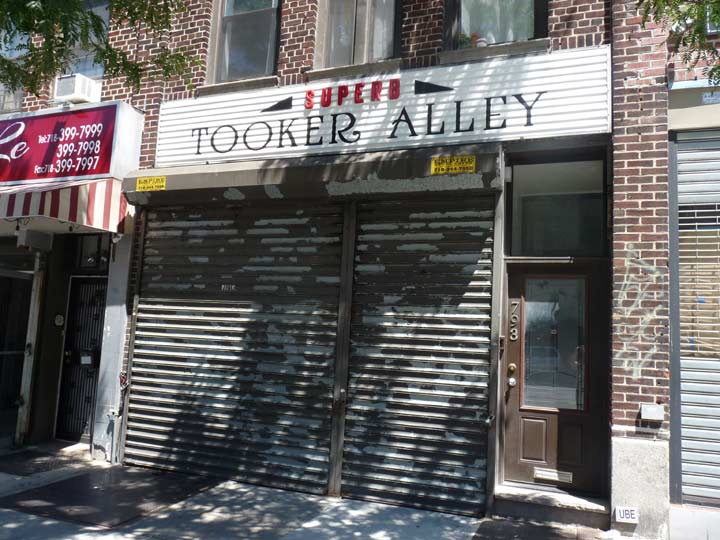 While staggering around Prospect Heights in the 80-degree dead dog heat in August 2017, I chanced upon a bar called Tooker Alley at the patriotic intersection of Washington Avenue and Lincoln Place. I decided to look into the name, thinking it had something to do with England. The answer lies not east but west.
The bar's name was inspired by the Dill Pickle Club, a Bohemian-style speakeasy and later legit bar, in Chicago between 1917 and 1935, founded by Jack Jones (no relation to the "Love Boat" theme singer), a member of and organizer in the Industrial Workers of the World, a left-leaning trade union of the early 20th Century. in addition to its purpose as a watering hole the Dill Pickle was host to one-act plays, poetry readings, jazz dances and opera. "Free thinkers' of the Midwest such as Clarence Darrow, Sherwood Anderson, and Carl Sandburg were patrons, but the club attracted all comers regardless of social standing, notoriety or wealth. Unfortunately in its later years, ironically after the repeal of Prohibition, it became a mob hangout and closed in the mid-1930s.
Why "Tooker Alley?"The Dill Pickle was located in a dead end called Tooker Place, off Dearborn Street near Washington Square Park (Chicago has one) on the North Side.
The Dil Pickle Club was almost hidden from the outside and was considered a "hole in the wall" in Tooker Alley. The entrance was marked by a "DANGER" sign that which pointed to the orange main door which was lit by a green light. On the door, it read: "Step High, Stoop Low and Leave Your Dignity Outside." Once inside, another sign read "Elevate Your Mind to a Lower Level of Thinking" before you entered the main part of the club. Immediately inside was a large main room with a stage. The room was decorated with brightly painted chairs and partially surrounded by counters where drinks and sandwiches were sold. The rest of the club was also decorated by its attendees and contained a tearoom and art exhibitions. Altogether, the club had reported standing capacity for 700 people. wikipedia
Check out the ForgottenBook, take a look at the gift shop, and as always, "comment…as you see fit."
3/30/18