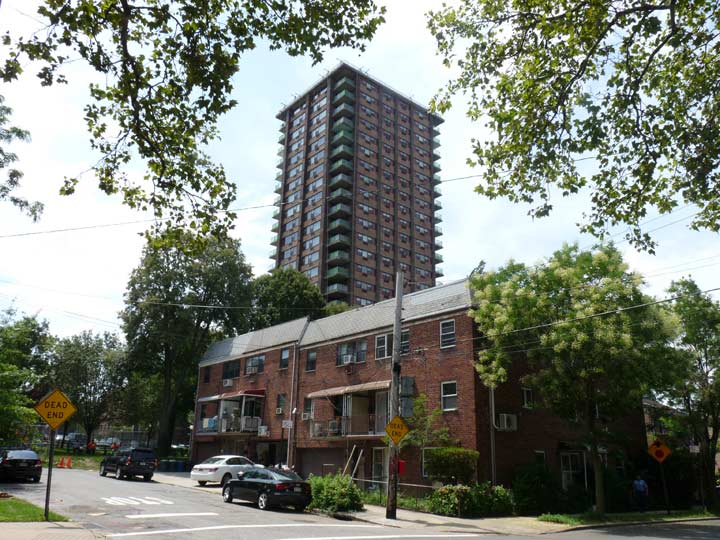 When I first moved to Flushing in 1993 I marveled at a pair of very high towers visible looking toward the southern horizon from 43rd Avenue and 162nd Street. They are part of the Electchester complex, a housing project originally built for electrical union workers in the 1940s.
Some call the region east of Queens College from Kissena Park south to 73rd Avenue "southern Flushing,' but I think that grants Flushing too much territory — so I'll go along with what some lexicographers say it is, Pomonok, a name derived from the Algonquin Indian name for Long Island. Streets and houses were laid out on the former Pomonok Country Club. Its golf course was built by members of the Flushing Athletic Club, which began in 1886 as one of the first golf clubs on Long Island. They leased 83 acres of land along Northern Boulevard in Flushing. When their lease was set to expire in 1919, some members favored finding a new, larger site that had room for an 18-hole course. Others favored renewing the lease at the original site and gradually expanding their 9-hole course. The membership ended up splitting, with the bolting members forming the Pomonok Country Club along Kissena Boulevard in 1921. [The Flushing Athletic Club did eventually expand their course to 18 holes, but the club didn't make it past the 1920's.] The country club was famous for having female caddies and for hosting the 1939 PGA Tournament during the World's Fair.
The club was in existence until 1949. Thereafter, part of it became the Electchester Homes, middle-income housing built by Harry Van Arsdale, Jr. president of Local 3 of the International Brotherhood of Electrical Workers. Another part was managed by the City Housing Authority who built the Pomonok Houses, among other developments. Electchester was the latest in a series of hosuing projects built for specific categories of unionized workers, joining the Amalgamated Houses, Bronx, and Seward Park Houses, Manhattan (garment workers); Concourse Village, Bronx (meat cutters); Big Six towers, Woodside (printers and lithographers).
Electchester was constructed in stages from the late 1940s to late 1960s, and the buildings in the project were named prosaically beginning with the First Houses and going up to the Fifth Houses, which are the two towers on 160th and 162nd Streets. Electchester has an unusual street layout with 160th, 161st and 162nd forming a rounded Y-shaped pattern between 65th Avenue and Jewel Avenue/Harry Van Arsdale, Jr. Avenue. The latter street is marked by signs that cram the two names onto the same sign, making it rather hard to read. Jewel Avenue is the only survivor of Forest Hills' former alphabetically named street pattern; it was extended across Flushing Meadows in the early 20th Century and the name Jewel Avenue was slapped onto a previously existing farm road. Oddly enough, Harry Van Arsdale Jr. changes his affiliation from Jewel Avenue to 69th Road in Forest Hills.
Check out the ForgottenBook, take a look at the gift shop, and as always, "comment…as you see fit."
4/13/18