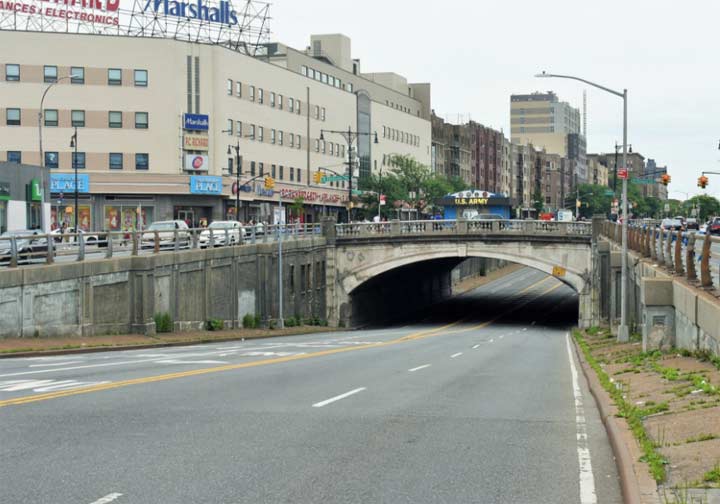 Eleven lanes wide from 161st Street north to Mosholu, the Grand Boulevard and Concourse (shortened to Grand Concourse for the benefit of sign makers and cabbies) was conceived by engineer Louis Risse in 1870 and was built, from 161st Street north, in 1909. In 1927, it absorbed Mott Avenue, which ran from 138th north to 161st, and the older street was widened. The Grand Concourse became the Bronx's showpiece as the Bronx Borough Hall, Yankee Stadium, and an array of elegant apartment buildings were constructed along its length.
Unless you are a motorist using the GC frequently you are probably unaware that East Fordham Road is bridged over it in an arch structure probably going back to the GC's origins in 1909. The central four lanes bypass the busy intersection completely. In other intersections, lanes of Kingsbridge Road and East 204th, among others, pass under the Concourse, but this is the only case in which a road is bridged over it.
Here, at left, we see the former Alexander's Department Store, the flagship in a chain of stores founded by George Farkas in 1928 and named for his deceased father. The Fordham Road store opened in 1933 and closed in 1992. The building is home to electronics chain P.C. Richard and clothing retailer Marshall's.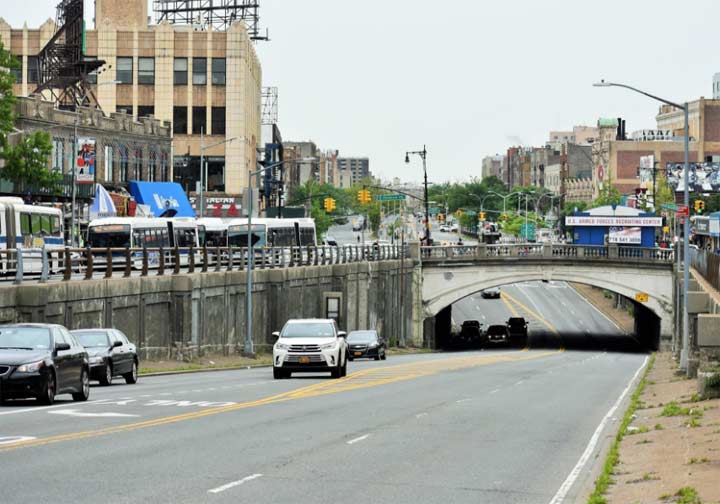 Looking south toward the Fordham Road Bridge. At left here is the Wagner Building, which on November 5, 1960 was the site of a campaign speech by John F. Kennedy, a few days before he beat Richard Nixon. As a boy in the 1920s, Kennedy had resided in a mansion with his family at Independence Avenue and West 232nd Street in Riverdale.
Photos by Robert Mulero, the webmaster of Street Lights of New York City and the co-author of The History and Design of New York City Streetlights, Past and Present (2016, Dorrance)
Check out the ForgottenBook, take a look at the gift shop, and as always, "comment…as you see fit."
6/11/18