By MARIE CARTER
The train rumbles through Williamsburg to Bushwick, before exiting into the bright light of day where Most Holy Trinity Cemetery becomes instantly visible. The cemetery is situated a block away from the Wilson Avenue stop in the Brooklyn neighborhood of Bushwick. This is old school New York, with neighbors hanging out on their stoops, playing board games, and purchasing coffee for fifty cents from the local bodega. According to the associated church website, this neighborhood is now a mix of African-Americans, Puerto Ricans, Dominicans, Ecuadorians, Mexicans and people from other Spanish-speaking countries, as well as new arrivals from Poland. Making a left on Moffat Street to Central Avenue, one has to pass underneath the subway bridge before the entrance to Most Holy Cemetery becomes perceptible.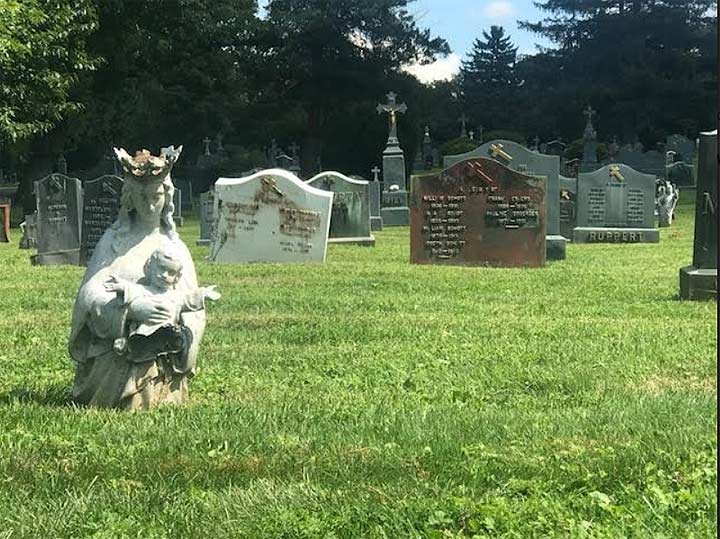 At a superficial glance, Most Holy Trinity Cemetery doesn't look like anything special, and no one famous is buried here. What makes it unique is that many of the graves are made of metal. The cemetery was established in 1851 by a German Catholic congregation at Most Holy Trinity in Williamsburg. New York Cemetery Project estimates it holds 25,000 graves. The belief among the congregation was that in death, there should be no difference between rich and poor, and therefore many of the markers are made of galvanized iron or are simple wooden crosses. After years of a combination of being outdoors in the elements, neglect, and vandalism, the graves are now rusting, melting, deformed, falling over, or sinking into the soil.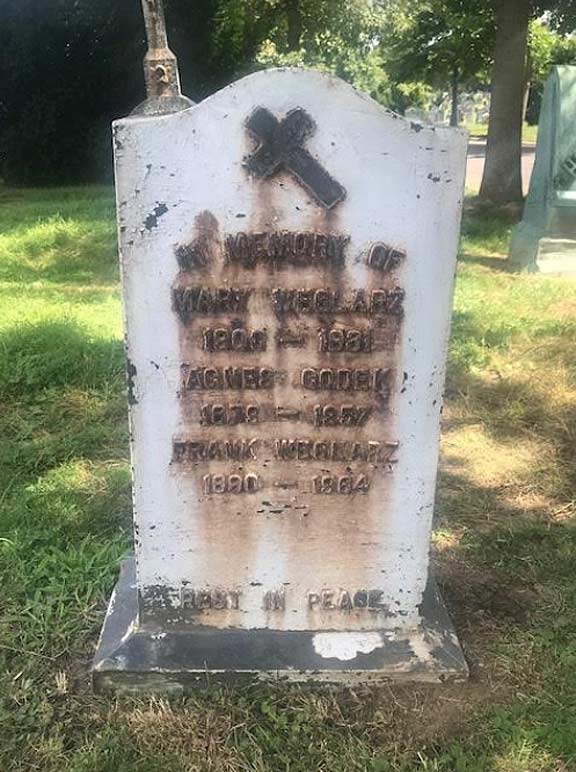 German names like Wunsch and Weglarz are peeling off, rusted, or in some cases, bleeding metal.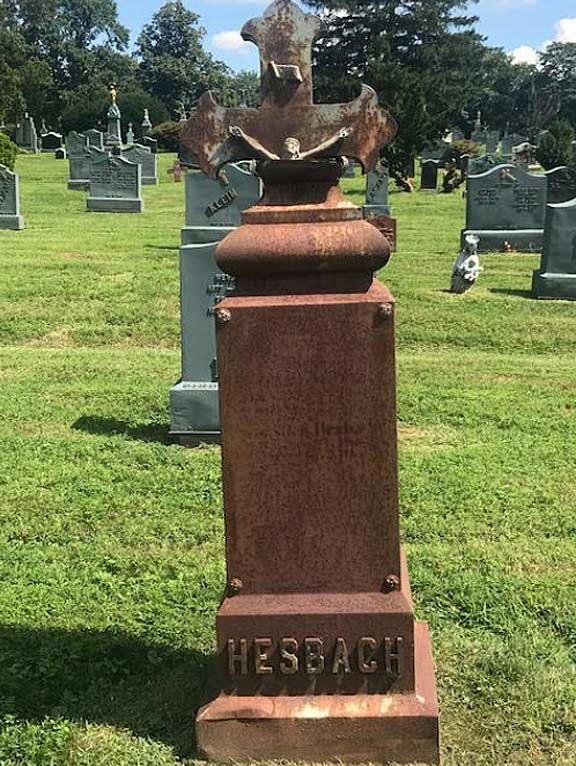 Broken off statues of Jesus, Mary, and praying children nestle in the grass. On the grave of Hesbach, Jesus is sinking into the cross. Some of the graves are covered over in weeds and plants. One tin hollow grave had been blown over on its side in the wind and was blocking the path. Erecting it upright, it weighed no more than a can of beans.
Helena and Jacob Ament
John J. Hildemann (who died in infancy) and John F. Hildemann
Marie Carter is a writer, editor, and tour guide from Scotland, residing in New York City. She is the author of the books Holly's Hurricane (forthcoming in November 2018) and The Trapeze Diaries. For more information: www.mariewritesandedits.com.
Please help contribute to a new Forgotten NY website
Check out the ForgottenBook, take a look at the gift shop, and as always, "comment…as you see fit."
9/3/18