In 1999, I got this shot on an elevated train platform in East New York. I was on a "fantrip" with the redoubtable subway historian Joe Cunningham exploring the Canarsie Line, which as a lot of quirks or former quirks including a two-level station, one platform in a subway and the other on an el; a former connection with the Long Island Rail Road; and a former grade crossing at East 105th Street. I got interested in the trains along after these things had disappeared, though.
However, in 1999 there were still a number of relics around the East New York interchange with the Jamaica Avenue line (J) and IND (A, C) that included connections to the Fulton Street El, which closed up shop in these parts in the 1940s.
As part of those connections, which are ably explained on Joe Brennan's Abandoned Stations page as well as NYC Subway's Canarsie Line page, even after the Fulton Street El was demolished, the northbound and southbound Canarsie Line ran on two separate trackways over two separate streets (Van Sinderen and Snediker) before coming together again at Sutter Avenue and points south. After 2001, the section over Snediker was demolished as was one of the Atlantic Avenue platforms.
As you can see, the original incandescent station lamps were still in use as they were in 1916. In the background, you can see the two separate trackways. The Canarsie retains a connection to the Jamaica line, but it's not used for passenger service.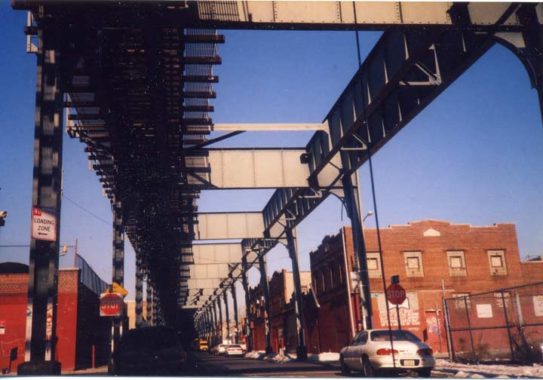 Snediker and Glenmore Avenues, looking north, 1999. As you can see there was only one set of tracks. L trains stopped using them by 2001, and all service was moved to the Van Sinderen Avenue portion. Snediker is now open to full sunshine, while Van Sinderen remains shrouded.
Check out the ForgottenBook, take a look at the gift shop, and as always, "comment…as you see fit."
3/7/19