March 2019 marks Forgotten New York's 20th anniversary. To celebrate the occasion, I've re-scanned about 150 key images from the early days of FNY from 35MM prints. In the early days, when people including me were accessing FNY with dial-up modems, I had to save photos really small — in some cases, just 4″ across. I couldn't find all those early photos — I think I foolishly discarded some along the way — but all month, and into April, I'll be picking out some and showing the newly scanned versions.
This ancient piece of "street furniture" at Broadway and Isham (pronounced EYE-shum) Street in Inwood has figured prominently on Forgotten NY over the years, and is always pointed out on my Inwood tours. I've always identified it as one of two remaining gaslamp posts in NYC — the other one at the end of Patchin Place in Greenwich Village has been hooked up to electricity and apparently works (though I haven't checked it at night) — but a recent development has occurred that may prove me wrong.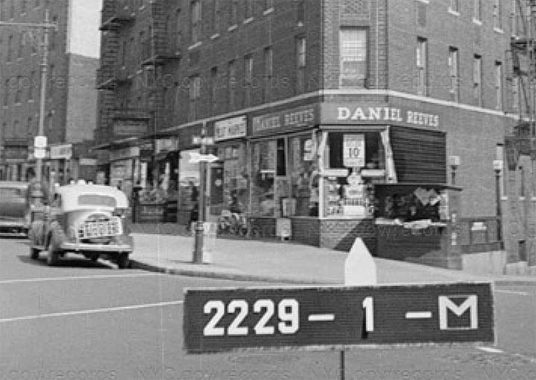 Here's a look at that corner in 1940 and, as you can see, the post is there but it serves as a holder for a pair of street signs at its apex, and a one-way sign down the shaft. In the early 20th Century this style of pole was used to hold street signs as well as gaslamps. NYC's King of Lampposts Bob Mulero began photographing NYC lamps in 1978 and found a few more of these posts around town — just the posts — without any lamps or signs, so it's hard to tell which was which.
It' quite possible that the iron post in question, which was probably installed between 1900 and 1920, originally held a gaslamp and then was converted to a sign holder when electric lamps became widespread in the 1910s. It's impossible to say now, though, and I'll keep presenting it as a possible gaslamp till definitive proof shows up.
Check out the ForgottenBook, take a look at the gift shop, and as always, "comment…as you see fit."
3/28/19