In March 2019 I was on my way to Canal Street to begin my first-ever walk there when I stopped off in some less-well-known SoHo enclaves to take a look. I realized I had never before set foot on Dominick, which runs for two blocks from 6th Avenue west to Hudson. The Holland Tunnel runs directly beneath it between Varick and Hudson.
Most of the streets on Manhattan's lower west side, in Tribeca and SoHo, are named for their associations with Trinity Church, which once owned vast acreage there, and Dominick is no exception: Georges Dominick was a French Huguenot refugee who became a vestryman of the Episcopal Trinity in the mid-18th century. With his brother François, with whom he was in an importing business, he lived on Cherry Street — as did President George Washington.
6th Avenue splits in two for two blocks between Broome and Spring, with Dominick Street issuing from that odd little 6th Avenue detour which runs for just those two blocks. The park that occupies the wedge between both 6th Avenues is SoHo Square, which was given a makeover in 2017 with new "Flushing Meadows" park lighting, new benches and plantings.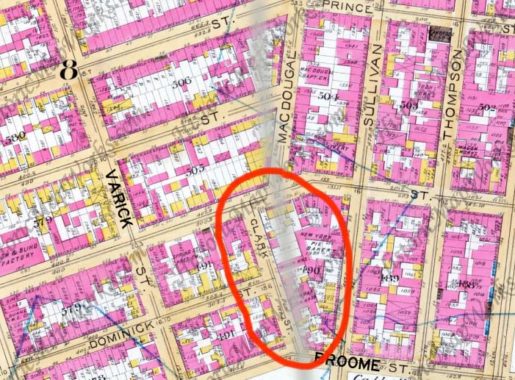 There's a story behind that odd little 6th Avenue branch. When 6th Avenue, marked here by a gray brush stroke, was extended south as a right of way for the new IND subway, it went just barely to the east of Clark, which was retained in a physical sense, but its identity was stripped and it became an extra western lane of 6th Avenue for two blocks. The space between "6th Avenue" and "6th Avenue" (formerly Clark) is now occupied by an open space called SoHo Square. If you look in old street directories before 1928, Dominick Street is listed as running between Clark and Hudson.
I don't know why Clark Street was demapped because making it a tributary of 6th Avenue seems confusing, but in the 90 years since the deed was done, everyone's used to it by now.
SoHo Square is centerpieced by a statue depicting General José Gervasio Artigas, a leader in Uruguay's struggle for independence. In the early 1800's, he raised an army to free Uruguay from Spain. In 1814, however, troops from Argentina captured Montevideo, Uruguay's chief city. In 1815, Artigas gained control of Montevideo for Uruguay. For a short time that year, he governed most of Uruguay and parts of Argentina. Portuguese troops from Brazil captured Montevideo in 1817, and Artigas fled to Paraguay in 1820. Uruguay did not gain its independence until 1828.
The statue, sculpted by José Luis Zorrella de San Martin, was a gift from Uruguay to NYC in 1997.
Lower 6th Avenue from Canal Street to about West 8th Street (and again near Central Park) is still punctuated by what I call the Medallions of the Hemisphere, depicting coats of arms of the countries of North, South and Central America belonging to the Organization of American States. This one can be found at SoHo Square.
In a continent of large countries, Surinam is South America's smallest. It is the former Dutch Guiana colony, gaining independence in 1975, and Dutch is still the official language though the native Surinaams is widely used as are other indigenous tongues. A third of the country (similar to neighboring Guyana) is descended from 18th Century Hindustani immigrants from the Indian Subcontinent. It is bordered by Guyana, Brazil, and South America's last non-independent territory, French Guiana. Surinam has been a democracy since 1988; its economy is largely centered around the mining of bauxite, the mineral in which aluminum is found. There is also a large sugar industry.
Surinam's flag consists of two wide green stripes at the top and bottom surrounding two thinner white stripes that enclose a red field with a gold star at the center.
Its striking coat-of-arms features two Indians brandishing bows and arrow-filled quivers leaning on a shield on which is depicted a sailing ship, supposed to represent Surinam's past (when slaves were brought there) and a palm tree, depicting its present. The five pointed star is symbolic of the 5 continents from which Surinam residents came from. The Latin motto, Justitia, Pietas, Fides, means Justice, Piety and Fidelity.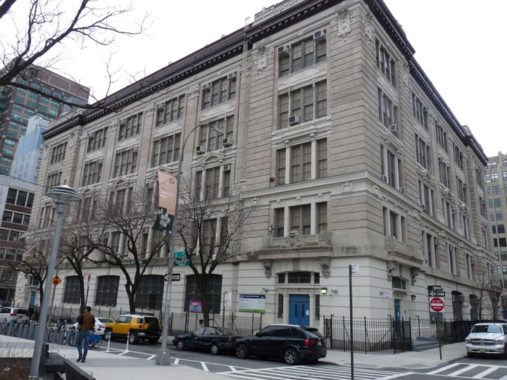 The most conspicuous building on Clark Street, between Broome and Dominick, is the Chelsea Vocational School, now Chelsea Career & Technical High School. From its website: "This school was first erected in 1848 as an elementary school and rebuilt in 1858. It was remodeled in 1875. In 1912, the school moved to its new site at Public School 38 located at 8 Clark Street in Manhattan." (As we've seen, Clark Street is now 6th Avenue). While the school now faces the rushing traffic of 6th Avenue, there was a time before 1928 when you found small dwellings and tenements across a narrow, short block.
The huge loft building at 145 6th Avenue is home to a performance and art collective called HERE:
Since 1993, HERE has been one of New York's most prolific producing organizations, and today, it stands at the forefront of the city's presenters of daring new hybrid art. HERE supports multidisciplinary work that does not fit into a conventional programming agenda. Our aesthetic represents the independent, the innovative, and the experimental: HERE has developed such acclaimed works as Eve Ensler's The Vagina Monologues; Basil Twist's Symphonie Fantastique; Basil Twist and Joey Arias' Arias with a Twist; Hazelle Goodman's On Edge; Young Jean Lee's Songs of The Dragons Flying To Heaven; Trey Lyford & Geoff Sobelle's all wear bowlers; Faye Driscoll's 837 Venice Boulevard; Taylor Mac's The Lily's Revenge, and original musical and dance works created and directed by HERE Co-Founder and Artistic Director Kristin Marting. [Here]

Since 2012, 145 6th has also been an outlet/gift shop of the Dahesh Museum of Art, which bills itself as the only American museum exhibiting European academic art of the 19th and 20th centuries. It was founded by Lebanese author and philosopher Salim Moussa Achi (1909–1984), whose pen name was "Dr. Dahesh." The museum has no permanent space at present, but presents exhibits at selected locations.
I noticed the huge 12-story loft building 121 Varick on the SW corner of Dominick, but can't find anything of substance about it on the World Wide Web, but I'm sure the architect and date of construction are available somewhere.
Dominick Street is so short that there are only four addresses on the entire two-block street, Nos. 32 through 38; three of the buildings, 32 through 36, have been given NYC Landmarks protection.
#32 Dominick is the oldest-looking of the trio, constructed in 1826 by Smith Bloomfield as part of a row on the south side of the street, Nos. 32 through 50. It's the only one that preserves most of its Federal-style appearance including a pair of dormer windows. #34 and #36 Dominick had their Italianate-style 3rd floors added in 1866.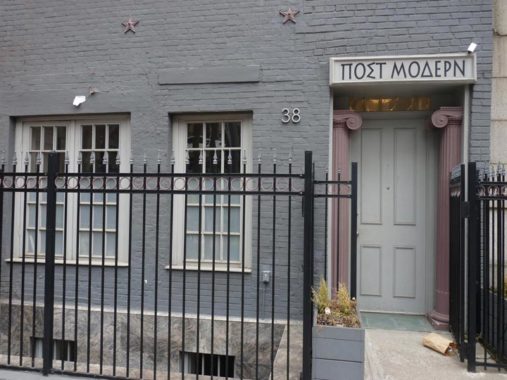 #38 is not Landmarked, at the owners' request; it's had the most alterations, including a pair of partial Ionic columns at the front entrance and the words "post modern" in English but spelled out in classical Greek letters above the doorway. Otherwise the building was also constructed by Bloomfield in 1826.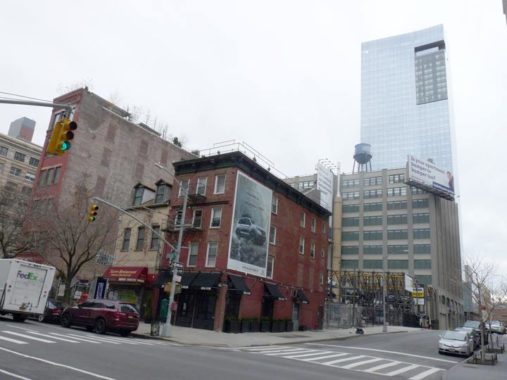 Looking east on Dominick from Hudson Street, showing the contrast of the older buildings on Hudson with the glassy hotel-condominium The Dominick, constructed by the Trump Organization in 2008 as Trump SoHo; the Trump Organization has ceased to manage the building by the time of Donald Trump's presidential campaign in 2016.
Check out the ForgottenBook, take a look at the gift shop, and as always, "comment…as you see fit."
4/30/19