Back in Bay Ridge again, eh? I can't help it, I lived there for 35 years after my birth at Maimonides Hospital in Borough Park in 1957. Gradually my connections with the place have slipped away. My parents died in 1974 and 2003, various relatives who lived in Bay Ridge or Borough Park have died or scattered to the wind, and even many of my favorite dining spots like Zeke's Roast Beef, the Tiffany Diner and even the Nathan's on 7th Avenue and 86th Street have closed. I periodically visit for checkups and cleanings at my dentist's office. I've been going to the same office since 1964 and have been treated by only two dentists the entire time. The latter presided over the removal of my front four and the ensuing bridge and plate. That's loyalty!
The allure can't be denied. I cannot swim a stroke and burn like baloney on a frying pan in the sun, but Bay Ridge's proximity to the water was always a charm for me. (When I was hired at the World's Biggest Direct Marketer in Port Washington, I couldn't believe my good luck when the place was a stone's throw from Manhasset Bay. Two layoffs later, the place has moved to a landlocked office park in Jericho.)
There is one walk in Bay Ridge I had never taken. Bay Ridge Park is sandwiched between the Belt Parkway and Shore Road between 4th Avenue and Bay Ridge Avenue (69th Street, as the locals say). I had entered it only a handful of times in 35 years. I had never ridden my bicycle in there, preferring the bike path on the Narrows side: perhaps admonitions from my overprotective grandmother, who warned me away from where the "bad boys" were, kept me off Shore Road Park's paths, which can be isolated in spots. So today was the day. Sunny and rather oppressively humid (now just about every day in NYC between July 1 and September 15 is oppressively humid) I sallied forth to a park I had rarely been in, in the place I lived for 35 years.
Bay Ridge Park, as we know it, has existed since the 1940s, as it was landscaped in more or les its present condition after the Circumferential Parkway opened in 1940. (Soon after that, NYC took pity on typesetters everywhere by formally changing it to Shore Parkway; the entire system of parkways rings Brooklyn and Queens and is colloquially called the Belt Parkway.)
However a park of some sort along the Narrows had been in the works since the late 1800s, when a consortium that included Frederick Law Olmsted, the co-designer of Central and Prospect Parks, was a member, drew up landscaping plans. Little of those original plans remains. For example, Fort Hamilton Parkway was once planned to be a green "arm" of Prospect Park, as Ocean and Eastern Parkways are today, and FHP, Leif Ericson Park, and Shore Road Park were once going to be a continuous row of green, supporting horses, carriages, strollers long before the internal combustion engine was conceived. Of course, FHP wound up a pedal-to-the-metal truck route, its diagonal course across the grid ideal for trucking. Even Lief Ericson Park was sundered in two by the Gowanus Expressway beginning in 1959. Henry Stewart of HeyRidge, in his new (2019) book, How Bay Ridge Became Bay Ridge, provides Shore Road Park's full story. Stewart, with the website and book, has become Bay Ridge's foremost chronicler.
Taking the R train all the way to the end at 95th Street, I noticed that the station has a pair of anachronisms. The station has an island platform with trains on either side, and its electronic "next train" indicator still gets the job done after what must be several decades. The station has a lengthy, IND-style underground corridor (it was completed in 1925, and may have been a dry run for subway designers, including Squire Vickers, to create such concourses for IND stations that would shortly be built). There are mosaic signs pointing to 93rd and 95th-Street exits, and what appears to be a functioning men's room; I did not test it, and it may be storage, which are what most former public subway bathrooms are now.
As a kid growing up at 6th Avenue and 83rd Street there were three libraries about equidistant from me: the Fort Hamilton, a branch opening at 4th and 95th via one of industrialist Andrew Carnegie's library donations; the Bay Ridge, a modern building opened in 1963 at Ridge Boulevard and 73rd; and the Dyker Heights, at 13th and 83rd, a building that reflected the charmless esthetic of 1970s architecture. Most of the time, I wound up here at the Fort Hamilton. It was completed in 1905 and designed by architects Lord and Hewlett.
There are no shortage of World War I Memorials in Bay Ridge, including two within a few blocks of each other. The first is here at the triangle formed by 4th and 5th Avenues and 94th Street. The names of those soldiers who trained at Fort Hamilton and served or passed away during World War I are inscribed on a granite shaft erected in 1917.
For years the triangle was known as Pigeon Park, both for the fowl that flocked in the park and for the homing pigeons used to carry messages during WWI and WWII, but it was formally named Fort Hamilton Triangle by Parks Commissioner Henry Stern in 1998. It is currently surrounded by a locked gate to discourage vagrancy in the park.
When Bay Ridge streets were laid out in the 1800s, 4th and 5th Avenues came to a meeting place here, with only one avenue proceeding south to the Narrows. 4th Avenue was selected to proceed south, presumably because it's the "senior" number.
The car dealership in the background was once a restaurant that served as the coffee shop in which Tony Manero (John Travolta) and Stephanie (Karen Lynn Gorney) discuss Brooklyn vs. Manhattan life in Saturday Night Fever.
The Roman Catholic St. Patrick's Church is one of the oldest Catholic parishes in Brooklyn; the church was instituted in 1849 to serve the Fort Hamilton area's many Irish laborers and their families, and has also served Catholic military men and their families stationed at the fort. The present church building was completed in 1925, the same year the BMT was extended to 95th Street; its school building on 4th Avenue and 97th Street opened in 1958.
The Verrazzano-Narrows Bridge, seen from 4th Avenue and 97th Street. My own experience watching the bridge's construction has been referred to in various posts on numerous occasions, so I won't belabor it again here, but if you haven't read it, here it is, complete with vintage images from 1964.
When Googling the bridge, it's best to spell it without the extra z. Historical groups succeeded in getting the extra z formally included in 2018, though the explorer himself spelled his name in various ways — as was the practice until increased literacy and printing technology standardized the spellings of proper names and places.
A handsome private home, with a "widow's walk" above the entrance pediment. When it was built, the platform allowed residents a clear view to the Narrows.
Barwell Terrace is a pleasant cul de sac on 97th Street between 3rd and 4th Avenues, one of a legion of such that were built in Bay Ridge by real estate companies in the early 20th Century. Some allow vehicular access, some don't. Barwell Terrace, built by the Barwell Homes company in 1926, boasts 18 small single family brick homes, 9 on each side, arranged to face each other across a walkway. Brooklyn Dodger shortstop Pee Wee Reese was a resident in the late 1950s.
I'll be forgiven if I inject some personal notes into my Bay Ridge posts. In the 1980s, I was dissatisfied with the heat in my place on 73rd Street and was seeking lodging elsewhere and looked at some places in this area, in the 90s near the waterfront. I liked an apartment in this building, but was turned down by the owner, who was also the proprietor of the restaurant on the ground floor, as well as an apartment in a building on 96th Street. The real estate broker told me that sometimes, people don't rent to single men in their 30s, fearing noise and ruckus. Who, me?
Across the street, this TD Bank branch at 4th and 99th Street stands in place of the Tiffany Diner, which was here from the 1960s into the late 2000s. As a rule, our shopping day was Saturday. We would get the groceries delivered, so more often than not, we would sally down here for lunch. There were other places we went, such as Surprise Diner on 5th avenue or the Green Tea Room on 86th Street.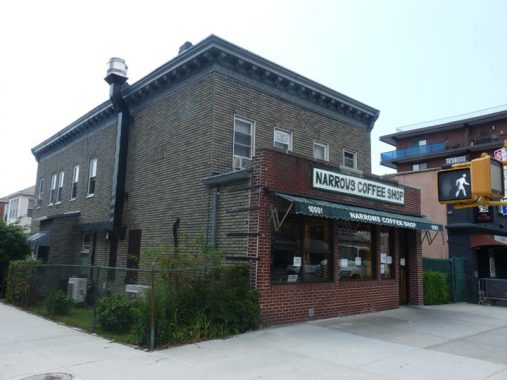 Oddly my parents never thought to patronize the Narrows Coffee Shop a block away on 4th and 100th Street. I had lunch there approximately 5 years ago. The building itself appears to have been here for a century or longer.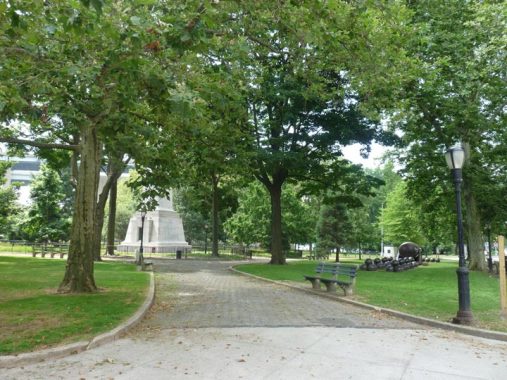 Naval hero John Paul Jones (1747-1792; the bassist for Led Zeppelin has the same name, coincidentally) is known as the Father of the American Navy (though sometimes John Barry is given the same title). Jones enlisted in the Continental Navy in 1775 and distinguished himself in service, captaining the sloop Providence and the warships Alfred and Bonhomme Richard. Jones attacked a British convoy that included the HMS Serapis and Countess of Scarborough. His vessel damaged and sinking, Jones continued to press the attack, shouting "Don't give up the ship!" The Serapis was later captured by the Navy. Jones later served in Russia and France, but died of nephritis at age 45.
This was originally the southern end of Shore Road Park, but was renamed for Jones in 1969, so this is the park's half-centennial with the name.
The Dover Patrol Monument in John Paul Jones Park actually honors a Naval unit that served during World War I, protecting the British coast from German U-boats; this monument, a gift from Britain and the tallest obelisk in Brooklyn, honors American participation and assistance in the war effort. There are identical such monuments located in Dover, England and Cap Blanc Nez, France. The monuments were designed by Sir Ashton Webb, who also designed the façade of Buckingham Palace. The obelisks employ 14,000 total tons of granite.
John Paul Jones Park is chockablock with history honoring three different wars. This Revolutionary War Memorial consists of a bronze tablet on a granite boulder that New York City received from the Long Island Society of the Daughters of the American Revolution in 1916. The first resistance to British troops by the Continental Army took place in this vicinity during the American Revolutionary Battle of Brooklyn.
John Paul Jones Park is the site of one of the three 20-inch Rodman guns ever produced. Fort Hamilton, in 1864, tested this new cannon, designed by Capt. Thomas Jefferson Rodman, which weighed 58 tons and fired shot weighing 1080 pounds up to 4 1/2 miles. A derrick had to be used to load the cannon. The cannon's effectiveness was judged minimal after it failed two trials.
Shortly after being mounted the piece was fired four times with 50-, 75-, 100- and 125-pound charges. In March of 1867 it was again fired with charges of 125, 150, 175 and 200 pounds of powder. At an elevation of 25 degrees a range of 4-1/2 miles, was obtained.
These were the guns that established the International "Three Mile Limit" for Territorial Waters. In the 19th and early 20th century a nation "owned" those waters that it could defend with cannon fire.
One of the two Rodman guns produced wound up here, along with a goodly number of cannonballs in what is commonly known as Cannonball Park. The second was located at Fort Hancock in New Jersey, and is now on display at the Sandy Hook National Park Site; the third was sold to Peru. Records of this cannon were lost during Peru's war with Chile from 1879-1883.
A westbound on-ramp for Shore Parkway is located here at 4th Avenue and Shore Road. I have never seen a sign quite like this one, with minuscule type on a huge green field. Seems to me the type could have been made larger and broken into two lines.
This apartment complex at 4th Avenue and Shore Road was an athletic field throughout my youth in Bay Ridge. The apartments were built in the late 1970s or early 1980s. The end building has the highest 4-digit numbered address in Brooklyn, #9999.
Previously, upon attaining this spot, I would head up Shore Road proper, or cross the 4th Avenue bridge over Shore Parkway to the Narrows waterfront, most often on a bicycle. Most of the time I would ride the "whole magilla", either north to the 69th Street pier, then reverse and head to Caesars Bay at Bay Parkway where the path ended, or do the opposite.
Today, I'm descending the path into Bay Ridge Park, where I was once told the "bad boys" were.
I am looking up toward the brick shelter on Shore Road, the terminal of the B63 bus that takes 5th and Atlantic Avenues to the Brooklyn Bridge Park waterfront. I was always puzzled about the purpose of this shelter, but I imagine it was mainly so people could get out of the rain; but no other park has this feature, except Prospect Park, which has an ornate pair at Park Circle.
I usually didn't enter this one, as it usually smelled of piss.
Steps ascend to 4th Avenue from this stretch of the park. These are normally proportioned steps, but other hills which are lengthy are tackled by staircases that feature some of the lengthiest, shallowest steps I've seen in NYC.
Glimpses of the bridge are easy to come by here.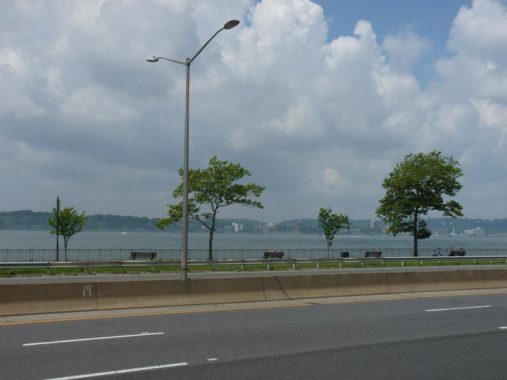 On occasion the park path edges close to Shore Parkway, and views of the Narrows side park path and the Rosebank and Clifton sections of Staten Island across the water.
Donald Deskey lamps, first introduced in 1958 and used extensively beginning in 1962, are peppered liberally along the park paths. Their modular nature is featured here, as they carry floodlights used to illuminate athletic fields. A few have the short masts usually found under elevated trains.
A large, meticulously maintained lawn and field house at approximately 96th Street. More heavily publicized parks such as Brooklyn Bridge Park and the High Line in Chelsea and jampacked with tourists and residents alike on summer weekends, but Shore Road Park was mostly depopulated, except for the occasional jogger or dogwalker. Perhaps my grandmother's admonition about lurking "bad boys" was taken to heart by other generations of Bay Ridgeites.
I happened upon a brand new staircase and handicapped ramp near the lawn.
The steps I was referring to. I've seen these in Riverside Park as well but they're relatively rare.
A word about the Shore Road fences and railings. Now, these are stone cold classics. They look like medieval torture devices, something the Man With The Iron Mask would be shoved into. What the city wants to do is prevent people from getting over the fence into the heavily wooded barrier that is on the "ridge" between Shore Road and the park. It's the "ridge" that Bay Ridge takes its name from, with the Narrows being the "bay." Look at these things, they're perfect.
Henry Stern, Rudy Giuliani's Parks Commissioner, could be playful about how he named things. As is well known, Bay Ridge had a lot of immigration from Scandinavia, Norwegians, Swedes, Danes and Finns, as workers were attracted to the dock work available in the early to mid-20th Century. A thousand odd years ago, the Norwegians were a seafaring group (the Danes were the more warlike Vikings) and some even sailed west across the Atlantic Ocean, settling Iceland and reaching Greenland (ultimately it became a Danish possession) and some made Newfoundland and even further south. Noting that grapes grew in this unplumbed land in the warm months, they named it "Vinland." The age of Norwegian exploration ended almost as soon as it began, and Europeans did not mount another sustained period of exploration and conquest in North America until nearly five centuries more.
Old records and maps show that there was some kind of seaside roadway following the shoreline of the Narrows as early as the late 1700s. Soon enough, the name "Shore Road" was settled on for it though "The Shore Road" appellation was used on maps into the 20th. Before streets were laid out, Bay Ridge was seen as a seaside resort for the wealthy, who constructed large mansions within view of the water. Beginning in the 1920s these mansions were sold off and razed and in their place, large, multifamily apartment buildings went up.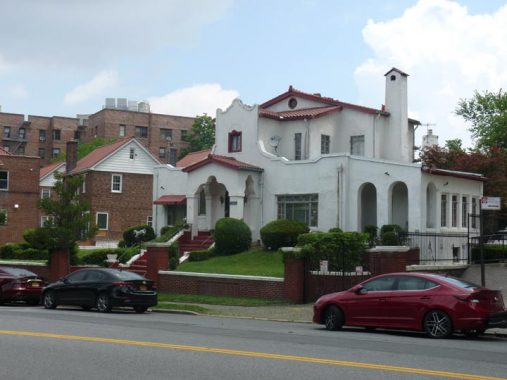 Occasionally you do see a reminder of the old days such as this Spanish Colonial manse at a#9000 Shore Road. Others turn up around 80th-82nd Streets.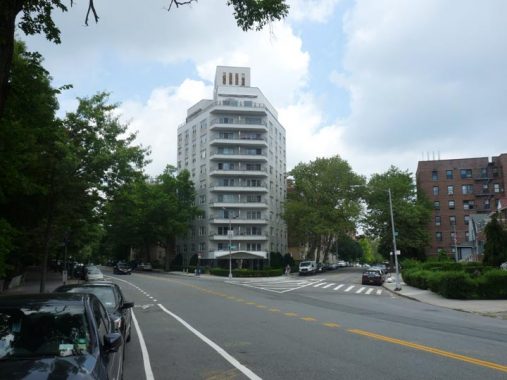 The multibalconied Harbor View Towers, at the V formed by Narrows Avenue and Shore Road.
Colonial Gardens, opposite the Harbor View, is another British-style garden terrace lined with tidy brick buildings, much like Barwell Terrace (see above).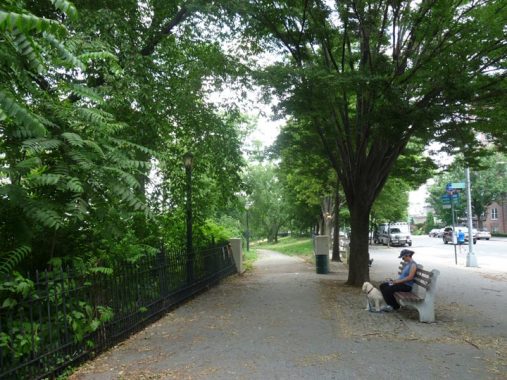 Why am I on Shore Road and not Shore Road Park, where I've said I would be? The park is interrupted as the space between Shore Road and Shore Parkway narrows. Soon enough, at about 88th Street, a path edges back down into the park.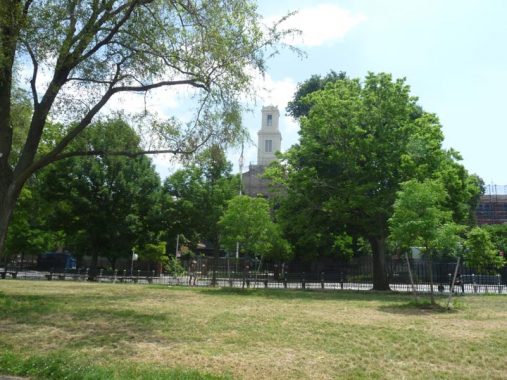 I didn't attend Fort Hamilton High School, which has lorded it over Shore Road at 83rd Street since the 1940s. It resembles the archetypal high school that Wally Cleaver or Richie Cunningham would have attended, and it's much more visible in the colder months from Shore Road Park. Real-life alumni/ae include Janet Yellin, former chair of the US Federal Reserve; the NBA's Albert and Bernard King; and rocker C.C. DeVille.
I do have a past with Fort Hamilton High. In the spring, St. Anselm Youth Activities had its annual gala at FHHS, and I was able to meet several well-known (at the time) sports stars, whose names escape me now.
Located at about 80th Street, this is the northernmost iron pedestrian bridge over Shore Parkway to the Narrows-side path. Built along with the parkway in the late 1930s, these bridges represented what was likely the last ornamental concession Robert Moses made in public works, as the bridges are stylish with ornamental scrollwork. Along the Belt Parkway between here and 27th Avenue, there are four similar bridges.
When bicycling north on the Narrows path, this is the spot where the Manhattan skyline and Statue of Liberty appear. I was always fascinated that I could see them from Bay Ridge. Actually the towers pictured here are in Jersey City and did not exist when I lived in Bay Ridge.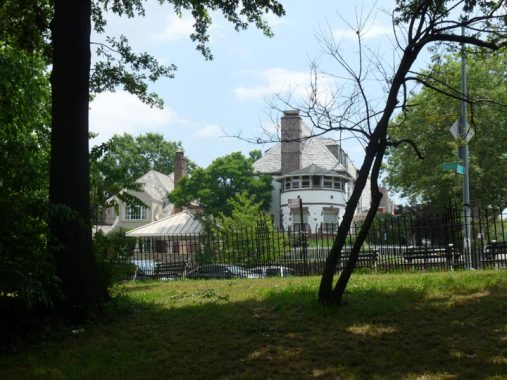 One of those voluminous private homes on Shore Road in the 80s I was talking about. That circle-shaped ell must have a nice view of the water.
Unusual birdhouses of this type are employed by purple martin keepers. Martins migrate to South America for the winter months, but spend spring and summer here. Native Americans discovered that the martins would nest in empty gourds that they would hang on trees. The martins were useful because they preyed on insect pests, and the hanging gourds made them less susceptible from attacks from hawks, raccoons, cats, etc. The martins got used to the gourds, so the present birdhouses are shaped like them. The birds became so dependent on man that today, no eastern purple martins nest in the wild — only in shelters provided by people.
One of my aims on this walk was to see the Narrows Botanical Gardens, instituted in this stretch of the park opposite Xaverian High School at 71st Street in 1995. I didn't know much about them, so I'll quote from NYC Parks:
The transformation of Narrows Botanical Gardens began in 1995, when neighbors organized to clear the land, removing garbage and weeds. To prepare for plantings, wood chips were spread across the ground. Local nurseries donated plants and shrubs, which were watered with hoses supplied by the Fire Department. As members of the community began to recognize the results achieved by the reclamation effort, more people asked to contribute. Official memberships were offered after the group received non-profit status. In 1997, Parks recognized the efforts of these residents when the gardens received their current name…
The gardens in this park are meant to satisfy the senses with colorful flowers, aromatic plants, and singing birds. The Native Plant Garden contains local flora, such as plants and trees, as well as a waterfall, stream, bog, and pond that provide for fish, toads, frogs, and turtles. The fragrance garden contains shrubs, lilies, honeysuckle, sage, mint, and mock orange, creating different aromas throughout the year. The moon garden contains white and silver flowers that reflect the moon's light. A butterfly garden uses milkweed plants (Asclepias) to attract migrating monarchs. Narrows Botanical Gardens also contains two rose gardens and a Japanese Zen rock garden where residents can go to meditate. In addition to these gardens, the park contains many other natural settings, such as a lily pond, redwood (Sequoia) groves, a linden (Tilia) tree alley, and tree arboretums.
Donations are appreciated: see their website.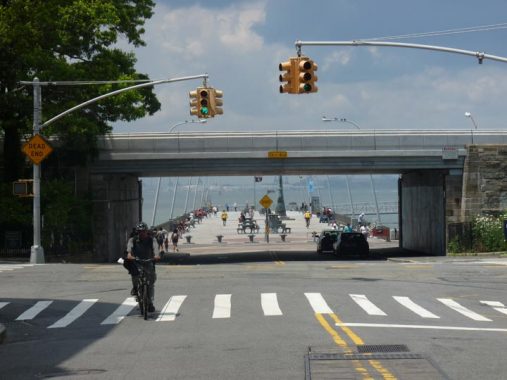 69th Street (Bay Ridge Avenue). This is home again to NYC Ferry, which runs a few boats to and from Manhtattan in the mornings and evenings. It's something, but not quite the same as in the old days: dozens of runs to St. George, Staten Island in heavy, large boats until the Verrazzano Bridge opened in 1964. Was there ever Manhattan ferry service from here?
A pair of well-maintained "jewelbox" houses on 69th Street between Narrows Avenue and Shore Road.
Belgian blocks rule on Bay Ridge Place between 69th Street and Ovington Avenue — but only half the one-block street! Half a loaf is better than nothing.
Storm clouds were mounting, and I was hustling to the Bay Ridge Avenue R train at 4th Avenue. The first drops fell as I went down the steps. #winning
8/4/19