I don't fly often — not because I fear flying. As Superman says, it's the safest possible way to travel. I just don't have the dough to go flying here and there, as my skills have not been sufficient for employers to offer more than freelance work for the past 7 years. Besides, if I were working, I wouldn't have time to travel much either. However, I'm not unfamiliar with NYC's airports. My friend Joanna and I spent a great day in the restored TWA terminal, which is now a theme hotel, at Kennedy Airport this past May. (I got plenty of photos and will write a page about it as soon as I think of a Forgotten NY angle — perhaps discussing Eero Saarinen's legacy as an architect in NYC.)
LaGuardia Airport was constructed in 1929 as Glenn Curtiss Field, and later, North Beach Airport, replacing a former North Beach amusement area called the Gala Amusement Park, opened in 1889 by piano master William Steinway and beer baron George Ehret; it fell flat when Prohibition was enacted in 1920. The North Beach area and park were served by the Brooklyn City Railroad, which operated a trolley line along Old Bowery Bay Road, once one of the only thoroughfares in eastern Jackson Heights and East Elmhurst. The line survived into the 1930s and served the airport for a time.
I was weaving through Corona, East Elmhurst and northern Astoria this week and I hit upon a plan to visit LaGuardia Airport's Marine Air Terminal for lunch. On previous visits, I noticed they had a great cafeteria, and besides that, it's an Art Deco masterpiece nearly perfectly preserved from the day it was opened.
The trick, for a pedestrian, is getting there. Marine Terminal Road issues east from Ditmars Boulevard just north of Grand Central Parkway, which forms the southern edge of the airport. Kennedy Airport is much larger than LGA and has many more named roads, while LGA has just a few: Marine Terminal Road, Bowery Bay Road, and Fiorello Lane. However, these roads are far from lanes, and are dominated by rushing traffic and angry, horn-honking cabbies. Sidewalks are narrow, and while there are signs for bike lanes, I didn't see any evidence of them.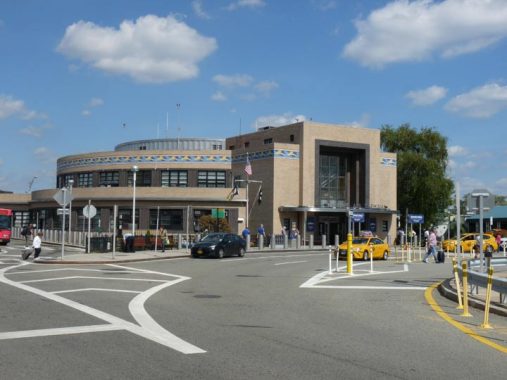 The Marine Air Terminal itself is unmistakable, at the end of Marine Terminal Road which loops around it, surrounded by large lots given over to parking and rental cars.
The MAT was constructed in 1939, when finishing touches were being applied to LGA, and opened in 1940. It was originally called the Overseas Terminal. While there are still remaining structures from LGA's early days still standing, most notably the American Airlines building, this is the only active terminal from the 1939 era still in everyday use.
The MAT was designed by William Delano of the architectural firm Delano and Aldrich, a distant cousin of President Franklin Delano Roosevelt. The building is made up of a central, two-story central core with two symmetrical one-story wings. It was designated as a national Landmark in 1997 and underwent a $7M renovation in 2004; I first saw it a short time after that.
The terminal borders on the East River inlet south of Rikers Island, Bowery Bay, and was built to handle large seaplanes, known as "flying boats." This explains the terra cotta flying fish ringing the exterior rotunda, and the more realistic flying fish depiction on the adjoining administration building.
The seaplane passenger market sharply declined after World War II. The MAT closed to passenger traffic during the 1950s, falling into disrepair. The magnificent James Brooks mural, Flight, was covered over but thankfully not destroyed as the Diego Rivera murals were at Rockefeller Center. In both cases the murals were covered up because of perceived socialist themes; these may have been more evident in Rivera's work, but seem tenuous with Flight, which was uncovered in 1980. Today, JetBlue flights are accessed from the MAT.
Walking through the stylized metal doors, still with wrought metal Pan Am logos, you are in the rotunda and Flight is immediately in evidence, along with a large bust of Fiorello LaGuardia, who championed the airport named for him in 1939. He famously refused to land at Newark Airport, stating that he wished to touch down in New York.
James Brooks' mural Flight was executed in 1940 and depicts Man's attempts at flight from antiquity, beginning with the classical myth of the inventor Daedalus, who jailbroke by inventing arm wings held together by wax. He cautioned his son Icarus to not fly too high lest the sun melt the wax. Icarus ignored him and plunged to his death. Leonardo da Vinci's aeronautical sketches are shown, as well as Orville and Wilbur Wright.
I haven't been able to discover the sculptor who did the LaGuardia bust. Now's your chance in Comments to fill me in.
The "telephones" nook is the only one that has its original 1939 typography. There are no public phones anymore, just wifi rechargers and vending machine concessions. I was disappointed to find the restaurant closed, as snacks and drinks had been moved to the main floor. I hope the cafeteria hasn't been permanently shut down.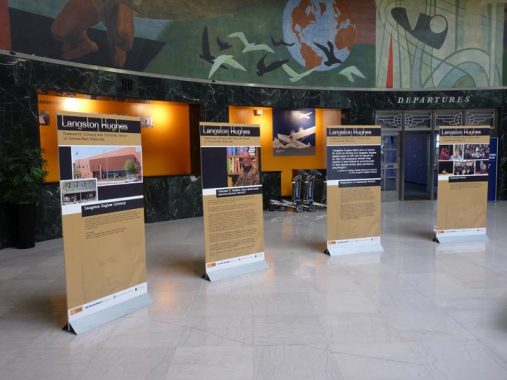 The rotunda hosts museum-like exhibitions, this one on the author and poet Langston Hughes (1902-1967). Unfortunately no one seemed to be perusing it.
The benches are originals, or at least faithful reproductions. Note the propeller motif. The men's room also had copies of Flight along the ceiling, with propellers on the stall doors.
An outside "pet relief" area has a little fun with the terminology.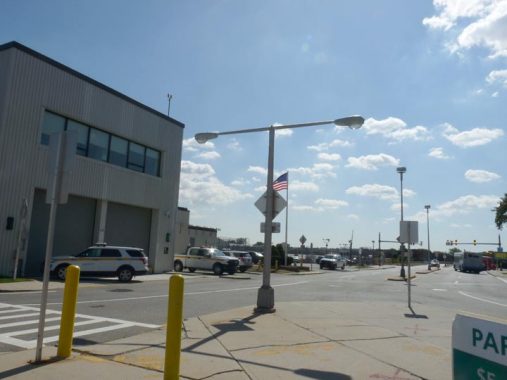 The LGA service roads used to be dominated by T-shaped lampposts. This twin version is the only remaining example near the MAT.
For even more restored classic airport goodness, visit the Ryan Visitors Center at Floyd Bennett Field in Marine Park, Brooklyn, from the same era.
Check out the ForgottenBook, take a look at the gift shop, and as always, "comment…as you see fit."
9/26/19