Believe it or not there are times when I get a bit less enthusiastic about Forgotten New York. The worst times for this are the times I am especially busy with other things to do, other obligations. On Sunday morning I was feeling especially logy and out of sorts. I had taken a day trip to Philadelphia the previous day. I don't think my system was especially prepared for Pat, the King of Cheesesteaks. (My system objects when something unfamiliar enters it). However, that afternoon I was set to do a presentation in SoHo (more on this below) so, off I shuffled to the train and got into SoHo (I never know if it's SoHo or plain Soho) in plenty of time, and so I took out the camera and scouted around.
By the end of the afternoon, my presentation done, the effects of the cheesesteak gone, I felt refreshed and had banished all flagging thoughts about continuing this singular pursuit.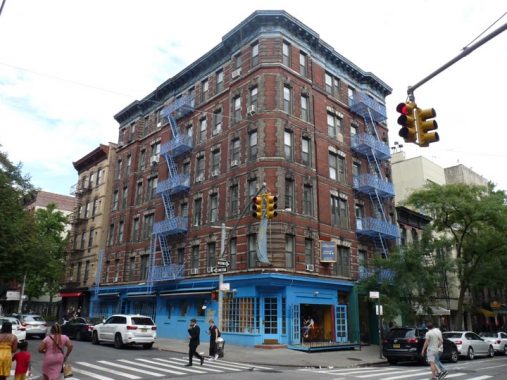 Let's begin with the title card image, 195 Spring Street on the corner of Sullivan. The apartment buildings of SoHo were built mostly in the late 1800s to early 1900s and were reflective of a completely different building esthetic than today. If you were building an apartment house today, for less money you would design a building with a flat, bland exterior, with picture windows offsetting flat metallic panels. More expensive buildings would feature the picture windows, but with plenty of bulging cubes and ells, like some sort of architectural Lovecraftian shoggoth.
In 1903, the year this Renaissance Revival building was built, ornamentation was the rule to exhibit pride of place. Even if wealthy people did not live here, they wanted to be. (I'd like to be richer, but not rich, which brings its own set of problems.) The ground floor features establishments that seemingly could only exist in SoHo, like Paowalla, an Indian "bread bar" that serves "stuffed naans, kulchas, bhel puri, paratha, and more" according to Eater.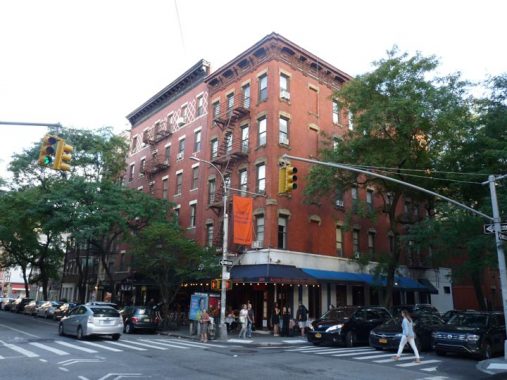 Across the street I was attracted to #200 Spring, on the opposite corner, for a different reason. The building was constructed in 1880, 23 years before #195 above, and reflects a somewhat plainer design, called Neo-Grec by architects. There are couple of things going on in the same photo…
I couldn't resist this 1962-vintage Donald Deskey lamp, not least because it has an original design fire alarm indicator. The Department of Transportation stopped repairing them a decade ago and now mounts red alarm lamps on the main fixture, seen at top left.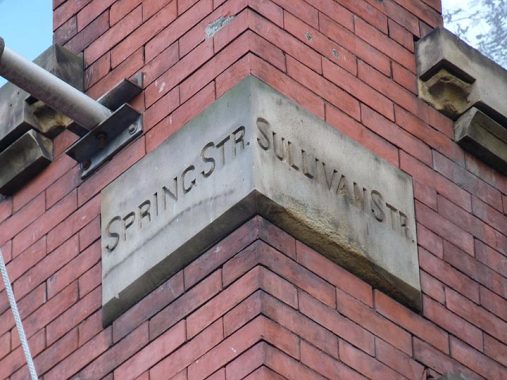 These incised street signs on buildings were employed by some architects before street sign designs were standardized and mounted on lampposts or telephone poles. I always seem to find examples I didn't know about before because some are really inconspicuous and you have to look for them. The really good ones (in my opinion) mark older street names that have been replaced.
Moving north on Sullivan, here's #116, a well-preserved Federal style townhouse that mostly intactly retains its original doorway with Ionic colonnettes and fanlight. The sidelights are unusual, with three small oval windows on each side. The house was constructed in 1832 for bookbinder Charles Starr, with an extra story added in 1872. The building is a NYC Landmark that is part of the overall Sullivan-Thompson Historic District.
Vesuvio Bakery [was] at 160 Prince Street in SoHo. The green facade is one of the distinctive images and colors of downtown NYC which inhabitants would recognize immediately – the shade of blue-green is so striking that nearly everyone that sees the shop comments on the color. The bread is handmade daily and presented simply by being piled up in helplessly beautiful stacks in the windows. The shop is a fixture of the old Little Italy in NYC which has survived many generations, a tremendous feat in this city of constant change, and is still family-owned.
Recently, a few small tables and a wider variety of food have been added. This place became special by preserving itself on its own intimate terms while the neighborhood has gentrified exponentially around it. Seeing it is like taking a few seconds of a visual calming and restorative meditative break. NY Daily Photo, 2006
The bakery was a Soho institution between 1920 and 2008, and presented the same face to the neighborhood for decades — and still did, after its takeover by the City Bakery, which reopened it as Birdbath Bakery in 2009. However, Birdbath itself went out of business in 2019, and the next owner will have to decide whether to preserve the frontage as is. The building does have NYC Landmarks protections as it is part of the Sullivan-Thompson Historic District.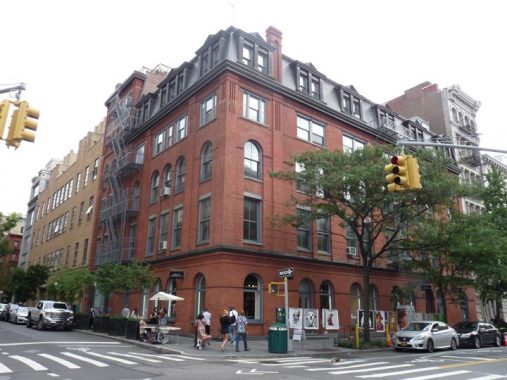 I'm surprised more hasn't been written about this massive brick warehouse at the SE corner of West Broadway and Prince, constructed in 1879 with a 5th floor mansard roof with dormer windows added in 1892. It has of course long been converted to residences with retail on the bottom floor.
My presentation (basically a review of early images from Forgotten NY taken from 1998-2001, on FNY's 20th anniversary) took place at Denny Daniel's Museum of Interesting Things. I'll let Atlas Obscura describe the museum and what goes on within:
Where can a person see a butter churn, an 1,800-year-old metal fire starter, and a 1901 cylinder phonograph all in one place? Anywhere, because the Museum of Interesting Things is built to travel.
Headquartered in Manhattan's East Village, the museum is the brainchild of Denny Daniel, a freelance filmmaker and photograph restorer who wanted to use his vast collection of fascinating antique devices to inspire curiosity and innovation.
He started with small demonstrations in his apartment, and as people showed more and more interest, the project grew and began to travel. The exhibit is organized by categories, like Math, Science, and Literature, which he takes to schools—elementary through university—as well as hospitals, libraries, and galleries. Any space that is big enough for him to set up a few tables for his antiques is fit for the exhibit. Visitors are encouraged to handle some of the items, to experience what it was like to use them, and make suggestions.
Denny can be contacted at (212) 274-8757, and I encourage everyone to take advantage of what he does.
I was fascinated by a very unusual map in the foyer. It depicts an early street layout in Soho. The neighborhood we know today was formerly a farm belonging to Nicholas Bayard, a nephew of Peter Stuyvesant. He was mayor of New York in 1686, but was a controversial figure. He was associated with the pirate Captain Kidd, and hanged Jacob Leisler, a German immigrant who briefly seized control of the nascent New York colony from the British.
A close look at the map, which reveals subdivided properties in the early 1700s but little buildings as yet, reveals that the familiar streets of SoHo (Macdougal, Sullivan, Thompson, West Broadway, Wooster, Greene, Prince, Spring etc.) went through other names, on paper, at least, before they were actually built, such as Willow, Locust, Prospect, Concord, Provoost, Union, Oliver, and even Houstoun for Prince before today's Houston Street was built.
Lastly, I liked the house numbering above the entrance of 132-134 Thompson between Prince and Houston.
Check out the ForgottenBook, take a look at the gift shop, and as always, "comment…as you see fit."
9/3/19