I have a continuing fascination with the NYC subways iconography and signage (and indeed, that of other transit systems in other towns as well) so I was happy to see the recent exhibit concerning such signage at the NYC Transit Museum's Grand Central outpost during the summer of 2019. The short history is that NYC has had four major periods of local subway-oriented transit construction: the rise of the original elevated trains, run by a number of different operators, from about 1870-1900; the original IRT lines built from 1904-1920; Brooklyn-Manhattan Transit, later the BMT, which constructed subways and elevated sections; and the Independent Subway, built from 1925-1950. I'll leave buses and trolleys out of the discussion, as their signage was/is relatively minimal.
All these subway systems had their own particular signage that conformed to styles of the eras in which they were built. By the Fabulous Fifties, subway signage had become confusing and hard to understand. A graphics company called Unimark, under the direction of Massimo Vignelli (1931-2014) and Bob Noorda (1927-2010) created a streamlined subway signage system that employed Akzidenz Grotsk and later Helvetica typefonts, which are used to this day.
I happen to have a 1972 edition of the NYC subway map that I've picked up along the way. For today's post, I want to concentrate on subway line indication: the colored "bullets" that appear on subway signage and maps, most notably the front of the subway trains. Today's system makes perfect sense, even if it may seem a bit confusing.
Unlike, say, Boston or Chicago, in NYC we do not identify subway lines by color. The reason for this is simple. NYC's subway is so large and complicated that several subway lines with different colors may share trackage for many stations. However, NYC's subways are identified by colors, after a fashion.
Beginning in 1978, the colors of subway lines identified the trunk route they use in Manhattan. Thus, the lines on 8th Avenue are blue; 7th Avenue, red; 6th Avenue, orange; Broadway, yellow; Lexington Avenue, dark green; crosstown lines on 14th Street, gray, and 42nd Street, purple. In addition, the trains that run on the short stretch of Nassau Street downtown got brown, while the IND Crosstown in Brooklyn, that never sees Manhattan at all, got a lighter green. Away from Manhattan, the lines share trackage, and many colors can be seen on the same subway line.
However, before this system was adopted in 1972, Unimark had already assigned different colors to different subway lines in a seemingly haphazard fashion. The colored bullets, in turn, corresponded to colors used on the famed Vignelli subway map employed in the 1960s and 1970s, which is probably the most-admired subway map ever made. It was replaced by the current map, using the trunk-like colors system, created by John Tauranac in 1979 and still used today. However, the MTA returned to the Vignelli design for its weekender app (albeit employing the current trunk-line system).
I thought it would be fun to go over the 1972 ID system and describe not only how the signage has changed since 1972 — but most subway routes have also changed drastically since then.
Bear in mind if you have a slower internet connection: these scans are relatively large and may take a bit longer to resolve. In addition, to get WordPress to cooperate in showing them, I had to use different size scans; please excuse the inconsistency.
A
The A train today wears the same color it did in 1972, dark blue, and has the same route, too: from 207th Street in Inwood with three branches: to Lefferts Boulevard and Far Rockaway. However, the Rockaway Park branch was also called the A. After some vacillation between A, H and S, the MTA now shuttles between Rockaway Park and Broad Channel on an S.
In 1972, passengers to Broad Channel also had to pay a fare on exiting. The policy was reversed to one fare in the late 1970s.
AA
1972 route: 8th Avenue, 168th Street to Chambers Street, on the 8th Avenue line
1972 color: Pink
Before 1978, many lines had double letters. According to original IND lettering scheme, single letters were assigned to express routes, while letters were doubled for locals. Lines that were express in some spots and local in others got single letters. The AA was the first train on the list reflecting the double letter scheme.
After the double letter system was scrapped by the MTA, the AA became the K for a few years. Today, the C is the 8th Avenue's local train, with the E also handling local stops below 50th Street.
B
1972 route: 168th Street to Coney Island, using the 8th Avenue line in Manhattan and the West End El in Brooklyn
1972 color: Gray
Throughout my childhood, the West End el running over New Utrecht Avenue, 86th Street and Stillwell Avenue to Brooklyn was the bailiwick of the B train, with the M also traveling there. However, in the early 2000s, the B and D swapped routes, with the B taking the D's place on the Brighton Line. Today both the B and D have the orange bullets of the 6th Avenue Line, with the B serving as the Grand Concourse local train in the Bronx. The B no longer runs on weekends, as its route is duplicated by the D and Q for most of its run.
CC
1972 route: Bedford Park Boulevard to Chambers Street on the Grand Concourse and 8th Avenue
1972 color: Green
The C, CC and K are all routes that run, or have run, on 8th Avenue, and I'm somewhat hazy about differentiating them; I'm confident subway maven Andy Sparberg can clean it up in Comments. For example, on the cover shot we have a train with a Diamond CC roll sign. As we've seen, double letters indicated local routes, but Diamonds indicate express; therefore, the Diamond CC was an express version of the usually local CC. My head's spinning.
Prof. Sparberg has answered in Comments. At one time, Diamonds were used for rush-hour only lines. Indeed, the C, CC and K are as complicated as I thought.
Today, Diamond routes are restricted to express rush hour runs of the 6 and 7 trains.
D
1972 route: 205th Street, Bronx to Coney Island on the Grand Concourse, 6th Avenue, and Brighton lines
1972 color: Orange
Today, the D still connects Norwood in the Bronx to Coney Island. However, in Brooklyn, it has swapped routes with the B, and travels down the West End el. It has kept its traditional orange bullet throughout.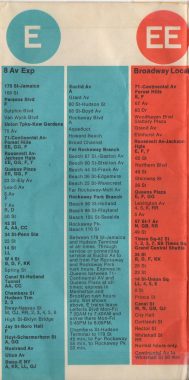 E
1972 route: 179th Street, Jamaica to the Rockaway Peninsula, on Queens Boulevard, 8th Avenue, and Fulton Street
1972 color: Light blue
When I was a kid, the E train was a line I knew the least about, since it didn't trouble southern Brooklyn, where I hung around. But in long ago days, it was possibly the MTA's lengthiest line, crossing through Queens, Manhattan, Brooklyn and into Queens again. It accompanied the A onto the Rockaway peninsula to Far Rockaway and Rockaway Park.
Today, the E is a Manhattan local and Queens express connecting the World Trade Center and Parsons Boulevard in Jamaica, with relatively new trackage connecting Van Wyck (Boulevard) and Parsons Boulevard in 1989.
EE
1972 route: 71st (Continental) Avenue in Forest Hills to Whitehall Street, Manhattan, on Queens Boulevard and Broadway
1972 color: Orange
The EE local was a weird hybrid, using Broadway local tracks otherwise plied by RR and N trains and then buddying up with its brother E train on Queens Boulevard. To do this, it used the 60th Street tunnel connection in Hunters Point, which today routes the R train onto Queens Boulevard from Broadway. As a kid, it was weird for me to see the letter E on Broadway, even if it was doubled.
F
1972 route: 179th Street, Jamaica to Coney Island on Queens Boulevard, 6th Avenue, Houston Street, Essex Street, Jay Street, Smith Street, Prospect Avenue, McDonald Avenue and the Culver Elevated
1972 color: Magenta
The F is unchanged from 1972 to today, route wise, stopping locally in Manhattan and Brooklyn, then express in Queens. However, it now has the orange bullet emblem of 6th Avenue Liner trains.
GG
1972 route: 71st (Continental) Avenue to Church Avenue, Kensington on Queens Boulevard, Manhattan Avenue, Union Avenue, Marcy Avenue, Lafayette Avenue, Smith Street, Prospect Avenue
1972 color: Green
Always a local, and never entering Manhattan, the GG, today's G, has had its route expanded and contracted according to the MTA's whims. In 2010, G trains were cut back to Court Square in Queens when the M was rerouted down Queens Boulevard. However, the MTA also vouchsafed a southern extension to Church avenue; it had been cut back to a Smith-9th Street terminal for several decades. However, it remains the shortest train in the system, with just 4 cars. The #7 train is the longest, with 11 cars.
KK
1972 route: 57th Street at 6th Avenue to Sutphin Boulevard, Jamaica, on 6th Avenue, Houston Street, the Williamsburg Bridge, the Broadway Brooklyn el, Fulton Street, Jamaica Avenue. Rush hours only.
1972 color: Blue
The KK local was a hybrid route that today is matched by the numerous 6th Avenue routes in Manhattan and by the J in Brooklyn. It employs a tunnel built in 1968 under Chrystie Street that enables 6th Avenue trains to access the Williamsburg Bridge. The current M route uses this connection.
LL
1972 route: 8th Avenue and 14th Street in Manhattan to Canarsie, on West and East 14th Street in Manhattan and North 7th Street, Bushwick, Wyckoff and Van Sinderen Avenues in Brooklyn
1972 color: Gray
The LL has lost a letter, but has kept its 1972 route and bullet color. It's been in the news lately as its planned 2018-2019 East River closure was scuttled in favor of reduced service.
M
1972 route: Metropolitan Avenue, Middle Village to Broad Street, on Broadway, on Myrtle Avenue, Broadway (Brooklyn), and Nassau Street
1972 color: Light blue

The MTA has never known quite what to do with the M, routing it under 6th Avenue, Broadway and Nassau Street in Manhattan, and on the West End and Brighton lines in Brooklyn. Its terminal at Metropolitan Avenue has remained constant throughout, though, as well as its presence on the Myrtle Avenue El — a truncated version of the once much lengthier Myrtle el.
In 2010, the MTA sent the M where it hadn't previously gone: into northern Queens on the Queens Boulevard line to 71st (Continental) where it replaced G and V local service. It's the only subway line now beginning and ending in Queens. In the bargain, its bullets changed colors from Nassau Street brown to 6th Avenue orange.
N
1972 route: 57th Street and 7th Avenue to Coney Island, on Broadway, Manhattan Bridge, 4th Avenue, and the Sea Beach Line open cut
1972 color: Yellow
The N train has run under Broadway in Manhattan and 4th Avenue in Brooklyn for decades, and in southern Brooklyn, it replaced the Sea Beach steam railroad in 1915. However, the Transit Authority has tinkered with its northern stretch, first routing it to 71st/Continental and then in 1987, swapping terminals with the R and heading to Ditmars Boulevard along the 31st Street el in Astoria. It has retained its 1972 yellow bullet befitting Broadway lines.
Ostensibly, it's supposed to be an express under both Broadway and 4th Avenue, but the MTA is quite fond of "localizing" the route.
A pair of weird ones that haven't survived. For awhile the Transit Authority ran some lines that weren't simple local versions of expresses, they were actual lines identified by two letters. Weirdly, the "express" version of the N — and the Sea Beach has no local stops between Coney Island — was called the NX, and the Myrtle Avenue el was identified on maps as the MJ (though its Q-cars were so old, they didn't have roll signs).
QB
1972 route: 57th Street and 7th Avenue, on Broadway, Manhattan Bridge, Flatbush Avenue, and the Brighton open cut
1972 color: Orange
The QB line of old is currently the plain Q train, running express on Broadway, local on the Brighton Line. During the week, the B runs along the Brighton as an express version. The Q uses the yellow bullets of the Broadway line; but while half the Manhatran Bridge was closed to subways in the 1990s, it ran up 6th Avenue and was orange.
QJ
1972 route: 168th Street, Jamaica to Coney Island, on Jamaica Avenue, Fulton Street, Broadway Brooklyn, Williamsburg Bridge, Nassau Street, the Montague Street tunnel, Flatbush Avenue, and the Brighton open cut
1972 color: Grey
Today the old QJ is duplicated in spots by several lines such as the J, M, R and Q lines. It used parts of the el over Jamaica Avenue that were demolished in 1977, and the Montague Street connection of the Broadway and Nassau Street lines is still there, but no longer on a subway route.
RR
1972 route: Ditmars Boulevard, Astoria to 95th Street, Bay Ridge on 31st Street, East 60th Street, 7th Avenue, Broadway, Montague Street tunnel, 4th Avenue
1972 color: Green
The RR has lost a letter, but remains one of the lengthiest local subways in NYC, never surfacing above ground or going express. In 1987, it was rerouted under Queens Boulevard to 71st (Continental) Avenue.
SS
Only two of the shuttle trains shown on the 1972 map survive today: The Times Square IRT shuttle between Times Square and Grand Central, originally built as part of the original IRT route from City Hall to 145th Street in 1904; and the Franklin Avenue shuttle, which operates along the original Brooklyn, Flatbush and Coney Island steam railroad; it originally hooked up with the old Fulton Street El. A third shuttle, connecting Broad Channel and Rockaway Park, evolved from the A and E trains.
The old Culver Shuttle, connecting the West End and Culver lines, was a surviving section of the Culver El between the old 5th Avenue El and McDonald Avenue. After 1940 it was accessed from the 9th Avenue station after the 5th Avenue El was torn down. It was closed in 1975 and dismantled in 1985: imagine if anyone had agitated for the old Culver to become a Brooklyn High Line back then! I wish there was still a shuttle between the Bowling Green and South Ferry stations, but all possibility ended when the 1905 curving South Ferry station was replaced by a new station, which had to be completely rebuilt after Hurricane Sandy destroyed it.
Shuttles, formerly identified as green on maps and bullets, are now black bullets.
Before moving on to the numbered trains of the IRT, I'd like to mention that the colored identification bullets were only occasionally seen on roll signs; especially not on older train cars, which stayed with older roll signs that were simple black and white. Newer cars of the time, the R-40, 42, 44 and 46, employed the color bullets. In the cars' early days, the large window in front was filled by a large letter. The Transit Authority adjudged this as perhaps too gaudy and switched to bullets. During the financial nadir of transit funding in the 1970s and 1980s, subway trains were occasionally identified by handwritten signs in the front window affixed with scotch tape!
In the modern day, bullets have gone out of fashion, as well. First, R-32 cars were rehabbed without roll signs, but electronic displays. New cars, the R-143, R-160, and R-188, followed suit, as it's easier for a motorman to flip a switch than bother with roll signs. There's a sliver of hope for the bullets in that new R-211 cars will have a front electronic bullet display, but the lion's share of the system will still be without bullets.
1
1972 route: 242nd St/Van Cortlandt Park to South Ferry along Varick Street, 7th Avenue and Broadway
1972 color: Tangerine
The #1 remains consistent from 1972, in 1978 adopting the red identification bullets of other 7th Avenue lines. In the 1980s, the MTA experimented with skip stopping the #1, with a #9 train added to hit the missing stops, skipping the #8. More about that later. The MTA discontinued the experiment after it didn't put much of a dent in travel times.
2
1972 route: 241st Street, Wakefield, Bronx, to New Lots Avenue in East New York, using the Dyre Avenue line open cut, Southern Boulevard, Westchester Avenue, East 149th Street, Lenox Avenue, Broadway, 7th Avenue, Varick Street, Fulton Street Manhattan, Flatbush Avenue, Eastern Parkway, Livonia Avenue
1972 color: Red
One of NYC's longest subways, connecting far outposts in Bronx and Brooklyn through the heart of Manhattan. Changes to the IRT in Brooklyn were made a couple of decades ago, with the 2 now terminating at Flatbush Avenue/Brooklyn College. Its red ID color has been consistent since 1972.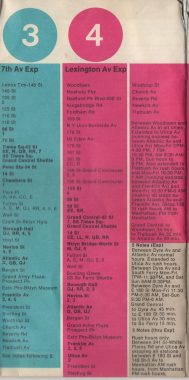 3
1972 route: Lenox Terminal at West 138th Street to Flatbush Avenue/Brooklyn College, on Lenox Avenue, Broadway, 7th Avenue, Varick Street, Fulton Street Manhattan, Flatbush Avenue, Eastern Parkway, Nostrand Avenue.
1972 color: Blue
The old terminal of the 3 in 1972 at Brooklyn College has since been swapped with the 2. The #3 now wears the red of all 7th Avenue lines on maps and ID bullets. On the IRT, the #1, 3, 6 still employ R-62 cars that can display route bullets in front.
4
1972 route: Woodlawn Cemetery to Flatbush Avenue/Brooklyn College on Jerome Avenue, River Avenue, Lexington Avenue, Park Avenue, Lafayette Street, Broadway, Joralemon Street, Fulton Street, Flatbush Avenue, Eastern Parkway, Nostrand Avenue
1972 color: Magenta
In Manhattan and the Bronx, the 4 runs as always, but it now has an East New York terminal at New Lots instead of at Brooklyn College. It now features Lexington Avenue dark green.
5
1972 route: Dyre Avenue or 241st Street Wakefield to Utica Avenue, along the Dyre Avenue line open cut, Southern Boulevard, Westchester Avenue, East 149th Street, Lexington Avenue, Park Avenue, Lafayette Street, Broadway, Joralemon Street, Fulton Street, Flatbush Avenue, Eastern Parkway or White Plains Road, Boston Road, Southern Boulevard, Westchester Avenue, 149th Street, Lexington Avenue, Park Avenue, Lafayette Street, Broadway, Joralemon Street, Fulton Street, Flatbush Avenue, Eastern Parkway
1972 color: Gray
Today, the #5 has the same split personality it did in the Bronx in 1972, going to Dyre Avenue but with some rush hour runs up White Plains Road to Wakefield. Currently traveling to Flatbush/Brooklyn College, it terminated at Utica Avenue and Eastern Parkway in 1972. It's green, like the 4 and 6, under Lexington.
6
1972 route (local) Pelham Bay Park to South Ferry, on Westchester Avenue, Whitlock Avenue, Southern Boulevard, East 138th Street, Lexington Avenue, Park Avenue, Lafayette Street, Broadway.
1972 route (express) Pelham Bay Park to Brooklyn Bridge, same tracks, express stops in the Bronx
1972 color: Yellow
I didn't know that the #6 once used the Bowling Green-South Ferry connection to run trains to South Ferry, but life is for discoveries. Today, the MTA still runs some Diamond 6 rush hour expresses but of course, the South Ferry connection is gone. Riders can loop around the old City Hall station by remaining on the train after it reaches is Brooklyn Bridge terminal — official MTA rules are to allow it, but some stickler conductors might not.
7
1972 route, local and express: Times Square to Main Street, Flushing, along Queens Boulevard and Roosevelt Avenue
1972 color: Tangerine
The Flushing Line connects Times Square and Flushing as in 1972, but in 1978 its color was changed to purple. The line now runs south to West 34th at Hudson Yards, while occasional rush hour trains terminate at Willets Point Boulevard.
8
1972 route: East 149th Street to White Plains Road, along Third Avenue, Webster Avenue and East Gun Hill Road
1972 color: Blue
Yes, there was a #8 train. It was the "rump" northern end of the once lengthier 3rd Avenue El, which joined the 2nd Avenue El at Chatham Square and ran up Manhattan and Bronx's 3rd Avenues to Gun Hill Road, where it turned east and joined the White Plains Road El, where a transfer to the #2 or #5 could be effected. The stub el only ran about 18 years, from 1955 to 1973, and I never rode it. Moreover, its rolling stock, IRT composite cars and Q types, were not equipped with roll signs, and the #8 was never identified as such in actual passenger service runs.
Check out the ForgottenBook, take a look at the gift shop, and as always, "comment…as you see fit."
10/20/19