2019 was Forgotten New York's biggest year in quite a few, as the website's 20th anniversary was celebrated by two feature articles in the New York Post (by Hana Alberts) and AMNY (by Lisa Colangelo); and by a series of presentations (including at FNY's sister organization, the Greater Astoria Historical Society; the Museum of Interesting Things in SoHo; and the Bay Ridge Historical Society).
Forgotten New York also debuted a new website design in January, helped in no small part by Forgotten Fans who contributed to a GoFundMe, and the earnings are still helping with the site's monthly hosting. Included in the revamp was an easier method of tour registration, direct through PayPal. FNY thanks site designer Adam Kizer and site host, Michael Synan of Open Wave Digital.
in 2019 Forgotten New York tours enjoyed a renaissance. After a few down years, attendance came back strong, assisted by the site revamp and by social media placements engineered by Greater Astoria's Vernel Black. Some of the tours' attendance rivaled the site's early days, with over 40 attendees. Most tours were assisted by photographer Bob Mulero ("The History and Design of New York City Streetlights, Past and Present") and the Astoria Songbird, Greater Astoria president DeeAnne Gorman.
FNY kicked off the tour season in Rego Park, including a look at the Crescents, Lost Battalion Hall, remains of the LIRR Rockaway branch, and lunch at Knish Nosh.
FNY visited Manhattan between the Manhattan and Brooklyn Bridges, including Straus Park, several buildings and churches from the 1830s, and NYS Governor Al Smith's old neighborhood.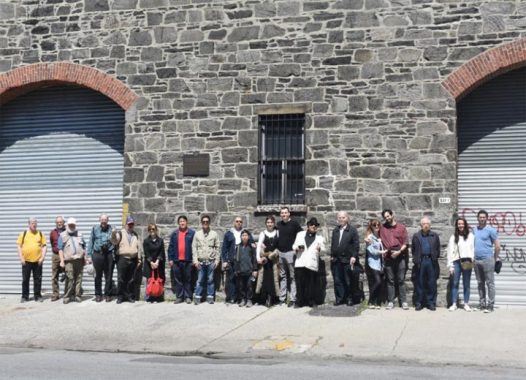 FNY's Red Hook tour included the Beard Street warehouses, the Waterfront museum barge, Sunny's Bar, and the now-demolished Bowne warehouse and now partially demolished Lidgerwood Building.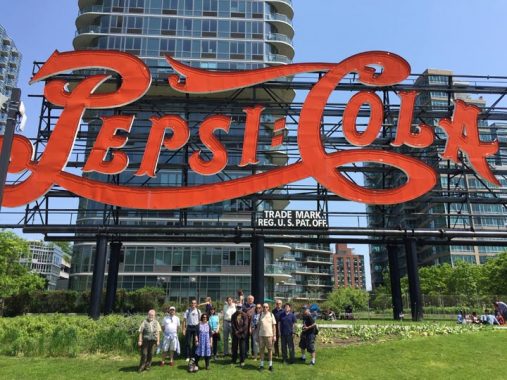 Hunters Point's new waterfront and ancient Pepsi Cola neon sign were visited in this FNY tour.
FNY had its best tour attendance of the year in Brooklyn's ancient town of Gravesend, where several buildings and cemeteries go back to the 1600s. Then on to lunch at L&B Spumoni Gardens.
In the annual Staten Island jaunt, we toured Fort Wadsworth and the adjoining neighborhood of Rosebank, visiting famed photographer Alice Austen's residence.
Manhattan's only farmhouse, the Dyckman Farmhouse, was a highlight of FNY's swing through Inwood and Marble Hill.
In July, FNY's trip to Kissena Park also included visits to three separate Flushing cemeteries.
A trip to webmaster's home town, Little Neck, and the Douglaston peninsula is always a FNY favorite.
We circumambulated the Gowanus Canal, visited the ancient Carroll Street Bridge, and finished at the Old Stone House.
We visited Roosevelt Island's northern side that included two ancient churches, the Blackwells Island Lighthouse, and the Blackwell House itself.
FNY's visit of Westchester Square in the Bronx included a look inside the historic Huntington Library and a walk to Parkchester.
On Open House NY weekend FNY visited Steinway Village in Astoria.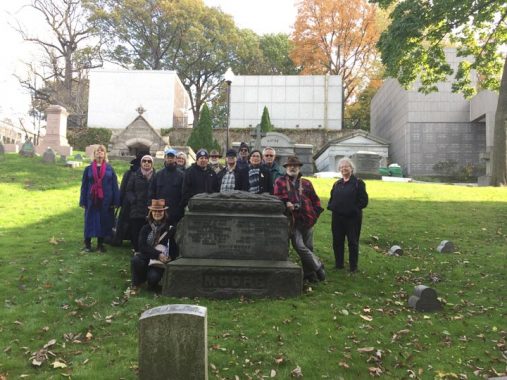 FNY's Halloween cemetery tour was a return visit to Uptown Trinity, the final home of Clement Clarke Moore and John James Audubon.
For the first time, a FNY tour crossed upper Manhattan's High Bridge, but not before seeing the highlights of Sugar Hill, including Sylvan Terrace.
It will soon be time for tour season 2020. Stay tuned for details.
Check out the ForgottenBook, take a look at the gift shop, and as always, "comment…as you see fit."
12/30/19