Since moving into Little Neck in 2007, I've been wedged between areas of varying ritziness, while maintaining my own hovel of relative poverty. If I wander west, I'm in the landmarked Douglaston peninsula, which was settled as early as the colonial area but whose homes mostly date to the 1920s. They're Colonials, Federals and modern buildings mostly on voluminous lawns and accompanied by varying numbers of colorful and decorative vegetation, azaleas being prominent in mid-spring, as well as enjoyable water views. If I head east, I'm in Great Neck, whose downtown, Great Neck Plaza, is physically indistinguishable from Bayside except that its businesses are rather more expensive, with fur storage being quite prominent.
Still confined mostly to the immediate area and with my own cowardice about taking public transportation lest I contact any Covid 19 germs in spring 2020, I decided recently to embark on a walking voyage southeast, this time into an adjoining community called Lake Success.
GOOGLE MAP: LITTLE NECK AND LAKE SUCCESS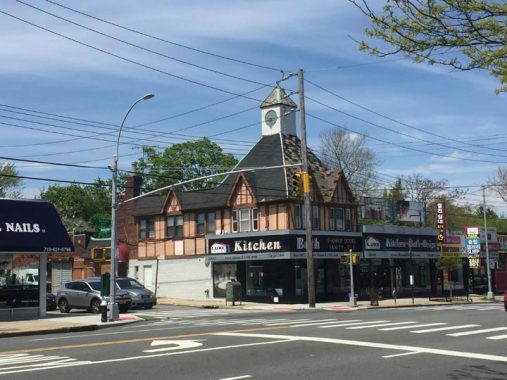 Since I moved to Little Neck this Tudor building with the clock tower at Northern Boulevard and Westmoreland Street has been an object of fascination for me. I cannot say why it was built with a clock tower, but I can show you a photo of it in 1940, when the clock worked, and it was above a cigar store that probably also sold newspapers and candy.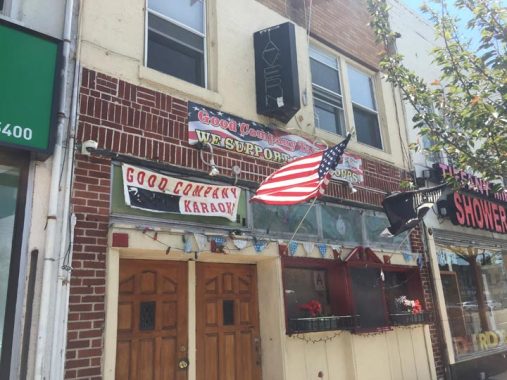 Bars, except for the ones in the fancier restaurants like Il Bacco, are in short supply in Little Neck. In fact two , Patrick's Pub and the Little Neck Inn, have closed within my memory. This one, Good Company at 253-30 Northern, seems to be the Last Mohican. And it's shuttered with the Virus Crisis.
The closest movie theaters I know of are in Great Neck but this building, now home to a number of businesses including the La Grotta restaurant, used to be the Little Neck Theater, 254-18 Northern Blvd., opened January 7, 1929. The theater closed down in the 1980s after its air conditioning failed.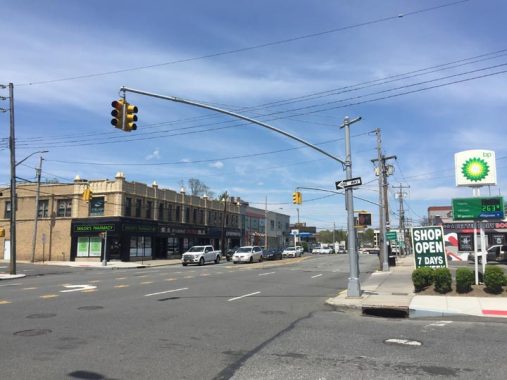 The border of Queens and Nassau Counties at Glenwood Street is surprisingly undefended whether by armed guards, canines or rollingpin-wielding housewives. To think that residents of Queens and Nassau can pass freely between the border is amazing! However, Queens and Nassau were once the same county, until 1898 when Queens' western towns joined New York City and its eastern towns wanted no part of that, and decided to become their very own county, Nassau.
North of Northern Boulevard, the east side of Glenwood Street is actually in Nassau County for about a couple of football fields' length. Thus you have addresses like 1 through 7 Glenwood, before Queens-style numbering resumes at 41-91. As we'll see, though, there are spots well within Nassau that employ Queens numbering!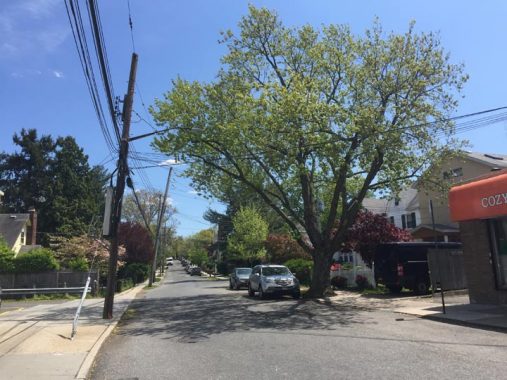 Glenwood Street ambles and meanders south for about a mile south of Northern Boulevard.
The city line protecting Queens from Nassau, and vice versa, runs just east of Glenwood and so, houses like these on the east side of the street are cut in two by the city line. I imagine, without talking to the buildings' residents, that one or the other municipality, the City of New York or University Gardens in the Town of North Hempstead's facilities and post offices service them.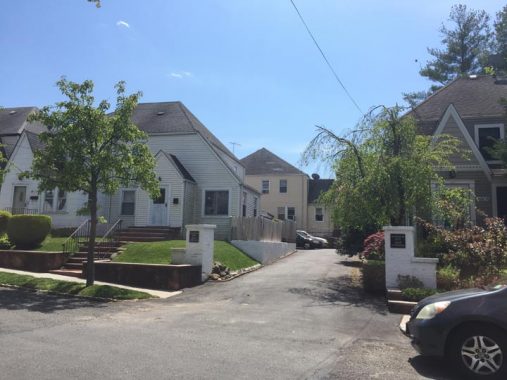 "Van Nostrand" was formerly a big name in Little Neck — the Little Neck Theater at Northern Boulevard and 254th Street, and the still-standing house in back of it on Pembroke Avenue, stand on land formerly belonging to 19th Century landowner William Van Nostrand, who also helped institute the Little Neck National Bank, which occupied a Moderne structure at Northern Blvd. and Little Neck Parkway that currently houses a branch of Chase.
Another reminder of Van Nostrand can be found in an L-shaped semiprivate alley, Van Nostrand Court, which runs from West End Drive to Glenwood Street south of Pembroke (yes, names tend to dominate instead of numbers near the Nassau County line). It's one of those streets that show up on Google maps but not the print versions.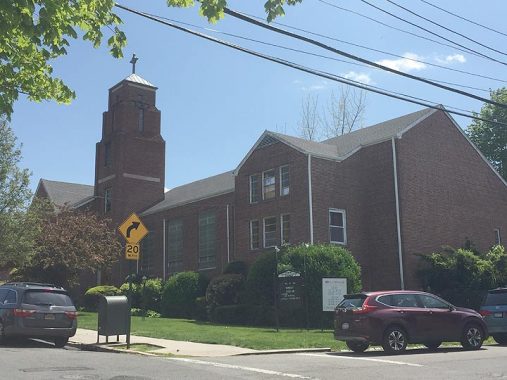 Christ Evangelical Lutheran Church, constructed in 1954, at West End Drive and Glenwood Street. This is actually the east end of Queens, but presumably the "West End" refers to the west end of Nassau County, which the east end of the street enters. Got it?
Walden Avenue ends at Glenwood Street in Queens, but most of it is in Nassau. Hence, the first two addresses are 254-08 and 254-12, but then you have 20, 24, 28 et cetera.
As Glenwood takes a bend to avoid a hill, it becomes a Tudor wonderland…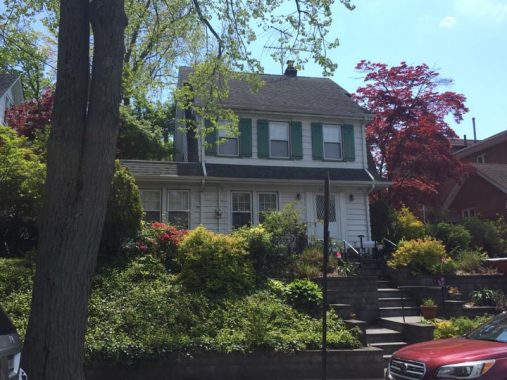 …as this tidy two story residence is attained up a flight of steps, with the hill supporting a large, colorful garden.
Glenwood Street ends at a small traffic circle at Concord Street, which, once it enters Nassau County becomes Concord Avenue and its house numbers lower into Nassau County range.
Standard issue street signs in Nasssau County featuring all caps Helvetica. These have slowly been giving way to newer signs using upper and lower case type; in the 2000s traffic engineers decided that those are more readable by drivers of moving vehicles.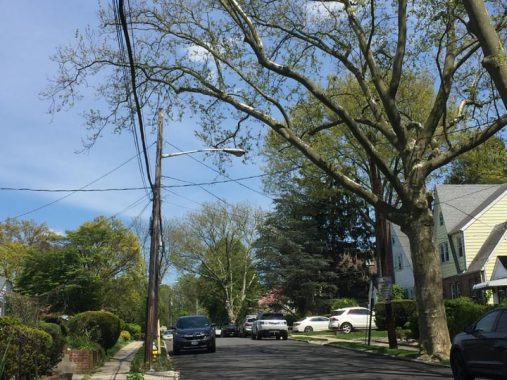 The agency that oversees street lighting in Nassau (I don't know it, but it's cognate to NYC's Department of Transportation) is not quite as Naz… er, ah, stringent, in replacing older streetlamps with LEDs. For example, here's a Westinghouse OV-15 mercury light on Oakley Place.
Here is the Queens Church of Jesus Christ of Latter-Day Saints, 254-10 Bates Road between Little Neck Parkway and Concord Street. Though the Mormon Church seems to be associated with the public imagination as centered in the western states, the faith was founded by Joseph Smith in western New York State. The faith breaks from other sects of Christianity in many ways, most importantly, it holds that God the Father and the Son are separate persons; for this reason, the Mormon Church is called non-Trinitarian.
The facility stands on the former site of the Little Neck School (1865-1914) which was supplanted by PS 94 on Little Neck Parkway and 42nd Avenue in 1914. The old school was home to the Powers Chemical Co. for several decades until the temple was constructed.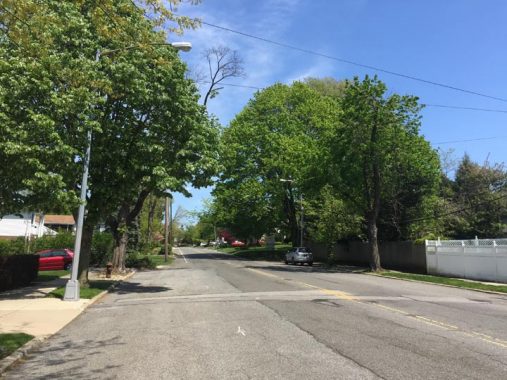 This is Bates Road at Concord Street, looking east. You can tell we're right at the city line because in Nassau County, the road gets narrower, the shoulders and sidewalks disappear. In fairness, the sidewalk resumes on the north (left) side a few meters ahead.
Bates Road is shown as Lakeville Road on older maps from the early 20th Century. Undoubtedly the name was changed to avoid confusion with the longer north-south Lakeville Road that runs from Great Neck to New Hyde Park.
Once within Nassau, where it runs along the Lake Success-unaffiliated North Hempstead border, Bates Road is every inch the modern suburban highway.
There's little standardization on signs marking counties and villages. The Nassau County sign was made with the Friz Quadrata typeface, which was notably used on the long-running Law & Order series of TV shows.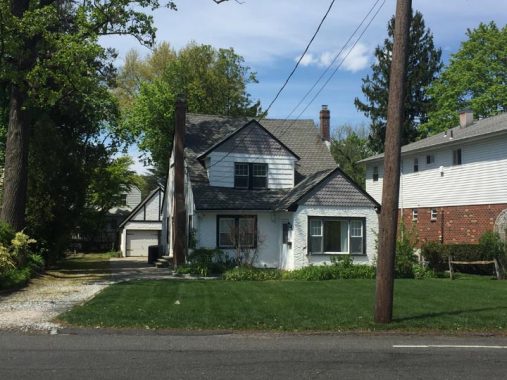 Because of the city line, #1 Bates Road is found midblock, just east of 254-41 Bates Road.
I'll get into the appearance of the streets of Lake Success in a moment but here I'll remark on the village's street signs. Nassau County does not have a standardized street sign format and individual towns and villages can select their own designs and methods. In Lake Success, signboards are used that employ the Century Schoolbook Bold font, brownish shingles on white poles.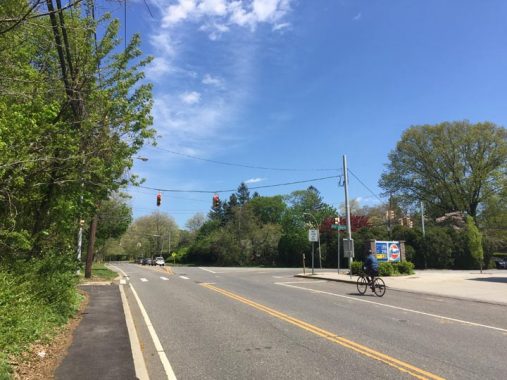 I decided to turn around where Horace Harding Boulevard assumes Bates Road's route and continues east to meet the Long Island Expressway (which is called the Horace Harding Expressway in NYC, after a traffic engineer friend of Robert Moses').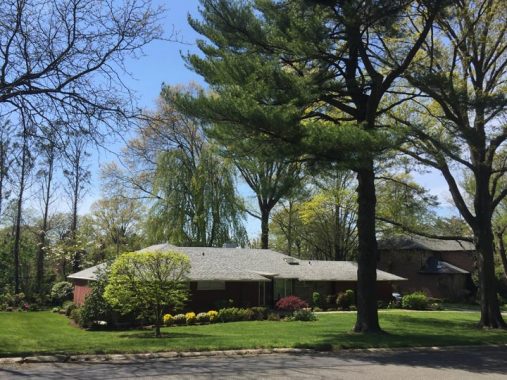 I have remarked that I find it fascinating that I can easily reach the village of Lake Success from Little Neck, and joked that its boundaries are unprotected. That's because the village presents a distinct appearance contrasting with Little Neck or even nearby University Gardens, unaffiliated North Hempstead and Great Neck Plaza, as it is complete and utter suburbia down to its complete lack of sidewalks, street lighting, and its large plots are occupied by beautiful homes, half of which seem to be sprawling ranch houses. Ranch houses are my favorite type of domicile, not least because they lack staircases. When I worked in Port Washington at Publishers Clearing House, the office was a sprawling "ranch office" built on a former sandpit. The company has since relocated to Jericho in mid-Nassau.
Lake Success was incorporated in 1926, after the (quite successful) William K. Vanderbilt purchased land surrounding a large kettle pond originally named Sukut by Native Americans. The pond is now located within the Lake Success Park Golf Course off Lakeville Road. In 1939, the Sperry Gyroscope Company constructed a large facility in Lake Success that became the temporary HQ of the United Nations (first housed in the present Queens Museum in Flushing Meadows-Corona Park).
The median income in Lake Success is listed at about $135,000, which seems a bit low to me.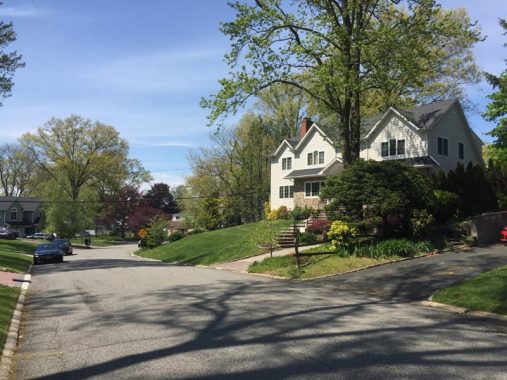 Looking west on Oaks Hunt Road, Lake Success.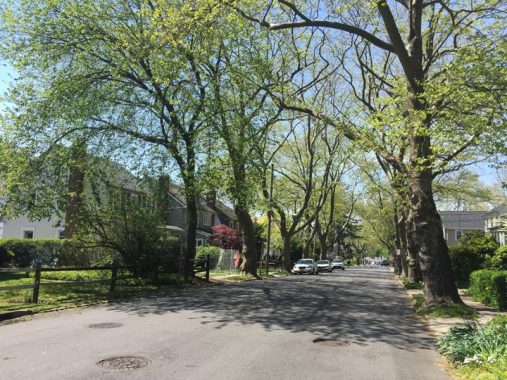 Looking north on Westminster Road at Kensington Place (yes, the streets frequently carry British-sounding names, as real estate developers really like the sound of them). Here, Lake Success is behind me and the unaffiliated portion of North Hempstead ahead, and the streets regain sidewalks and side trees.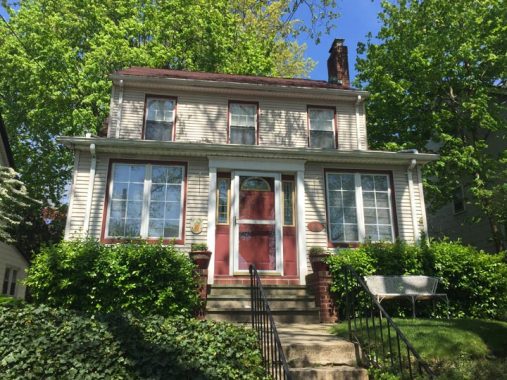 Here's 4619 Westminster Road, which is numbered as if the next block north, Pembroke Avenue, was 46th Avenue. It used to be. Several University Gardens streets were given numbers in an extension of the NYC street numbered system. The streets were renamed a few decades ago, but the house numbers remain the same.
Great Neck's Lakeville Park, at Pembroke Avenue and Concord Avenue (see above) remains open. NYC's playgrounds have been closed because of the Covid crisis.
Check out the ForgottenBook, take a look at the gift shop, and as always, "comment…as you see fit."
5/13/20